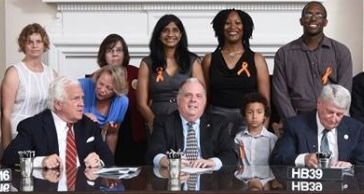 The Start School Later Movement came to life in fall 2011 after I launched a petition asking politicians to support legislation that would give students of all ages a chance for healthy sleep. Now legislators in California, Maine, Nevada, and Rhode Island are doing just that, with bills that would require states to set a limit on how early schools can start classes.
My petition called on national leaders to promote legislation merely because it was originally hosted on We the People, a free, online portal that required petitions to go to the President and Congress. (The petition still exists on a new portal.) It was inspired by various versions of the the Z's to A's Act, introduced into U.S. Congress since 1998 to propose various ways the federal government could help high schools start classes after 8:30 or 9 a.m.
The latest version of Lofgren's ZZZ's to A's Act simply calls for the U.S. Secretary of Education to study the issue. Given the contentiousness about federal control of school policy, however, statewide legislation may be the key to ensuring safe, healthy, equitable school hours.
Today's bills call for states, not the federal government, to establish boundaries for safe, healthy school hours.
Protecting Student Health and Safety
While many communities have restored healthier hours already or never set extremely early ones, most of the nation's approximately 13,500 school districts still require teens to wake for school at hours that health leaders, including the American Medical Association, American Academy of Pediatrics, and the Centers for Disease Control, have called unhealthy and counterproductive.
Proponents of these bills believe that state action is needed to protect children's health and safety.
"[W]e need to implement safe, healthy and developmentally appropriate school hours for all of our students — and not just those in districts that are willing to make the change of their own accord," Senator Portantino wrote a recent editorial. "Establishing a time before which schools should not begin mandated instruction is as fundamental as requiring schools to turn on the heat when the temperature falls below a certain level."
An editorial publisehd by the NK Standard-Times by Representative Casimiro made similar points: "We owe it to our children to provide the best educational environment, and that includes a start time that sends them to school in the best possible condition and not overtired and dealing with a significant obstacle before they even walk in to the school's doors. It's time we listen to the science and data available that clearly states our children are being hampered at best, and threatened, at worst, by these extremely early school hours."
Portantino stressed that statewide legislation would not prevent Individual districts from setting their own school schedules. By establishing an earliest acceptable opening hour for required classes, these bills would simply position local school districts to implement change in a way that works for their individual communities by ensuring that schedules chosen include a "start time that's proven to be essential to students' well-being."
For more information on school start time legislation across the country, see Start School Later's Current Legislation page.
Support HuffPost
The Stakes Have Never Been Higher
Related
Popular in the Community