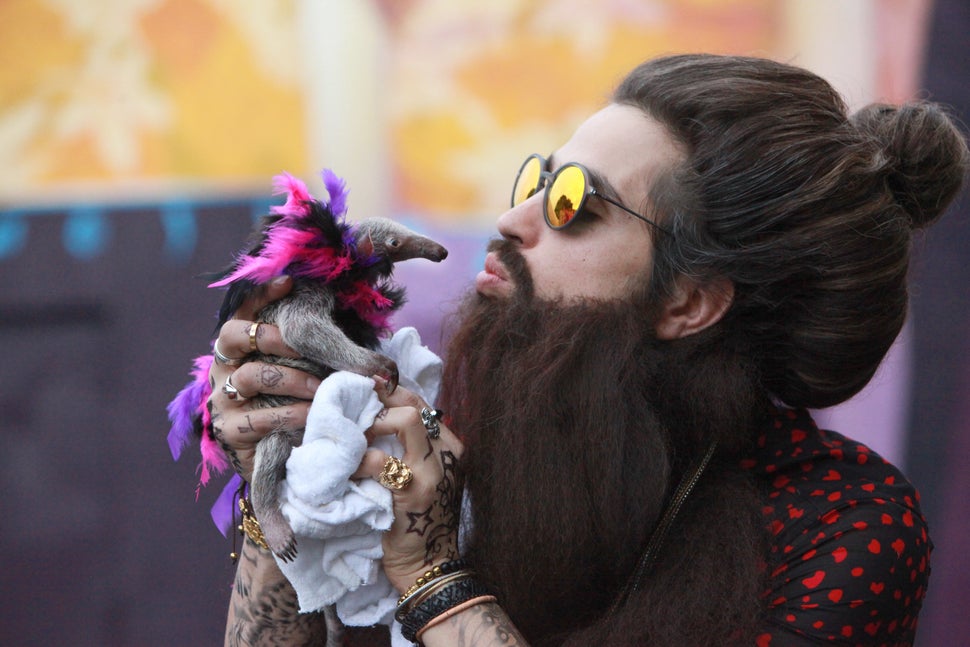 Art Basel Miami Beach, while nominally an art festival, has grown notorious for its focus on lavish soirées, celebrity sightings, and rivers of indiscriminate cash.
At an art festival where shiny objects are on sale for millions, many kinds of art and art-lovers just don't fit in. In the midst of this spectacle, however, Asher Bayne, a man bun-sporting performance artist with a beard that brushes the ground, seems to fit perfectly.
Bayne's appearance is over-the-top and studied; he's often accompanied by a costumed entourage and a peacock. In Miami, he told The Huffington Post via email, "I immersed myself with the world's trendiest art insiders, examining many wide-brimmed hats, private boats, and impossible-to-get-into VIP parties."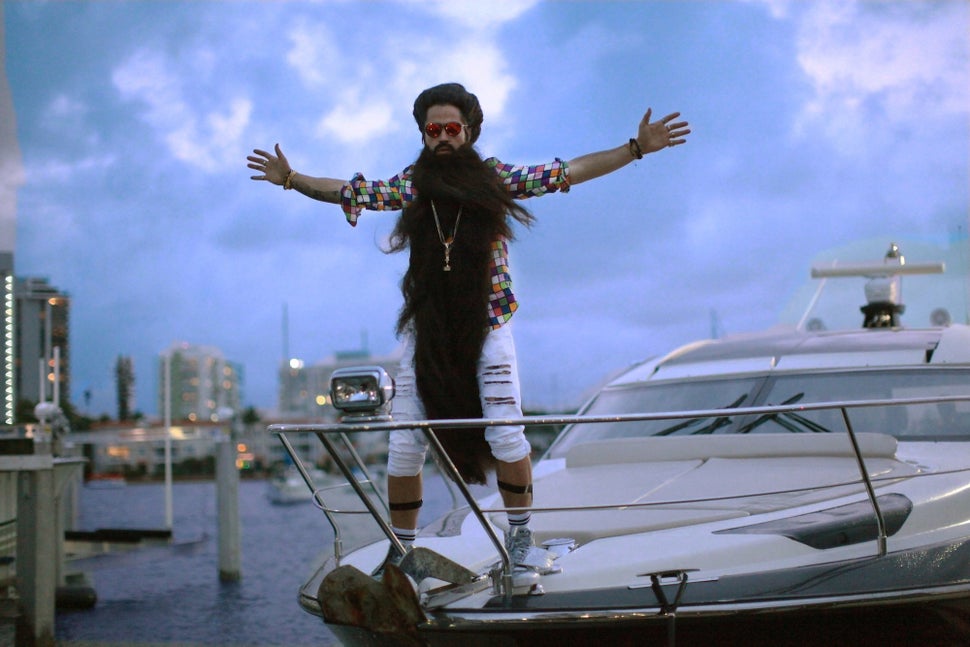 In his performance, Bayne apes the fashionable, moneyed influencers he surrounds himself with; he's never spotted without his sky-scraping coiffure, flowing beard, ostentatious attire, and a bizarre retinue. In the face of such an over-the-top display of trend parody, attendees of events like ABMB are asked to confront the logical extreme of a capitalistic art festival's value system. 
In addition to his wide-brimmed hair and private posse, Bayne brought his own special touch to ABMB -- a baby anteater. "I keep baby animals close by, to feel closer to their innocence," he explained. "They have qualities we can't ruin and are my security blanket when I'm surrounded by this much turbulence."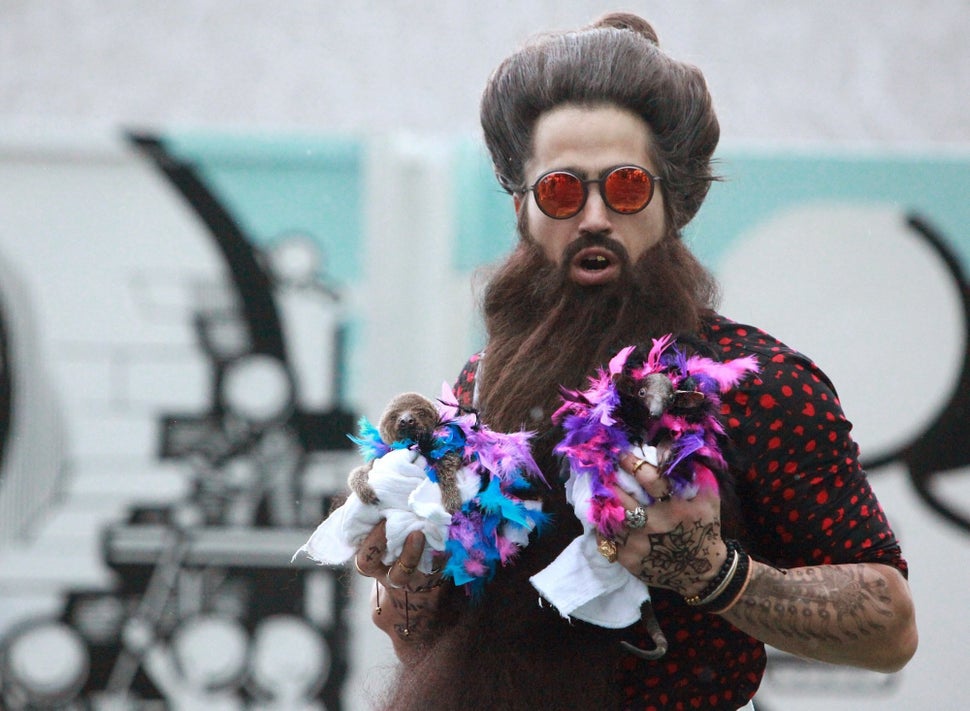 A simultaneous obsession with ideological purity and the more tangible benefits of money and fame -- while seemingly oxymoronic, the mentality is not so different from that of many public figures these days. Bayne hopes to critique the corrupting influence of money and superficial fame in the art world, though his own persona seems but another iteration of it -- as a talisman, the baby anteater can at least be clearly judged innocent of any moral compromise. But, as when he appeared at New York Fashion Week, Bayne argued that his image of exaggerated celebrity functions as a self-style dubbed "gonzo anthropologist."
"I'm interested in what drives people. We all want more, more, more: But how much more and to what lengths will we go?" he says. "What do people do with a mega-dose of everything we covet and compete for -- attention, style, affluence? And of course when I say 'people,' I include myself." 
Art Basel Miami Beach might just be a yearly exercise in answering that very question -- now with more man bun:
PHOTO GALLERY
Art Basel Style 2015
REAL LIFE. REAL NEWS. REAL VOICES.
Help us tell more of the stories that matter from voices that too often remain unheard.