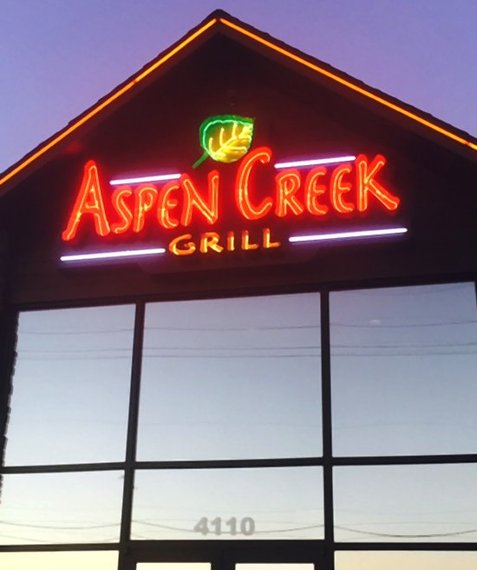 It was on a recent excursion through the Texas Panhandle that my husband and I discovered Aspen Creek Grill. Located in Amarillo, just a stone's throw from the I-40 interstate, the new restaurant's inviting external décor caught our eye as we made our way to our hotel.
As I checked in for our overnight stay, I asked the hotel desk clerk if she had dined at Aspen Creek. She literally gushed, "Oh, it's awesome!" That sounded like a ringing endorsement to me, so we tried it. She was right. It was awesome in a lot of ways.
Aspen Creek Grill's décor is rustic, inside and out. There's plenty of brick and wood and warmth. It's casual in style, but upscale in flavor. Portions are generous and the servers are friendly. But it's ultimately the taste that matters most, and it seems to matter a great deal at Aspen Creek.
As you can see from the photo above, (of another order, not ours), the food service offers no airs. In truth, the plates are plainly presented without so much as a sprig of garnish. The plates and bowls are stark white and utilitarian in shape, like those you might find in a cafeteria. I didn't think the presentation was anywhere near the caliber of the food, as if those dishes weren't doing their part in building the Aspen Creek Grill brand. But in the end, it's how the food dances in your mouth that either strengthens or destroys customer loyalty.
With so many interesting options, it proved hard to narrow down the choices. Ultimately we began with two appetizers, or as they are called in Aspen-speak..."Aspen-tizers". We opted for the crispy fried pickle chips with ranch dressing for dipping, and the tortilla chips with garden salsa and warm, cheesy queso. Both were enjoyable, but not both were perfect.
The fried pickles were delicious but seriously over-salted. Pickles are already salty, and the heavily-salted breading resulted in unfortunate overkill. A sodium cutback would have made those pickles insanely good. As it was, the ranch dressing was a must-have buffer to cut the salt. The freshly made tortilla chips, salsa and queso, on the other hand, were perfect out of the gate. The queso in particular was absolutely superb.
For our entrees, we chose the chili-rubbed pork chops with lime sauce, and the homestyle meatloaf with brown gravy and sweet tomato glaze. Sides we sampled included sweet potato casserole, mashed potatoes, macaroni & cheese, green beans, seasonal vegetables, and onion strings. The onion strings are not listed as a side on the menu, but they do come with certain dishes.
My husband thinks plain-Jane food is the cat's meow, so just seeing the phrases "chili-rubbed", "lime sauce", and "sweet tomato glaze", made him cringe. But his concern was for naught. He thought everything tasted great, as did I. The meats were tender and moist, the sides satisfying. It's a true sign of skill in the kitchen when ingredients are combined in such a way that all you think of as you partake of them is "yum". There was no trying to discern the lime or the chili or the tomato. All that prevailed was an impressive payoff of welcome flavors and textures.
The meals are very reasonably priced, and there is a bar for those who enjoy spirits with their cuisine. The open bar space also appeals those who simply wish to visit for drinks and some flat-screen action.
Before we even finished filling the to-go boxes with leftovers, we were contemplating our next Aspen Creek Grill food choices, for when we once again find ourselves in Amarillo, TX. Will it be the Hawaiian Chicken, the Pasta Jambalaya, the Aspen Bleu Sirloin, or ... ? We don't know. But we do know that we will be back.
Aspen Creek Grill is owned by Ultra Steak, Inc., which also boasts certain Texas Roadhouse restaurants in its dining stable. But something that I found particularly appealing was that Aspen Creek Grill comes without the exceedingly loud atmosphere that many a Texas Roadhouse restaurant tends to serve up with its tasty fare. Perhaps it's all that glorious Aspen Creek brick that absorbs the clamor.
The Amarillo Aspen Creek Grill opened in the spring of 2015 and joins Aspen Creek Grills in Irving, TX and two locations in Louisville, KY. New openings include Noblesville, IN and Lubbock, TX.
If the chain keeps a watchful eye on quality, service and consistency as it expands, then Aspen Creek Grill could indeed become the next great American restaurant chain. It seems to have the core values to do just that.

There is one thing of which I'm certain. I would surely love to see an Aspen Creek Grill open its doors in my neck of the woods.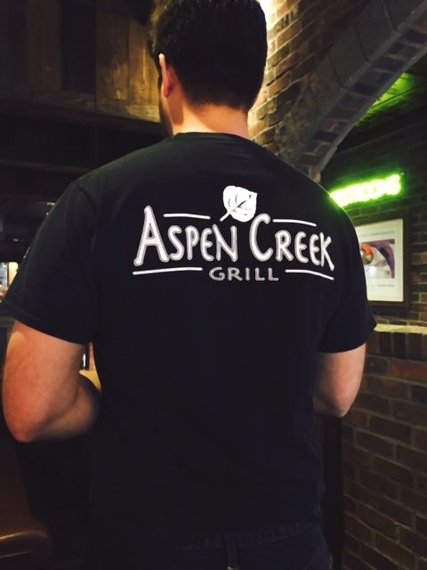 Related