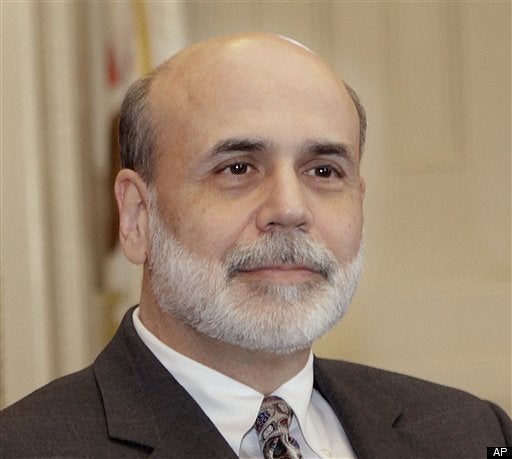 A Republican senator said Tuesday that documents showing Federal Reserve Board Chairman Ben Bernake covered up the fact that his staff recommended he not bailout AIG are being kept from the public. And a House Republican charged that a whistleblower had alerted Congress to specific documents provide "troubling details" of Bernanke's role in the AIG bailout.
Sen. Jim Bunning (R-Ky.), a Bernanke critic, said on CNBC that he has seen documents showing that Bernanke overruled such a recommendation. If that's the case, it raises questions about whether bailing out AIG was actually necessary, and what Bernanke's motives were.
A letter Bunning sent Monday to Banking Committee Chairman Chris Dodd (D-Conn.) also refers to an "[e]mail exchange regarding restructuring of assistance to AIG, initiated by Treasury Secretary Timothy Geithner" in March 2009.
Senators will be voting on Bernanke's confirmation for a second term in the coming days. But only senators on the Banking Committee have had access to documents that illuminate just what decisions he made and how he made them. And that access only came after Bunning publicly complained that Dodd and Sen. Richard Shelby (R-Ala.) were the only members of the committee could see them.
Meanwhile, Rep. Darrell Issa (R-Calif.), who has been investigating the AIG bailout in his role as ranking Republican on the House Oversight and Government Reform Committee, said that a whistleblower has informed him of "troubling details" of Bernanke's role in the bailout.
There may be nothing incriminating in the documents, but without access to them, the Senate will be voting to confirm him in the dark.
Senators from both parties who say they will vote to confirm Bernanke credit him with deft actions that averted a second Great Depression. Those actions, they argue, outweigh what blame he deserves for causing the crisis in the first place.
"He's done a very good job in the last year. And but for his work, we would be in a very different position in this country today," said Dodd Monday. "Now that's hard to prove a negative. But the fact of the matter is, our entire financial system might have collapsed but for his leadership."
On Monday, Bunning sent a letter to Dodd, asking him to subpoena the emails and other documents. Bunning and other committee members have thus far had to view the documents at the Federal Reserve and are bound by confidentiality from revealing their contents. "He thinks that all members of the Senate should have access to the documents he's seen," said Bunning spokesman Mike Reynard.
Towns spokeswoman Jenny Rosenberg said that Towns would decide on a subpoena after Wednesday's hearing on the AIG bailout.
Bunning, in his letter to Dodd, is equally specific, citing nine particular documents that the Senate should review before voting to confirm Bernanke:

1. Agenda and materials for 11/12/2008 meeting of the Board of Directors of AIG (containing minutes of previous board meetings). [AIG_11.12.08_BOD.pdf]

2. Agenda and materials for 1/14/2009 meeting of the Board of Directors of AIG (containing minutes of previous board meetings). [AIG_01.14.09_BOD.pdf]

3. Memo "Issues Related to Possible IPC Lending to American International Group" presented to the Board of Governors for approval of lending to AIG, dated 9/15/2008. [pages sb-aig-01000092 to sb-aig-01000125]

4. Email from Chairman Bernanke including a draft of the memo to be presented to the Board of Governors for approval of lending to AIG, dated 9/15/2008. [Draft Memo on AIG.pdf]

5. Memo "Proposed Securities Lending Facility for American International Group, Inc. ("AIG")" presented to the Board of Governors for approval of the securities lending facility for AIG, dated 10/6/2008. [Board Mtg_10-6-2008_8.35.05_AM.pdf]

6. Memo "Proposed Steps to Stabilize American International Group, Inc." presented to the Board of Governors for approval of restructuring assistance to AIG and creation of Maiden Lane II & III, dated 11/6/2008. [AIG restructuring Board memo Final (Nov. 6, 2008)_11-6-2008_4.55.19_PM.pdf]

7. Spreadsheet describing the assets purchased by Maiden Lane II and Maiden Lane III. [BLK_12.31.08_MLII & III cusip data.xls]

8. Spreadsheet listing derivative transactions and counterparties for Maiden Lane III. [List of Derivative Transactions.pdf]

9. Email exchange regarding restructuring of assistance to AIG, initiated by Treasury Secretary Timothy Geithner, dated 03/01/2009. [AIG Emails, Part3.pdf]
Related
Popular in the Community