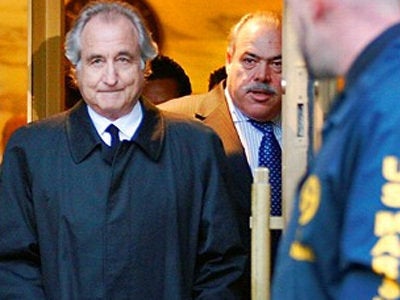 Whatever cell he sits in, whatever corridor he walks though, and from whatever direction and whatever means, Bernard Madoff must live the rest of his life knowing that at any moment he may die.
If someone kills Bernard Madoff, it may be some job figuring out who it was. One suspect would be the Russian oligarch who six months ago tried to get his money out and when Bernie said no made threatening sounds. Or it may be the Columbia drug lords who invested a purported $300 million with the Ponzi schemer. They are not happy either.
There are Americans who in the audit-no-taxes era of Bush 2 ferried their money off to Swiss banks without paying taxes and decided why not take advantage of those 12 and 13% annual returns from good old Bernie. How could they be happy? In the Obama era when Uncle Sam will probably be carrying a big stick and using it against white collar malefactors, these investors may find that they have not only have lost all their money but then be criminally indicted. How cruel life is sometimes. And let's not forget the lawyer sitting in prison who tried to get his money out a few months ago. Madoff knew the man was going away for a long time and refused his request. That man doesn't have the heart of a killer but betrayal does strange things to people.
Palm Beach is at the emotional epicenter of this scandal and here the impact is staggering. On the evening the news broke there was a palatable emotional wrenching in Amici, a popular Italian restaurant, a block from my home. There were screams of disbelief as the news arrived cell phone by cell phone. That has given way to a more subdued mood including a virtual epidemic of despair that has sent people to doctors and psychiatrists in search of anti-depressants.
The sheer numbers of victims continues to grow, so much that you also have to assume that if you are wealthy and a member of the Palm Beach Country Club, you lost and you probably lost big. The worse of it are the bereft widows whose husbands on their death beds said, "Whatever you do, take our money and invest with Bernie." And now many of them have nothing except the prospect of living with their children or in modest efficiencies on little better than dole.
It is going to be many weeks before the sheer scope of the damage is clear. Some victims are running around hiring lawyers and planning to sue, but for most of them their prospects are probably limited. In the first place, the trustee who will seek out whatever money is left will have enormous expenses that likely will eat away most of whatever is found. Those who invested directly with Madoff are probably out of luck. Those who were put into Madoff Securities by their accountants, lawyers, and brokers may have cases, but those professionals are not of unlimited means.
Beyond those who have lost everything the most devastatingly sad part of this story are the charities. Their losses are so enormous because Jewish contributions to charity are so enormous. If Madoff had been a WASP gentleman cheating the Old Guard at the restricted Bath and Tennis Club in Palm Beach, charities would have suffered very little.
The most terrifying prospect for the charity is not that they will lose so much of their funding but that they will have to return what may be considered ill-gotten gains. That is rightfully causing a tizzy in the foundation world, though it is unlikely the government would follow through.
Many of Madoff's victims were part of an acquisitive community overly concerned with wealth and status. But something is happening now primarily in Palm Beach that will likely change the whole temper of this tale. Some of those who have suffered deeply are realizing that they must move beyond their own pain and try to come together and help others. Some of them are aiding those who lost everything. There are plans among some members of the Palm Beach Country Club to lobby Congress to help the charities that have suffered. There is a growing awareness that the answer is not to try to kill Madoff or to waste energy condemning a man who condemns himself, but to move beyond the devastation and to reassert what is best.
Calling all HuffPost superfans!
Sign up for membership to become a founding member and help shape HuffPost's next chapter