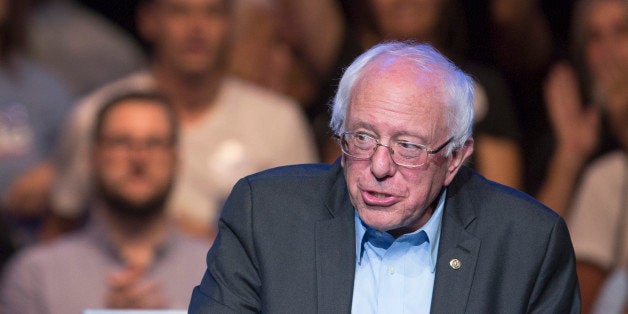 "We've got 37 million people who wake up every day in poverty...this is not okay, not in the richest country on the planet." Every day a variation of this quote comes from Bernie Sanders' upstart presidential campaign. The trouble is, Bernie Sanders didn't say it. John Edwards did -- in his failed 2008 presidential bid.
And there are some important lessons for the Sanders Campaign to heed from that race -- or they may face the same quick campaign demise. In 2008, John Edwards staked nearly his entire campaign narrative on ending poverty in America in 30 years. From launching his campaign in the impoverished Upper Ninth Ward in New Orleans to stumping for votes along a dirt road in the heart of South Carolina's Low Country, John Edwards became synonymous with this one issue.
And that, in many ways, was the problem. One issue, no matter how important -- and there is no doubt that poverty is an oft-discussed but under addressed issue in America, rarely wins elections.
Yet Bernie Sanders still focuses his campaign primarily on the same issue -- about the have and have not divide in America. Now, he gives it different titles and angles: "income and wealth inequality" -- the "billionaire class" and "economic oligarchy." But ultimately, it's still about one thing.
At least, that's how the narrative is playing out. And to win the presidency, you have to be able to expand the narrative beyond being a one trick pony -- even if that is simply a perception of the electorate and not the reality of your candidacy. This perception, regardless of how unfair, can be costly to a campaign's success.
Now, to be fair to the Sanders Campaign, his issues page speaks about racial inequality, veterans issues, LGBT equality and even the Iran deal. But John Edwards had position papers ranging from global warming to health care to foreign policy -- and no one can recite them now.
After a second place showing in the Iowa Caucuses, Edwards didn't finish closer than a distant third in the next five contests -- withdrawing about a month after Iowa. Having a narrow campaign narrative didn't bode well for the Edwards team.
Now it would be fair to argue that there is a higher level of passion for the Sanders Campaign than there ever was for the Edwards Campaign as evidenced by large crowds especially on college campuses. But while his crowds are strong and the passion appears to represent a movement the poll numbers in most early states, other than New Hampshire, don't show much of a long term path.
The challenge for Bernie Sanders is that passion alone doesn't win presidential elections -- you still have to pass the presidential test with voters. Can someone be the Commander in Chief? Can you envision them as leader of the free world? Are they an historic figure and leader?
But the Sanders Campaign has placed itself into a difficult spot to maneuver out of. The campaign's supporters are passionate because of this narrow narrative. Yet, the narrowness of the narrative also precludes a wider electorate from supporting the campaign and may ultimately lead to a similar fate to John Edwards in 2008.
Campaigns are marathons. The only thing to expect are things you couldn't have expected.
But winning presidential campaigns do share common themes -- including broad, big emotional narratives that show the country that a candidate has the elements necessary to be its leader. For Sanders to have a legitimate shot at the nomination, his campaign would do well to find a way to expand the campaign narrative.
Calling all HuffPost superfans!
Sign up for membership to become a founding member and help shape HuffPost's next chapter