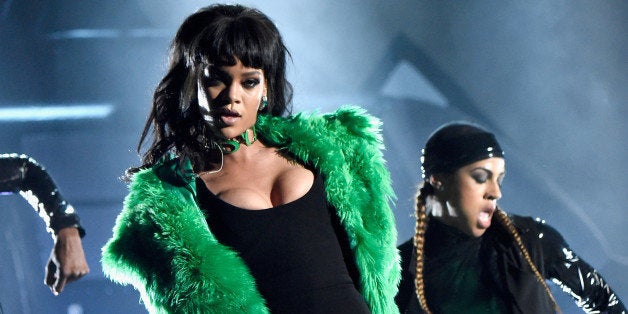 This week, Bad Gal Ri Ri returned with the second single from her upcoming album, Bitch Better Have My Money. Vulture called the song "a slice of ratchet heaven," and Billboard exalted Rihanna as a "trap queen" who has taken claim to her throne with this single. While I agree with both of these assertions, I also think this song is a powerful and politically charged anthem calling for reparations owed by white America for the wrongs and the legacy of slavery.
After getting this text message from a close friend and hip hop scholar:

I haven't been able to listen to the track without considering the powerful implications it has for this particular moment in popular culture. We are living in a time where it is impossible to dismiss the legacies of colonialism, slavery and violence, which shape lives and worlds in the present. As rapper Azealia Banks said in a recent Playboy interview, "The generational effects of Jim Crow and poverty linger on." When asked why she always brings up the topic of race in interviews and Twitter, Banks replied: "Because y'all motherf---ers still owe me reparations! That's why it's all about race... As long as I have my money, I'm getting the f--- out of here, and I'm gonna leave y'all to your own devices." Rihanna and Azealia Banks seem to be on the same page with this one.
Rihanna is haughty and unapologetic in this song, evocative of Beyonce's no-holds-barred, "bow down bitches," persona in "***Flawless." Shouting out, "Where y'all at? Where y'all at? Where y'all at?" she demands accountability from white America for the "two hundred fifty years of slavery. Ninety years of Jim Crow. Sixty years of separate but equal, and 35 years of racist housing policy," that Ta-Nehisi Coates elaborates on in a powerful treatise on the importance for reparations.
Her demands are clear: "Pay me what you owe me, don't act like you forgot." White America has a tendency of sweeping aside less-than-idyllic historical narratives and glossing over the conquest of the continent, the dispossession of native peoples and the enslavement of Africans whose labor built the economy of this country. In her own way, Rihanna is bringing these violent realities to light. In "Bitch Better Have My Money," she is calling for an acknowledgement of past injustices and a recognition that who we are is forever shaped and altered by who we were.
She asserts her dominance by reminding her listeners she "calls the shots, shots, shots like bra, bra, bra." Here, bra, bra, bra clearly represents gunshot sounds. Rap Genius notes that Rih is shooting warning shots in the air, "emphasizing that she's in control and not to be f---ed with." In a country where there is a prevailing fear of Black resistance, Rihanna is claiming her right to defend herself and her hard-earned money and is encouraging others to do the same.
In The Case For Reparations, Ta-Nehisi Coates writes:
What I'm talking about is more than recompense for past injustices--more than a handout, a payoff, hush money, or a reluctant bribe. What I'm talking about is a national reckoning that would lead to spiritual renewal... Reparations would mean a revolution of the American consciousness, a reconciling of our self-image as the great democratizer with the facts of our history.
Rihanna's new track is a step towards the "national reckoning" and change in consciousness that Coates is calling for. By tapping into Black expressive culture and artistic modes of resistance, Rihanna is joining a centuries long tradition of musicians who use their voice to call for equality and justice.
"Bitch Better Have My Money" speaks directly to a cultural imaginary where ideals like "post-racial America" and "colorblindness" are celebrated and welcomed. Yet by demanding accountability for 400 years of racism and the afterlife of slavery, Rihanna is calling white America's bluff. She rejects any notion that we as a society have somehow "evolved" beyond racism and reminds us that histories stay alive, even when they are not consciously remembered. Who y'all think y'all frontin' on?
Popular in the Community