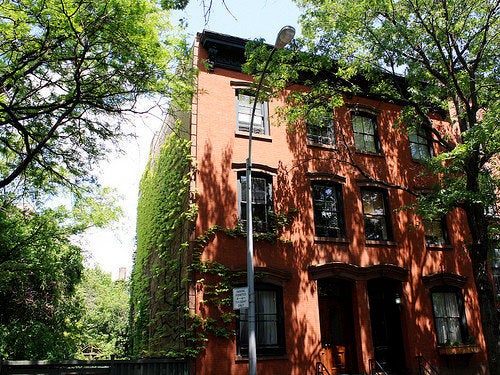 Ah to have lived in Paris during the 1920's! Hemingway's Paris -- outdoor cafes, bookstores, bistros, writers, drinking!
Reminds me of a place I know well -- Brooklyn.
The only thing missing is the ubiquitous smoke rising from the lips of the young and literary. Laugh if you like, but I've been thinking more and more that Brooklyn, circa 2011, is very similar to what Paris was like nearly a century ago. Of course, I'm talking about the brownstone belt neighborhoods of Brooklyn Heights, Cobble Hill, Carroll Gardens, Park Slope, Fort Greene, but you can throw DUMBO, Williamsburg and Red Hook in there as well.
Brooklyn does not have the incredible beauty of Paris except... when it does. As the weather warms up (if the weather ever warms up), and you take a walk in the late light of the day in Prospect Park, or down by the water in Dumbo, or through the small-scale streets of Cobble Hill... you'll be surprised by how charming and beautiful Brooklyn can be. Have you ever stood mid-span on the Brooklyn Bridge at sunset?
As for writers, well, we all know they're here and thriving. National Book Critics Circle Award winner Jennifer Egan, author of A Visit from the Goon Squad lives in Fort Greene. Nicole Krauss, a finalist for the National Book Award for Great House lives with her writer-husband Jonathan Safron Foer, the best-selling writer of Extremely Loud and Incredibly Close in a big house in Park Slope. Also in Park Slope, Dave Eggers (A Heartbreaking Work of Staggering Genius) has his own Superhero Supply Co. store that doubles as a writing-instruction program for kids. The great Pete Hamill's heart is in Brooklyn (he was raised in Park Slope) and of course living among is the venerable Paul Auster who the French like nearly as much as Jerry Lewis.
This is just a small sample. There are so many other writers here, not to mention Jonathan Ames who built a whole television series around Brooklyn with Bored to Death. We've also got great independent bookstores as I mentioned in another post. I could go on and on. We've got the street life, the Bohemian lifestyle, readings, the nightlife, boutique coffee, great cheese stores, and farmer's markets galore, AND there are artists' studios all over DUMBO, Red Hook and Gowanus.
A couple of years ago, someone dubbed Brooklyn "the new Manhattan." I'm saying we're way beyond that now. Shove over, Paris -- Brooklyn is here!
Related
Popular in the Community