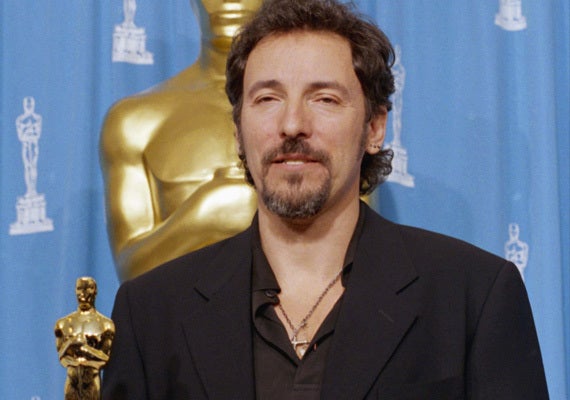 Let me start this off my saying that I've always had a love/hate relationship with Bruce Springsteen. I didn't get the hype about him before he broke into the mainstream with Born in the U.S.A. Then, when that album came out in 1984, I still thought he was overhyped. Even though I was barely a teenager, my not yet educated mind knew that "Born in the USA" was not a song about patriotism. The rest of America (and the world) was fooled, but not me. Besides, my sister, who I didn't get along with, loved Springsteen to death. I couldn't love anything she loved.
Then, 1987 rolled around. I wanted to diss his new album Tunnel of Love, but couldn't. "Brilliant Disguise" was a good first single, but it was the title track, released as the second single, that absolutely blew me away. Then, I bought the album, and as my sister and I became more friendly, we went to go see Springsteen in concert at the Rosemont Horizon in Chicago on March 17, 1988.
"I finally get the hype," I told my sister after the concert, which was — up until that time — the best concert I had ever seen.
I would sort of sour on Springsteen again. I couldn't believe that he got rid of the E Street Band, and his 1992 flops Human Touch and Lucky Town didn't do anything for me, with the exception of the song and video for "Human Touch." Springsteen took a commercial and critical dive, but he would soon be revived with the song "Streets of Philadelphia" in late 1993 — the title song from the movie Philadelphia starring Tom Hanks.
The song, played at the very beginning of the movie, is just as heart-wrenching and emotional as the movie itself. I walked out of the movie with tears, especially because I knew someone who had just died from AIDS. The first thing I did the next day was buy the soundtrack and play "Streets of Philadelphia" over and over. I was amazed how Springsteen was able to make me feel like the character in the song — bruised, battered, lonely, fearful, and angry about the way society treated him. It was kind of scary because I thought that just one risky sexual encounter could make me the character in Springsteen's song.
I became a little upset when I thought how Bruce Springsteen, perhaps the most loved rock star of the 1980s, never mentioned the AIDS crisis or gay rights at the peak of his career, when the LGBT community was treated like a bunch of savages. I wondered if Springsteen really cared about the LGBT community (which was, by far, the community most affected by AIDS) or if he was just using the AIDS crisis to profit off of. I wondered why Bruce Springsteen, instead of someone like Elton John, was chosen to sing the theme song from one of the most groundbreaking films of all time.
However, as I kept listening to the song, it didn't matter. And as I watched Springsteen sing "Streets of Philadelphia" at the Oscars in early 1994, his performance and acceptance speech put me in tears. In 1987, I realized that Springsteen could actually be good. In 1994, I learned that he could be real as well.
There are many other artists who released well-intentioned songs about the AIDS crisis, including Madonna (who had no problem supporting the LGBT community during the 1980s when nobody else would), Elton John, Lou Reed, and Cyndi Lauper. But it was Bruce's song that struck a nerve and inspired a call to action. Both straight and gay people loved "Streets of Philadelphia," even though the song was about a very controversial topic at the time.
"Streets of Philadelphia" would become Springsteen's last top 10 hit ever. "Secret Garden," another soundtrack song (Jerry Maguire, 1996) that originally appeared on his 1995 greatest hits album, hit the top 20 in early 1997. Of course, even without top 10 hits, Springsteen would continue to have a successful career. But the best moment of Springsteen's career was when he released the best movie soundtrack song ever, "Streets of Philadelphia."
Calling all HuffPost superfans!
Sign up for membership to become a founding member and help shape HuffPost's next chapter
This post was published on the now-closed HuffPost Contributor platform. Contributors control their own work and posted freely to our site. If you need to flag this entry as abusive,
send us an email
.