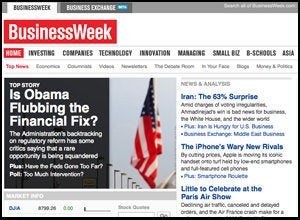 Good news has no constituency, while even the village idiot knows how to pass along bad news. That explains why the report in the Financial Times that BusinessWeek magazine can be had for $1 -- $1! -- spread like wild fire across the blogosphere: more confirmation that the end is nigh, print is dead, long live the web!

And, in fact, the end is nigh: the end of stupidity, the end of publishing hyperbole, the end of either/or thinking.

According to Wall Street legend, you know it's time to sell when your shoeshine guy and your taxi driver start giving you stock tips. The publishing corollary is this: it's time to buy when panic-stricken publishers offer up well-known brands with real assets at a price that is one stop away from Chris Anderson's free. In either world, when things stop making sense, it's time to act.

Here's the deal with BusinessWeek. It has a circulation -- paid circulation -- of almost 1 million, with a healthy pass-along rate. It has a top-notch web site. It has terrific followership in a number of areas where it's attempted to carve out a position of thought-leadership. That's the good news.

The bad news? Like a lot of older print brands, it feels a little shopworn. And like many other publications that are in trouble, it has a position in the marketplace that no longer makes much sense, at least as it's been traditionally defined. Who needs a synopsis of the news every week, when getting the news every day already feels too slow? The combination of a tired brand and an untenable position means that BW has lost advertising support. Which is why it's up for sale. But that doesn't explain the reported asking price.

The reason it's up for sale for $1 is that it's suddenly become cool to lose your cool. It's smart to be stupid. And it's good business to have no idea how to adapt to the changing demands of business.

The fact is, every one of BW's problems is potentially fixable. While the news may be a commodity, anything can be de-commotized. And even if print were dead -- which it isn't -- BW isn't a stand-alone print product. BW is an example of the both/and future: both print and web, working together.
On the other hand, boring print is dead. Print with no community is dead. Print that no longer delivers a message with a purpose is dead. But the business community hasn't lost its appetite for smart, informed analysis and thoughtful opinion on what's happening in the world. The FT and The Economist are proof that the community is alive and that purposeful print can rally an audience. So what about BW? What kind of opportunity would $1 buy?
Just as the Huffington Post has benefited by being the alternative to the Drudge Report and MSNBC has positioned itself as the anti-Fox network, a rejuvenated BW could be the American answer to The Economist. It wouldn't report the news -- instead, it would interpret it, coverage off the news rather than on it. BW could bring fresh energy, opinion, and perspective to all of the change in business that is so hard to make sense of. It could use interpretive graphics and recruit opinionated columnists -- with renewed opportunity for bloggers who can compete for space on the web site. A renewed BW could cherry pick the best old school business journalists (who are all dying for a new venue) and add in the new generation of academics and trendspotters who are producing hit books blending sociology with new management practices. BW could feature conversations from around the world that migrate back and forth from the web. In other words, get out of the news business and go on offense! Stop playing defense -- attack, attack, always attack!

Most of all, BW needs to create a franchise. Because it's not print that's dead, or even print about business that's dead. It's old and tired franchises that are dead, franchises that have run out of gas and purpose and energy -- franchises that deserve to die. Think about another medium that's suffering ad sales loses: TV. Nobody bats an eyelash when a TV show goes off the air because it's lost its franchise; nobody marvels at the ability of a new hit series to create a fresh franchise. Franchises with energy pull viewers and viewers pull advertisers.

Think of it this way: BW is ready to re-born as the first weekly business TV franchise -- only in print and on the web. Is that worth $1?


Alan M. Webber is co-founding editor of Fast Company magazine and author, most recently of Rules of Thumb: 52 Truths for Winning at Business Without Losing Your Self.


Calling all HuffPost superfans!
Sign up for membership to become a founding member and help shape HuffPost's next chapter