Burger joints can load up burgers with wild toppings. It's part of burgers' charm. But one of the hottest ingredients seems to be a staple of any restaurant kitchen: butter.
Burger King is testing an Extra Long Buttery Cheeseburger--with the emphasis on BUTTERY in POP displays--according to GrubGrade. This is an obvious response to what has been Jack in the Box's most successful new menu product in years: the Buttery Jack burgers introduced a year ago and since augmented with flanker additions like the recent Cheddar Onion Buttery Jack. What sets these burgers apart is that they are brushed with garlic-herb butter (below).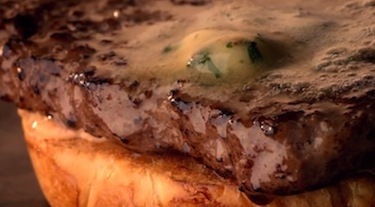 Before it launched All Day Breakfast, McDonald's upgraded its breakfast McMuffins by brushing them once again with real butter. The chain ran TV spots showing that butter filling the nooks and crannies of the McMuffin.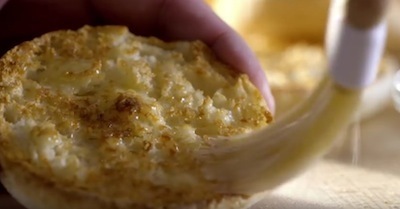 Butter sells, as Culver's long has known with its signature Butter Burgers. That's why Shake Shack butters and toasts its buns. The 5 Napkin Burger chain recently featured The PTF Burger with a butter-roasted portobello mushroom, truffle aïoli and fontina cheese. The Rock Bottom chain created a jalapeňo butter topping for its Smokin Jalapeño Burger LTO.
As with so many burger trends, independent burgers are well into their butter explorations, including apple butters as toppings. Kooper's Tavern in Baltimore recently offered an Apple Butter Burger: a turkey burger with arugula, triple-cream Brie cheese, bacon and apple butter on Texas Toast. The December special at Social Burger in Vienna, Va., was an elk burger with house-made apple butter and oil & vinegar slaw. The Johnny Appleseed burger at TAG Burger Bar in Denver was a beef patty topped with Brie cheese, caramelized cinnamon-apple-butter jam, black-pepper bacon and honey-mustard sauce.
Speaking of Jack in the Box, as previously reported here it is launching its new Double Jack burger (below) today. It has two beef patties, two slices of American cheese, hand-leafed lettuce, freshly sliced tomatoes, real mayo, ketchup, mustard, pickles and onions and is served on, what else, a "new buttery bakery bun."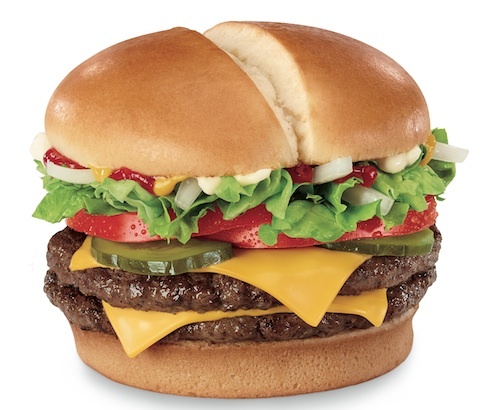 But Jack's not stopping there. As part of an initiative it's calling "Declaration of Delicious," the chain says it has upgraded 29 menu items. This means using the fresher, real ingredients like those on the Double Jack (below) along with the new buttery bun.
This makeover effort dates back to a February 2015 earnings call when CEO Len Comma told analysts the Buttery Jack burger was a response to some surprisingly negative research results. "Consumers rated our burgers pretty poorly," Comma said then. "When we dug into the research, what we found was that consumers have favorites, like the Sourdough Jack. But what they don't say is, 'We love your entire line of burgers and we believe you're selling us quality products.'"
Championed by, among others, Frances Allen, who joined the parent company in November 2014 as Jack in the Box brand president, the Buttery Jack was only the start of a reevaluation of its menu.
"We conducted several rounds of research over the last year to discover what guests love most about their burgers," Iwona Alter, Jack in the Box VP- Product Marketing & Innovation said in a release announcing the Double Jack. "With this input, we believe we have found the winning combination of ingredients, as guests overwhelmingly preferred the taste of our new burgers during market tests."
Jack in the Box also promises "a very big, mouthwatering announcement" during the Feb. 7 Super Bowl. So if you happen to watch that game...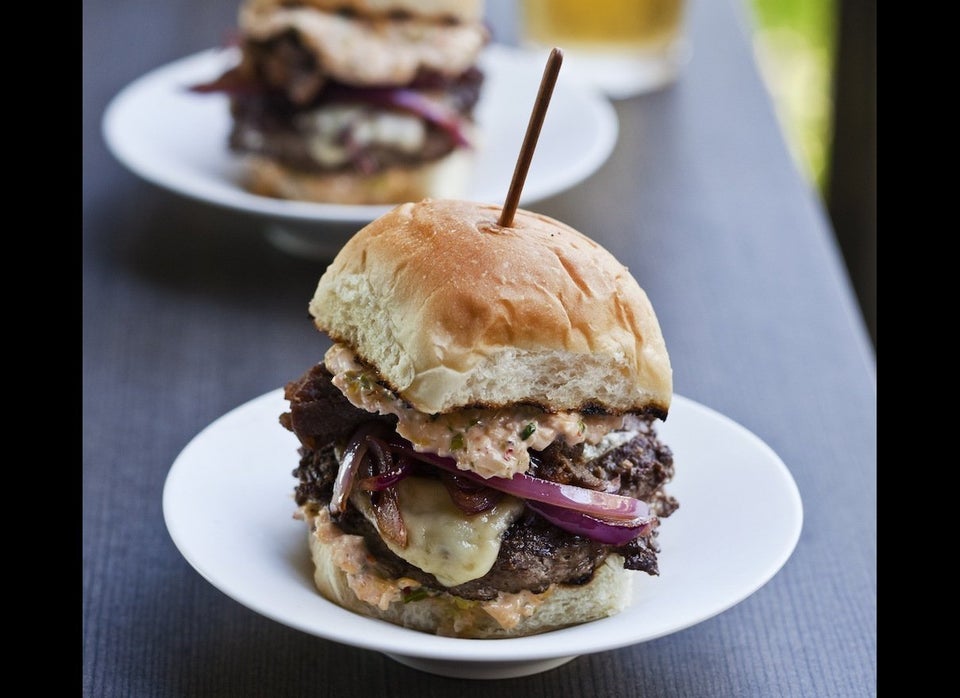 9 Ultimate Burger Recipes