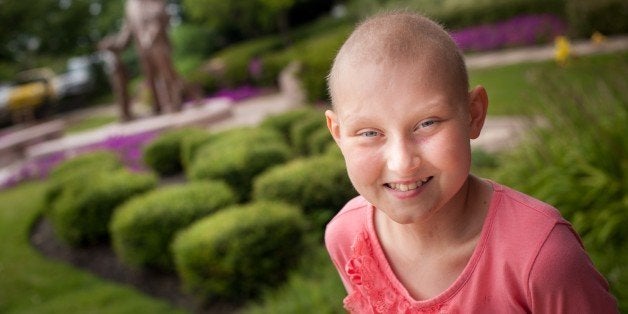 Looking at Megan Vess' blue eyes and engaging smile, you would never know that she has been battling cancer for three years.
The 13-year-old has been receiving treatment for acute lymphoblastic leukemia at St. Jude Children's Research Hospital® since she was 10, and as part of the diagnostic process, Megan's doctors learned that she has a mutation that makes her predisposed to developing cancer.
It is estimated that nearly 10 percent of children with cancer have the disease because, like Megan, they carry predisposing gene mutations. That percentage may be even higher, because some children carry genetic mutations that have not yet been identified.
A powerful way to identify more cancer-promoting mutations is by looking at the entire genome of an individual. In 2010, St. Jude Children's Research Hospital and Washington University founded the Pediatric Cancer Genome Project (PCGP), an unprecedented research project that has sequenced the normal and tumor genomes of more than 1,000 children with cancer.
Through these research efforts, the PCGP has provided new insights into the mutations that fuel a range of childhood cancers. The project has also laid the foundation for the next generation of diagnostic and prognostic tests as well as what are hoped to be more effective, less-toxic therapies. Finally, the PCGP has led to new directions and research tools for investigators working to understand the biology of high-risk childhood cancers.
To translate this wealth of genomic information to the clinical setting, St. Jude created the Cancer Predisposition Program. This program is designed to ensure that children like Megan and their families, who may have genetic conditions or family histories that put them at increased risk for developing cancer, can obtain appropriate medical care as well as mental, emotional, social and spiritual support.
As families learn about rare cancer-predisposing genes, they can better understand why their children developed cancer. And, doctors and researchers can learn a lot about why tumors form and how to better treat them. In some cases, therapy can be intensified for those who need it and moderated for those who do not.
Recently, St. Jude took this research a step further. This summer, St. Jude launched a new research project called "Genomes for Kids." This project offers some St. Jude cancer patients the opportunity to have their normal and tumor tissues sequenced shortly after they arrive on campus.
The hospital plans to eventually expand the offer to all St. Jude patients and possibly even to patients from outside the institution. Doctors and researchers hope that the information gained from this project will help them better diagnose cancers and predict how cancers might respond to treatment.
In the future, it is possible that genomic information will help guide how a child's cancer is treated. Doctors are also learning the best ways to communicate test results and educate families about genomic testing.
For Megan's family, the news about her genetic predisposition has been helpful. The family has learned about specific cancer screening tests and lifestyle choices that may help Megan reduce her cancer risk. Her parents decided to adopt children instead of having another biological child who would be at risk for having the same genetic predisposition to cancer.
We have a long way to go to solve cancer's genetic riddles, but we are making great strides. My colleagues and I are looking forward to using the latest technologies and treatment to advance our knowledge and hopefully save more lives.
This blog post is part of an annual series produced by The Huffington Post and St. Jude Children's Research Hospital in recognition of Childhood Cancer Awareness Month in September. To see all the other posts in the series, click here. For more information about St. Jude Children's Research Hospital, click here.
Calling all HuffPost superfans!
Sign up for membership to become a founding member and help shape HuffPost's next chapter