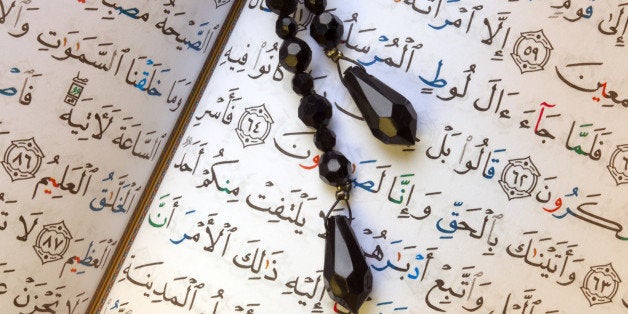 'Oh my God, Haroon. If you were at the session you would have killed her,' my sister told me at the end of the three- hour long dars. 'She said that the youth of our country have strayed away from our culture. They mimic the West or India by celebrating Valentine's Day or Basant. These festivals have nothing to do with our culture and also that women should not work because their incomes bring ill-fate to a household.'
'You don't know how I controlled myself,' Anam told me.
'I thought the session was nice,' said Uzma, my sister's friend. She has done her Master's in Journalism from a leading women's college of the country and is now a housewife. 'Some of the things she said were informative.'

'How can she even say it is unIslamic for women to work?' I asked. 'What about Hazrat Khadijah, the first wife of the Prophet? Wasn't she a businesswoman? She can only impress people who don't know history or culture. What "our" culture is she talking about? Isn't Heer Ranjha part of Punjabi culture? It is the most celebrated folk story here. For centuries it has been sung and dramatized. It is essentially a celebration of love. How is it any different from the celebration of Valentine's Day? In fact, the celebration of Heer Ranjha's love is much more profound than Valentine's Day. In our culture it has taken metaphysical dimensions, by becoming part of the folk religion. We worship love, not only celebrate it.'
We were on our way to Jhang, the city where the legendary lovers, Heer and Ranjha, are buried in a single grave. Their shrine has now become a religious pilgrimage site and I was particularly intrigued by such treatment of love.

Using the pretext of traditions and culture on several occasions, the right to marry out of choice, the right to practise religion, etc., are curbed. I grew up with a 'modern' understanding of tradition which argued for the unshackling of society from the fetters of traditionalism to make way for progress. However, what exploring traditional and cultural history did for me was to clarify this misconception. This derogatory manner of looking at tradition is a colonial legacy that thrived on undermining the indigenous culture and exalting the British manner of living. The legend of Heer Ranjha is an example from the repository of 'tradition' that not only celebrates the love between two individuals (a premodern example of honouring individuality) but also raises it to metaphysical dimensions comparing the love between Heer and Ranjha to that between a believer and God.

Part of the oral tradition of South Asia, the story of Heer Ranjha has been sung by bards and dramatized by folk artists for centuries. The story was first written by a poet from Jhang called Damodar Das Arora during the reign of the Mughal Emperor Akbar. However, just the way Valmiki's Ramayana became Tulsidas's after he rewrote the epic, this legend also became Waris Shah's when he rewrote it in the eighteenth century. Today it is also referred to as Waris Shah's Heer.
According to Damodar's version, which was then supported by Waris Shah, Heer Ranjha is based on an actual story that Damodar saw unfold in front of his eyes. In the end, both Heer and Ranjha were buried in one grave, to celebrate their eternal love. Their shrine in Jhang, which, according to the legend, is the hometown of Heer, is today a popular destination where people from all over the country come to ask for blessings, especially in the matter of love. True to its pagan roots, folk religion in Pakistan has specialized shrines for particular needs--Aban Shah for fertility, the shrine of crows for people with speech impediments and Heer Ranjha for love.
When Damodar wrote the poem, it was meant to be a secular love epic. Around the same time that he lived, there was a wandering malamati Sufi in Lahore known by the name of Shah Hussain, a spectacular Punjabi poet. He for the first time, transformed the story of Heer Ranjha from a secular epic to a spiritual legend. He compared the love of Heer for Ranjha to that of a believer for his God, a theme that was subsequently picked up by Bulleh Shah and Waris Shah. Through his poetry, he introduced the concept of Wahadut-ulWajud, or monism, into the story which remains an essential part of Hindu philosophy and Islamic spirituality.
'Mahi mahi kook di mein ape
Ranjhan hoyi Ranjhan Ranjhan sab koi akho,
Heer na akhon koi'
(Calling the name of my beloved I myself have become Ranjhan
Call me Ranjhan only now as I am no longer Heer)
'The shrine of Mai Heer', noted a board on the road.

'What is Mai?' I asked Iqbal Qaiser.

'It is used out of respect. Baba is for males and Mai for females,' he explained.

The shrine was located at the top of an ancient mound, surrounded by a plethora of graves. A small market had burst into life here. Ignoring the calls of vendors selling threads, bangles and lockets, we climbed the stairs towards the shrine. In the courtyard, sitting under a waan tree, a lone musician sang Shah Hussain (Punjabi Verses) on his harmonium.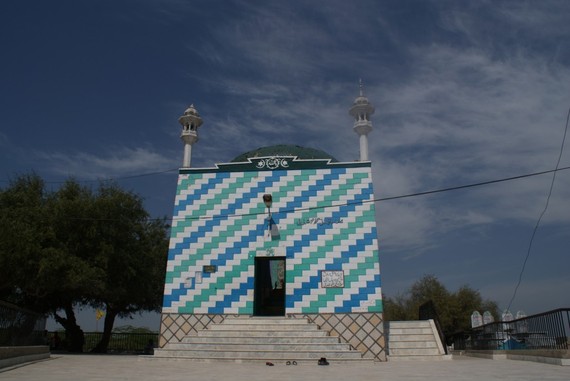 'O Mother, to whom should I now narrate these tales of my pains?' he sang.
Walking into the main shrine, I wondered if Heer was a Shia or a Sunni. Did it even matter?
Amanullah, the caretaker of the shrine, greeted the devotees telling them about the miracles of this place.
'Girls looking to get married, tie bangles here. Young couples who want to get married but cannot for some reason, tie threads here and their problem is alleviated. Barren women present cradles here and with the blessings of Mai Heer they are gifted a child.'

The cradle offering has uncanny similarities to the cult of Lord Krishna.

The walls of the shrine were filled with love messages written by pen:
'You may never be mine but I wish that wherever you live you may spend a happy life. Murad. Xox.' 'Zainab and Imran forever.' 'Salute to the love legend Mai Heer and Baba Ranjha.'
In a hotbed of religious violence, these were fascinating messages of love in honour of Heer and Ranjha.

'Do you know in a lot of villages, the recitation of Waris Shah's Heer is not allowed. People believe that if the sounds of the verses fall on the ears of young girls, they too will elope like Heer,' Iqbal Qaiser told us.
Excerpt from In Search of Shiva: a study of folk religious practices in Pakistan by Haroon Khalid (Rupa Publication 2015)
Popular in the Community