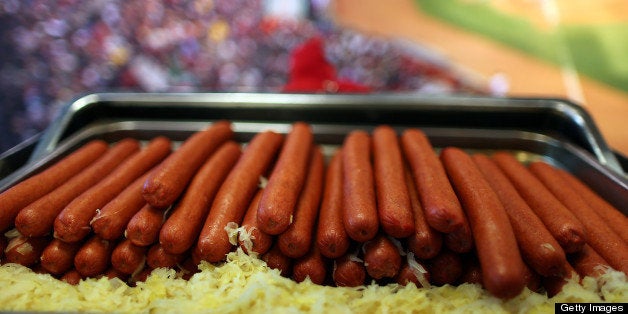 The Naples, Florida sky turned from pink to azure and a zephyr swirled, sending cocktail napkins at the Alice Sweetwater's Bar and Grill, into a mini white-out as if anticipating the tears for the one lone Celtics' fan at the bar. On screen, NBA vets Paul Pierce and Kevin Garnett hugged, despite the first round loss to the Knicks. Would this be their last moments in Celtics green? Would they hang up the sneakers and call it a career?
A lot of competitive eaters wear open-toed shoes during competition, a fashion faux pas, I find both disturbing from a social etiquette issue to a health department concern. Perhaps, that's why Major League Eaters refer to retirement as, "hanging up the esophagus." Twenty four hours later, on a connecting flight from Atlanta to NYC, 23 Nathan's Hot Dogs and Buns churning in my stomach, less painful than the third place finish in the Naples qualifier, I would face the inevitable question -- has my stomach aged beyond the sport?
My two main competitors had much more loftier goals than I. The LA Beast, with Jim Carrey's wacky personality contained in a man mammoth body, is trying to turn his YouTube popularity into a career in Los Angeles' full throttle world of television, fame and money. Juan "More Bite" Rodriguez, the eventual winner with 27 hdbs, is trying to become Henderson, Nevada's most famous bodybuilding trainer. The Vegas strip, known more for a six-pack of beer at the card table, than on one's stomach, would be the physical frontier this muscled two-armed bandit, would attempt to change from fat to flex. Me, I just wanted to win a spot at the Nathan's July 4th Hot Dog Eating Contest in Coney Island. I'd spent a decade's worth of America's Independence Day at the final table and wanted to return for my 11th appearance. One gets three chances to qualify at the contests around the nation and I thought I had a good shot in Naples. Of course, the Celtics thought they had a good shot at forcing an improbable game seven too. I wore a Paul Pierce jersey to my first Nathan's qualifier 12 years ago in Boston. His nickname is, "The Truth" and the most honest journey a pro-eater can take is the ten-minute hot dogs and buns quaffing quest at a qualifying table. The qualifiers don't separate the men from the boys (Major League Eating has a women's division), but perhaps separates the future from the past. LA Beast and One More Bite were the future of competitive eating, which makes me a relic of the trophy era -- there are no rewards for longevity, only stomach capacity. Perhaps you can't teach an old hot dog, new tricks?
Sure, I've had a famed career -- a couple asked me to hold their infant for a photo while they told their four-year-old that I was the one he played so often in Major League Eating: The Game on his Nintendo. My video game avatar doesn't age though -- in real life, it's not crow's feet on my temple that reveals the years, it's chicken wings on my stomach.
The Atlanta airport use to be home to both a Nathan's Famous Hot Dog stand and a Krystal Hamburger Outlet, but I couldn't find either as I scanned the listings. With the gurgling 23 hdbs in my belly, I couldn't eat at either, but I thought a walk from the famous tubesteak to the iconic burger would be a nice stroll down digestive lane, as both fast food places represented the two major contests on the Major League Eating circuit (the Krystal Square Off sadly defunct, and last I heard, the burger executives moved to an ice cream conglomerate). Nostalgia can cause heartburn, if not heartbreak, so I decided to look ahead to the next Nathan's qualifier. I scanned prices for flights to host cities as I thought about Paul Pierce returning to the Celts for one more year. Another year for Kevin Garnett, "The Big Ticket", whose intensity I had been channeling as, "The Big Stomach" on the pro-eating circuit? With a spring in my step and a belch from the belly, I headed to Jamba Juice -- I think papaya acts as a digestive -- The Smithsonian will have to wait to receive my stomach, it's got a date with destiny. Well, destiny and Oliver Powers, the Nathan's rep who will be grilling the dogs at my next qualifier.
Calling all HuffPost superfans!
Sign up for membership to become a founding member and help shape HuffPost's next chapter