Every day, another headline gets released that either criticizes or praises medical crowdfunding. Is this a legitimately genius way to cover your vital medical expenses? One thing's for sure: there's a lot more to the medical crowdfunding industry than meets the eye.

The Rise of Medical Crowdfunding

Well-known crowdfunding websites like Indiegogo and GoFundMe have experienced exponential growth in medical fundraising over the past few years. According to GoFundMe, between 2011 and 2014, the number of medical fundraising campaigns on the platform increased from 8,000 to 600,000. "Medical, Illness & Healing" has become GoFundMe's most heavily utilized fundraising category.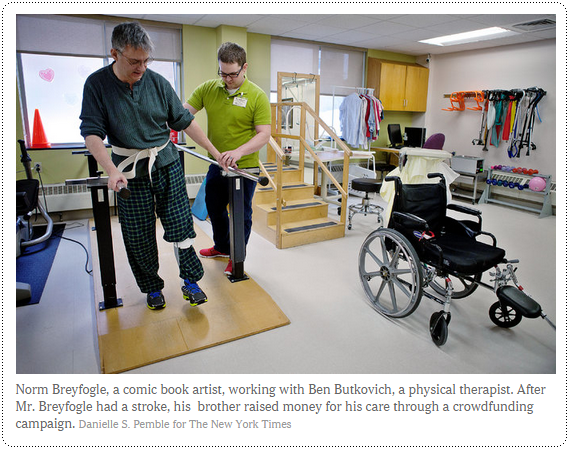 Why are so many turning to crowdfunding as an option to offset medical costs? "High out-of-pocket health expenses can quickly deplete a sick person's financial resources," notes a March New York Times article on medical crowdfunding. "Despite Medicare coverage...older adults have more difficulty paying for their care than peers in other developed countries."
"Knuckleheads" Who Exploit The System

"Are these sites ripe for fraud?" asked Eliza Barclay at NPR. The CEO of GoFundMe admitted that in the past, some "knuckleheads" exploit crowdfunding platforms for personal gain. Medical crowdfunding scam artists have exploited family connections to fundraise without donating the proceeds to their sick relative. Others have simply faked an illness in order to garner support to the tune of thousands or even tens of thousands of dollars.
GoFundMe has since introduced a 5-minute customer service response time which is unprecedented in the industry, and which allows the platform to address any concerns within the GoFundMe community incredibly quickly. The platform and its payment processors have many systems in place to catch and deter fraudulent activity. Because crowdfunding creates such a robust paper trail of account holder activity, fraud on GoFundMe isn't just rare, it's nearly nonexistent.

I spoke to David Bakelman, who is the CEO of HelpHOPELive, a nonprofit that has been helping patients raise money for their medical expenses for more than three decades. He confirmed the importance of legitimacy in online medical fundraising and crowdfunding.
"Patients come to us for fundraising because they are concerned that when they use crowdfunding websites, their donors are not able to verify right away that their contributions will go to the right person and will exclusively be used to help that person with condition-related expenses," says Bakelman. "We complete the verification step so that donors don't have to do the research on their own - they can simply donate to support their friend or family member and know their donations will be spent for their intended purposes."

Can sites protect donors to patient campaigns? How about the legal system? "The issue of fraud protection has transformed the process of legalizing equity crowdfunding into a grueling, complex and contentious three-year process," wrote CJ Cornell and Charles Luzar in Crowdfund Insider in March, as "industry stakeholders and special interests wrangled over new rules meant to protect investors from fraud." According to a March 2015 article, no laws or regulations currently provide direct oversight to prevent medical crowdfunding scams.

With no federal regulations to corral the scam possibilities, donors have to do their research or risk getting scammed. GoFundMe and other sites frequently advise visitors only to donate to patients they know personally, but reiterate that it's impossible to conclusively verify the details posted on a medical crowdfunding profile.

"Our process involves confirming both the patient's identity and the nature of his or her medical diagnosis," said HelpHOPELive's Bakelman. "We work with patients, their families and referring health care professionals to verify medical and financial need. It's an essential part of the process, and one that crowdfunding sites cannot necessarily carry out for their patient fundraisers."

Just Because It's Crowdfunded Doesn't Mean It's Free

Even when they donate to patients they know, donors may not be able to escape crowdfunding platform fees that skim dollars off of every donation. Indiegogo Life charges a 3 percent payment processing fee. GiveForward and GoFundMe charge 7.9 percent plus a transaction fee of under $1 per donation. GiveForward allows donors to add the associated fees to their donations. If donors decline to do so, the fees will come out of the donation itself.

It's a common misconception that medical crowdfunding is easy: just create a profile, ask for donations, and your work is done - right? As NPR's Barclay reports, "not everyone succeeds. People with small social networks tend to have more trouble meeting their [crowdfunded] fundraising goals." Barclay noted that GoFundMe users who were nearest to their fundraising milestones had "at least 200 Facebook friends" on average.

Rebecca Carr, the Co-Director of Fundraising and Patient Services for HelpHOPELive, has seen many patients move away from crowdfunding sites because of fees or complications. "Clients will switch to us because a friend or relative opened a crowdfunding campaign on their behalf and then ran off with the money," she said. "They also come to us because when trying to fundraise with crowdfunding sites, donors would constantly ask them if donations would be tax-deductible, and they wouldn't be."

Crowdfunding proceeds aren't treated any differently than regular income or assets from a tax perspective. In other words, the more donations secured through crowdfunding, the more likely it is for a patient to jeopardize Medicaid eligibility.

"Because the process of crowdfunding is relatively easy compared to other means of obtaining capital, some might neglect to research potentially unfavorable tax, financial or legal implications from their campaign," writes Jason Alderman at Minuteman. "Crowdfunding a person's unpaid medical bills may have significantly different tax ramifications than crowdfunding one's independent film project."

Alderman advises donors who are considering contributing to a medical crowdfunding campaign to "consider asking if there are more efficient ways to offer support" and urges people who are thinking about crowdfunding their own expenses to "consider getting individualized tax, financial or legal advice" before signing up.

Bottom Line
Crowdfunding your medical expenses is a lot more complicated than you think. Consider fees and risks and explore your options before you set up an account (or donate to one).
Popular in the Community