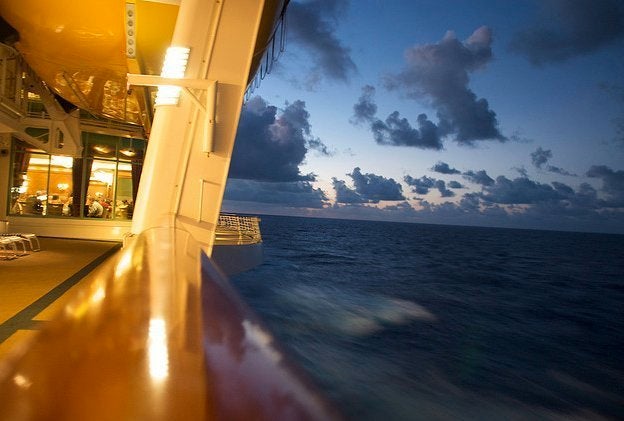 OK, I admit it. I'm on a cruise.
Among European travelers, more and more people are cruising and I want to know what it's all about. My learning curve will be steep, as I've gone cruising in the Caribbean but never in the Mediterranean -- and I'm giving our new Mediterranean Cruise Ports guidebook a shakedown cruise of its own. (This new guidebook, a collection of existing chapters from our other guidebooks reconfigured for the cruise traveler by my staff, is hot off the press, and is selling very well.)
I'm not trying to sell the typical cruise traveler on independent travel. My hope is to equip independent types who are taking cruises with the information necessary to enjoy the best of both worlds -- the economy, ease, and glorious hedonism of cruising with the joy and challenge of dipping into the cultural wonders of Europe on your own. It's an attempt to travel "through the back door" -- as much as is possible when you make land with 3700 shipmates (along with several other, similarly big shiploads).
Sailing away from our port of embarkation, I joined my fellow cruisers on deck to wave goodbye to Barcelona. As we gracefully floated by the Disney ship docked at the next berth, its passengers waved happily to us. Insinuating that we were envious of not being on a Magic Kingdom cruise ourselves, the ship's thunderous horn gloated to the tune of "When You Wish Upon a Star."
On this trip I'm sailing with Royal Caribbean on the good ship "Liberty of the Seas." Already I can feel some "ship pride" setting in. I love this boat. We're sailing with 3700 passengers and a crew of 2000 (although the ship holds 4000 passengers, we're sold out as some single passengers paid to use a double cabin).
I make a point to thoroughly move in, as I'll be here for a week. With a tight compartment, it's important to be organized. I've never packed so much before: deck wear, nicer evening wear, and more-rugged travel clothing to use on land. I even brought four pairs of shoes -- if you count my flip-flops.
Attending the "Destinations Review" program in the huge theater, I expected a big crowd. This was the chance to survey the shore excursions that'll be sold throughout the week, but only 30 people showed up. People are here to do what cruisers do: eat, lay around, shop, gamble, and sightsee in no particular order.
Back in my room, I sorted through the mix of papers that I picked up: special offers, schedules, events, and educational opportunities. One page asks "Thinking about Botox?" Another offers a "free teeth-whitening consultation." One reason is clear about why cruising can be so inexpensive: They make more money off you once you're on board.
By the time I've surveyed the deck scene, shot a few baskets, played ping-pong, checked out the gym, and watched a couple of guys surfing on the raging "FlowRider" surf simulator, we're far out on a glistening sea. As the sun sets, I stand atop this floating city of fun playing putt-putt golf. Scanning the horizon futilely for Mallorca, I'm wondering how I'll do: Will I enjoy the people, the food, the congestion as we spill into port, evenings at sea, and the days on land? During the next week, I'll enjoy days in Provence (Toulon), the French Riviera (Villefranche), Florence (Livorno), Naples, Rome (Civitaveccia), and then a day at sea to return to Barcelona. Then I'll catch a fancier cruise line (Celebrity) and sail the eastern Mediterranean for a second week.
Anchors up and stay tuned. Europe through the Back Door is going to sea.