What is customer experience (CX)? To get customer experience right, companies need to first get the definition of customer experience right, according to an enlightening talk I had with Esteban Kolsky, the Principal and Founder of ThinkJar, an advisory and research think-tank focused on customer strategies. With over 25 years of experience in customer service and CRM consulting, research and advisory services, including eight years spent at Gartner focusing on customer service and CRM research, Kolsky is taking what companies today think of CRM and customer experience and flipping it on its head. He says that the digital transformation of businesses and the inbound revolution have brought about a radically different way of doing business which has changed CRM and "customer experience" forever.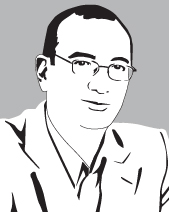 Esteban Kolsky
Kolsky gives us these 5 insights into how the customer has changed and how this is redefining customer experience, inbound marketing and CRM as they relate to the digital transformation of the business.
1. Customers are not listening to what you have to say - Inbound marketing is a hot topic for companies today. Kolsky tells us that inbound marketing is the first realization that customers don't listen to what you say anymore about your business. "To put it bluntly customers don't have an interest in what companies have to say, they have the knowledge and the information and they don't need to rely on the company for this," says Kolsky. The radical change to inbound marketing, due to the fact that people outside the organization know more than the people inside the organization, will be more about how to manage social channels than about managing content and the inbound flow of communication.
2. Customers know more about your business than you do - To illustrate inbound Kolsky uses the example of the inventor of duct tape, who first created it to be used as an adhesive tape in outer space. He tells us that his daughter has spent the summer building wallets and t-shirts and whatever else out of duct tape thanks to plenty of YouTube tutorials. "A company can make a product for a specific use, but loses control of the product and the uses for it very quickly," says Kolsky. Companies cannot pretend to know more than their customers about what they want to do. Even if they take the time to learn the customer journey, they still don't know what customers want to do at the moment they are doing it. Therefore, the question becomes how do we leverage what customers are doing and saying to sell more product and how do we use information from the world in a more positive way to dynamically and flexibly change the way we do business? This is the digital transformation part that has to go together with inbound. The bottom line is that it's not about the customer at every interaction; it is about what the customer chooses to do in relation to your business.
3. Customers create their own experience - When it comes to customer experience Kolsky wrote the book, so to speak, with Ed Thompson back in 2002. In it he wrote the first definition of customer experience, which he still uses in presentations to make fun of what we thought it was then and what we still think it is today. Kolsky calls his original definition of customer experience moronic: "Customer experience is what a customer senses with all five senses with any interaction that they have with the company." He pokes holes in his original definition by asking, "When was the last time you tasted a screen?"
So then what is the definition of customer experience? It turns out that it has nothing to do with customer experience. Kolsky says there are two aspects to it. You have what the customer actually gets to experience, but to do that customers will build their own experiences. They will not wait for companies to tell them how to do it; they are the ones pushing companies to create the ability for them to do what they want to do. All companies have to do is transform their business and open up as much as possible, and then get out of the way so customers can create their own experiences as they go along - this is the true definition of customer experience. From the business perspective the customer experience should be about building the infrastructure that allows customers to do whatever they want to do through whatever channel they choose to do it.
Kolsky tells us that companies need to throw out the notion that they can create, manage and control customer experience. He says all the time spent talking about customer experience is just wasted time trying to understand something that is not for us to understand. The bottom line is that companies cannot create customer experience, customers create their own experiences.
4. Customer interactions are complex and unpredictable - The way that people interact with businesses has changed, and therefore CRM has changed. Each time a company touches a customer it's an interaction. The problem with traditional CRM is that all these interactions are siloed as customer service, sales, marketing, etc., but today's customer interactions are not so simple. When a customer contacts a company they can do a million different things and companies never know what that's going to be. In the old days customers would call the specific number listed for customer service. Today they don't care; they send an email to the main email address or call the main number and they know you have to answer it. With this change, companies can no longer silo operations to correspond to CRM. Interactions have changed from being defined interactions that you could define an experience from to an interaction where anything goes - you don't know what is going to happen but you need to provide for anything that could happen.
The role of CRM today is to provide information to analytical packages that back up this customer experience platform so we can customize interactions with customers. CRM for the past five years has become a system of records, a place where the data is stored and brings it all together into a common infrastructure - an interface to the experience. CRM is moving toward being a central point from where customers can draw their own information to create their own experiences. And when you sum up all the interactions over time that is the beginning of what engagement is all about.
5. Customer (and user) communities are where the knowledge is at - In a thought-provoking blog, Kolsky states that knowledge decays at the rate of 50% for every minute it exists. He builds a case for knowledge-in-use by saying that the problem with stored knowledge (knowledge found in books or even accessed via search engines) is that it is not contextual. "If you can ask a person a question and get an answer in 30 seconds then not only is that person's reputation increased but your knowledge of where to go to information is increased," says Kolsky.
"There is something to the wisdom of the masses that cannot be denied," says Kolsky. This is why he thinks that communities are going to kill knowledge management systems. He says that communities are where the knowledge resides and he feels that there is no purpose for a knowledge base to exist, where you put knowledge in a place to decay over time, when you can get a few people to collaborate together and ask them. He says this was the whole purpose of social media. Kolsky says communities will evolve to where users have a reputation score and earn the trust and respect of peers, where the strongest voice is able to rise to the top of the forum and become a source of knowledge for others.
And to bring it the conversation back around to the digital transformation of business, Kolsky says that digital transformation is just computers talking to computers doing the things we don't want to do - a topic covered in Andrew McAfee's new book Race Against the Machine. According to Kolsky digital business transformation happens when companies realize that everything we do today is done in digital form and that their business has to change in order to adapt to this total pragmatic change in how we do business today.
You can watch the full interview with Esteban Kolsky here. Please join me and Michael Krigsman of Asuret every Friday at 3PM ET as we host CXOTalk - connecting with thought leaders and innovative executives who are pushing the boundaries within their companies and their fields.
Related
Popular in the Community