Photograph of protests by Cristian Vasile.
Yet another Sunday afternoon passed in Romania with tens of thousands taking to the streets in protest against the Rosia Montana gold mining project and their government's opaque and irresolute response. Now over two weeks into ongoing protests that give no indication of subsiding, the major political actors in Romania struggle to deal with an increasingly larger and more vocal segment of the population. There is also a growing sense that this movement is already bigger than Rosia Montana itself.
Like many self-organizing protest movements, the interests and demands of the protesters are diverse and any attempt at a convenient summary would do the movement injustice. There are some consistent demands however, such as a petition for UNESCO heritage site status and an outright rejection of cyanide in gold mining.
One thing is becoming evident as these protests gain greater voice and force: more and more Romanians do not want cyanide poured into their ecosystems and patrimony, let alone at a rate of 40 tons per day. Gabriel Resources and its subsidiary the Rosia Montana Gold Corporation, not to mention the Romanian government (as well as much of the domestic media reporting on the subject) have stressed that cyanide is so heavily regulated in the European Union that its toxicity is effectively regulated out of the equation. One of the key arguments against a ban on cyanide is the lack of economically viable alternatives.
To contextualize this narrative a bit, it is worth recalling that these stringent EU requirements are partly the result of one of the worst ecological disasters in modern history, the 2000 Baia Mare cyanide spill. This disaster, which has been likened to Chernobyl, occurred in Romania itself, with repercussions felt around Eastern Europe.
Since then, at least 25 cyanide spills have occurred across the world. Individual governments have banned cyanide in gold extraction, such as Germany, the Czech Republic, Hungary, and Turkey. In the United States, Montana and Wisconsin have passed anti-cyanide legislation. In 2010, the European Commission declined to impose an EU-wide ban on cyanide because it deemed the existing regulatory regime to be sufficient.
When the European Commission rejected an EU-wide ban on cyanide leaching in gold extraction, it noted that EU law requires the use of "best available technologies". But what if the best available technologies no longer have to be cyanide-based?
There are alternatives, such as thiourea, thiosulphate, thiocyanate, coil-oil agglomeration, and halides. In addition, there are two significant industry alternatives such as the promising Haber Gold Process, and the "YES-Process." The Haber Gold Process in particular has passed the proof-of-concept stage and is now being implemented at an industrial level in Arizona. All of these have their own pros and cons and some can be more efficient than cyanide. For example, the "YES-Process" uses a cyanide-free biocatalyzed leaching process that is 200 times less toxic than cyanide.
Perhaps the most exciting of the recent discoveries was published this summer. Scientists from Northwestern University stumbled upon an alternative chemical derived from, of all things, corn starch. The discovery quickly garnered international attention. The new technology derives alpha-cyclodextrin from corn starch in order to extract gold. I asked the lead author of the article, Zhichang Liu, to discuss the feasibility of this novel technique. Liu stated that this new means of extraction is cheap and easy to handle. Further, Liu noted that the process was not only environmentally friendly, but promised to be more so with further investment.
Right now, investment appears to be the limiting factor in all of the alternatives to cyanide. But Liu pointed out to me that over 50 companies from around the world and a number of venture capitalists from around the world have contacted the team about scaling up their discovery. Is 'green gold' (or, at least, greener gold) possible? It would appear so. Ironically, some of these new alternatives are coming out of Romania itself, such as a recent process developed by SC Larechim.
One of the counter-arguments to banning cyanide in Romania is that it would drive away investment. Prime Minister Victor Ponta has claimed that Romania would be the only state in the European Union to ban cyanide. This claim is made despite the fact Romania would in fact be joining Germany, Hungary, the Czech Republic, and the nearby economic ally of the EU, Turkey. Industry rarely favors increased regulatory burdens, but arguably the biggest barrier to investment in Romania is government corruption (which has been a pervasive theme throughout these protests). Indeed, according to a recent World Economic Forum report on global competitiveness, corruption was cited (second only to tax rates) as a primary inhibiting factor. Romania ranked 141st out of 148 states for "public trust in politicians" and 137th place for "favoritism in decisions of government officials". It appears that it is less the demands of protesters that scare away investors from Romania, but rather the conditions that give rise to them.
According to one industry report, Romania has over 31,000,000 ounces of gold in its earth. If it were to join the other three EU states (not to mention Turkey, with reserves of nearly 14,000,000 ounces of gold), it would create a market that is simply too large to ignore. By way of example, when California passed strict emissions laws, industry said it would kill the California auto-market. The pie was simply too big to walk away from and private sector actors adapted to the stricter regulations. What was impressive about the results of this legislation was that, because of California's economic scale, the industry adapted, invested, and having done all of the hard work, took the new reduced emission vehicles and sold them around the world. In other words, domestic regulations led to global emissions reductions and public health improvements.
If Romania implemented a ban on cyanide, it would join a growing body of EU states with similar laws. Not only would this incentivize the private sector to scale up the most promising alternatives but also, through the mechanisms of federalist democracy, catalyze a new push for an EU-wide ban on cyanide. Such a ban would be entirely consistent with the Europe 2020 priorities for sustainable growth. Because of the size of the market, industry would be unlikely to turn its back. Rather, it would be incentivized to embrace alternatives like Zhichang Liu's corn starch derivative. Such alternatives would be ecologically sound and cheaper and the effects could ripple across the world. This could lead to changes in poorer countries that do not have the luxury of a tightly regulated marketplace, who are often the subjects of countless tragedies of the commons. A rejection of cyanide in Romania is about more than protecting the environment, health, and patrimony of Romania; the benefits could spill over and reform the entire gold mining industry if the inertia is seized and the state and its corporate partner do not abandon the earnest will of the people.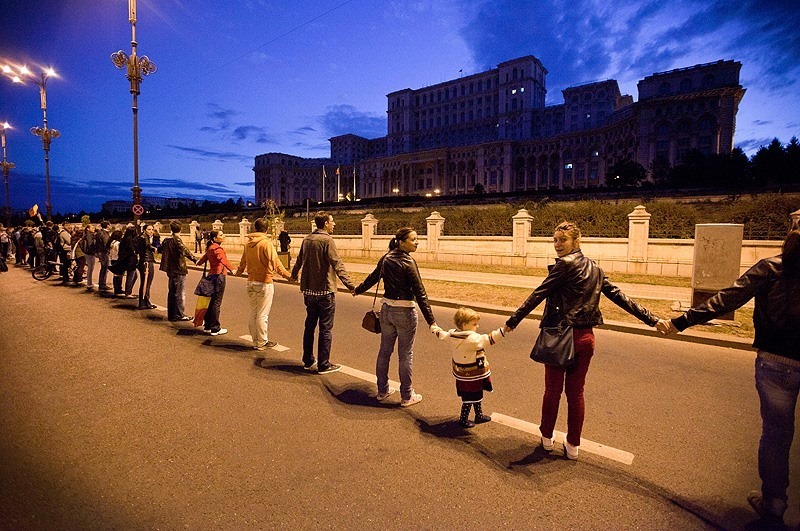 Photograph of human chain around House of Parliament by Vlad Petri.
Related
Popular in the Community