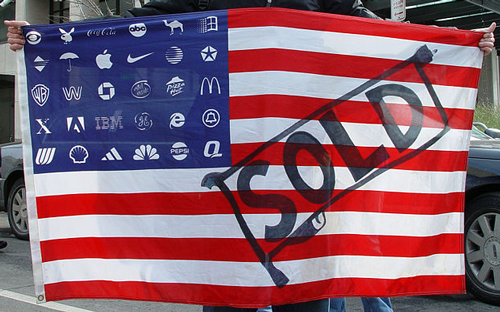 In this year's election cycle, the restless, anti-establishment anger is palpable, and shared by voters on the left who felt the Bern and on the right who love the Donald. Both are animated by a conviction that the moneyed class and corporations have hijacked our democracy. Emerging from their conventions, both Hillary Clinton and Donald Trump will vie to win over these disaffected voters. Right now, both candidates are missing a potent opportunity to publicly recognize that it is not only money producing outsized influence in our democratic system. It is data.
Data plays a crucial role in our democracy by revealing how it works—who votes, who gives, who spends on what—and too much of it is inaccessible, incomplete, or too messy to understand without analytics experts. Data is not making our democracy less rigged in favor of incumbency and wealth. It reinforces this imbalance.
What is missing is a defined data infrastructure for democracy – the collection of publicly accessible datasets that are fundamental to understanding how democracy operates and to holding officials accountable when they run for office, and when they hold it.
There is publicly available data on voter registration, campaign financing, lobbying, legislative voting, regulatory decisions, even White House visitor logs. While much of this data may be open, access and the ability to mine it for meaning are unevenly—and unfairly—distributed.
Now more than ever, computer power is reinforcing political power. Data has only further disintermediated ordinary citizens in the democratic process. Political elites, their parties, and their major donors retain the services of the "analyst class" of people with the skills to aggregate large volumes of data, build algorithms, and generate analyses that drive democracy in action – in fundraising, campaign strategy, lawmaking and rulemaking. Only they have access to the full range of relevant data for this.
This is something either Clinton or Trump, as a candidate and as president, can address.
Clinton issued a Tech & Innovation Agenda that reveals a scope that is unusual and impressive for the presidential campaign. To her credit, it does not shy away from hot button issues like net neutrality, patent reform, privacy – and cybersecurity, now the hottest of hot buttons after the hit-and-run hacks of the DNC and Clinton campaign. Its missing link is how to contend with the connection — or perilous tension — between data and democracy. Unfortunately, Trump on his campaign website offers no positions on technology or how to fix the rigged system he frequently decries.
The Clinton technology agenda does address data. It builds on groundbreaking efforts by the Obama administration to make government-held data accessible. Clinton rightly connects "open data" to spurring entrepreneurship, tracking public expenditures, and improving government performance. But it misses a critical point: Open data and transparency have not translated into more accountable democracy.
Data analytics are a mainstay of campaigns who now understand more about each individual voter than that voter does about the political behavior of the person she votes for. Elections have always been a numbers game. But today, we don't see the half of it, literally. The data at the fingertips of campaigns and incumbents is fine-grained and closely held – from the list of a Party's registered voters and volunteers to the network of people funding their Super PACS.
"Computer power is reinforcing political power. And data has only further disintermediated ordinary citizens in the democratic process."
What can the candidates do right now? First, they can state their commitment to making this vital data for democracy freely accessible from a single online portal.
Like equal access to the voting booth, access to data is fundamental to representative democracy. Think of it like this: Protecting critical infrastructure—the vital infrastructure on which our economy and society depend such as power facilities and transportation systems—receives attention at the highest levels of government. Democracy is part of this country's critical infrastructure. The data infrastructure of democracy should be safeguarded – by making that data fully and effectively open.
We already have glimpses of what that might mean. Opensecrets.org is a fount of information for tracking of campaign contributions, lobbying, and the personal finances of elected officials. The Sunlight Foundation has tools to track political fundraising activities and ad purchases. Roll call data showing the voting records of members of Congress are explorable from multiple sources.
These efforts are invaluable. But they do not assemble that fuller picture which enables people to connect a candidate, their campaign financing and spending, their personal and political networks, and their legislative voting record – or even predict that candidate's priorities, voting and influence on specific issues once in office.
The next president could begin with a clear directive to define a national data infrastructure for democracy and publish specific, key datasets. There is precedent for this. On his first day in office, President Obama issued a memorandum declaring an overall objective to make the Federal government more open and setting a target date for issuance of a formal Open Government Directive. He followed this with an Open Data Executive Order in 2013 directing all newly generated government data to be made freely available.
The next administration should specifically target data crucial to public understanding and accountability for how our democratic institutions and processes work. We already have a place to put it – a national data portal called data.gov, which today makes over 200,000 datasets easily discoverable by the public.
Realizing this vision can have practical effects. It could make it easier to apply machine learning to begin planning what policy initiatives might have chance to gain public and legislative support. If campaigns can use data to micro-target voters, why can't data be used to micro-target legislators? This could be used to more effectively to build legislative support or to expose what drove a legislator to cast a given vote or sponsor a given piece of legislation, or even more importantly predict policy changes are ripe for adoption?
An easily accessible repository of data will not eliminate the ability of the powerful and well funded to mine data for political benefit. It will lower the hurdles for more civic-minded people (and data scientists) to expose such behavior and press those in public office to be more accountable.
A candidate's technology policy agenda will not typically win many votes in November. But this year is far from typical. Frustration with our political system resonates loudly with the public in this election cycle. A data policy that bends the arc of American democracy toward more accountability speaks not only to Silicon Valley types but also to an uncommonly large, energized share of voters.
Before You Go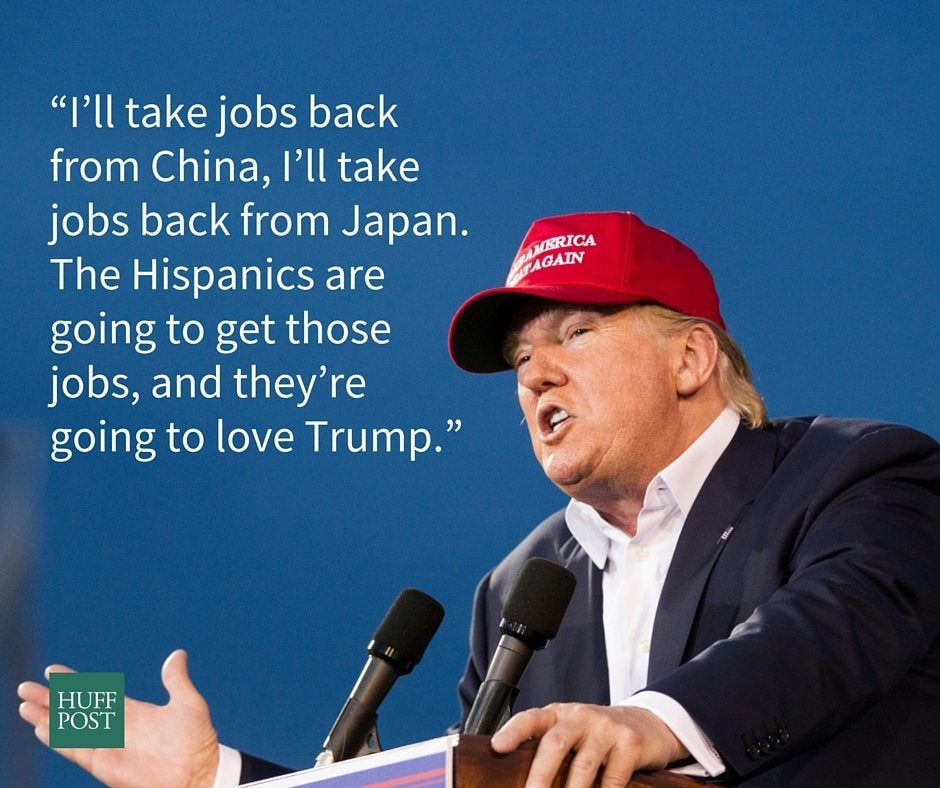 9 Other Absurd Things Donald Trump Has Said About Latinos
Popular in the Community