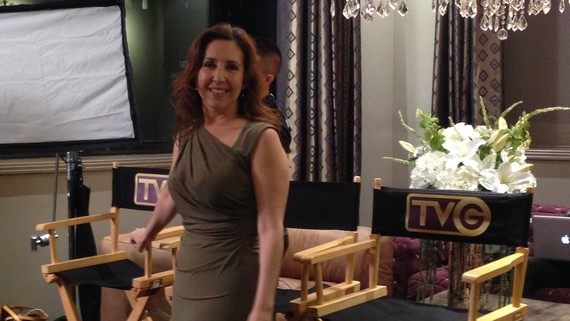 I've been sitting on the sidelines of daytime talk for a decade, as a former talk show producer and show runner - quite frankly, I've been waiting for it to get interesting.
I had the privilege of working in the talk show hey days with Montel Williams, Maury, Geraldo, when shows had staying power for a decade; before talk shows got hi-jacked by reality stars (Bethany, Kris Jenner), movie stars (Queen Latifah, Whoopi Goldberg), primetime stars that no one in a daytime audience recognized (Megan Mullaly, Jeff Probst, Caroline Rhea, Bonnie Hunt), and news anchors (Katie Couric, Anderson Cooper, Meredith Veira). Many of these big name daytime host are often deals made in back room contract extensions, re-negotiations, etc. brought in by studio brass as a desire to keep a brand within the studio family and nothing to do with what a daytime audience wants.
Bonnie Hunt was one of the worse daytime talk show guests that I ever produced for television for her inability to be herself on camera. The correlation from guest to host is not a definitive sign of hosting success; however, as an actress, she played a daytime talk show host in a primetime sitcom called, "Bonnie." This fictitious version didn't do well, yet, some executive gave her a daytime talk show anyway, and the audience wondered, "Bonnie who?"
Defining who the daytime audience is and what they want is the critical factor here for successful daytime television. Daytime is made up of stay-at-home parents, the unemployed, college students, retirees, and shift workers that make up a large part of the audience - often recognized as the back bone of America. I believe the suits are out of touch with the actual daytime audience. Do you know who isn't out of touch? It's the station managers who deal with the local audience in their specific regions day in and day out. Many station managers are tired of having to buy a show for two years in order to get the privilege of having one of their better rating shows in a package deal. The new show that was just purchased for two years, ends up rating poorly for the station group, and they are stuck with the show in that time slot or a mid-season replacement that doesn't please anyone.
Studio executives often tell me that daytime is a tough market. But it's not...it's actually a simple formula. But when you look at the list of the shows that have failed in the past several years, you can see it's not that daytime is hard, but that the choices of hosts are poor.
The actual job is MUCH HARDER than it looks. Having had this same conversation with country music star, Reba McIntyre, she said that she believes, next to doing Broadway, hosting a daytime talk show is by far the most difficult job out there which is why she hasn't wanted to do it.
I train hosts to handle interviews through TVOnCameraTraining.com, and I can say the art form is a well-orchestrated tango and not just asking questions on camera. The actual job description of a talk show host entails understanding the innate timing and pacing to not only a guest interview, the actual segment and story arc within the segment, but also the pacing of the entire forty plus minutes of taping time. Very rarely are celebrity talk show hosts informed or trained of this well versed technicality when they are shown marketing posters of their name on billboards.
I experienced this first hand when Sony dumped the Two-Time Emmy Nominated television show, Donny & Marie, for the name sake of the book series, "Men Are From Mars, Women Are From Venus," a great title with no show concept. Actress Cybil Shepherd, a fantastic guest on the Donny & Marie Show became the host of the new show. Cybil is a great guest. She knows how to tell really entertaining stories about herself on television which, when she became a host, she continued with the same formula, one problem of problems. Unfortunately, the new job description, required the ability to listen more than talk which made her challenging to produce, and boring to relate to a daytime audience.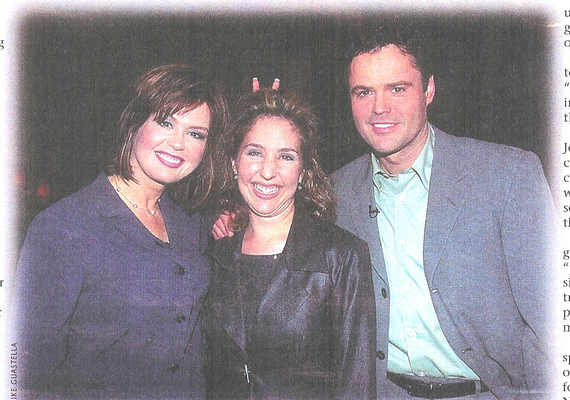 The current crop of recently successful talk show men are in their 60's and 70's - Maury, Phil, Jerry, and even Steve Harvey. They haven't raised kids of their own since the 80's and 90's which puts them out of touch with today's audience. Plus, they seem to be getting grouchy, irritable and less tolerant. Content can be provoking without all that condescending advice.
The industry of daytime talk is small. Many of the producers I work with at TVGuestpert vent their frustration when trying to lock their shows with hosts that can't keep up on the workload. Often the best candidates for daytime talk show hosts are overlooked as they lack the A list star power that studio executives believe they need.
An industry colleague shared that with me that veteran daytime show magnets Burt Dubrow (Jerry, Sally, Dr. Drew/HLN) and Bill Geddie (The View) are rallying around longtime daytime TV talent, Troy Dunn, longtime Host of the "Locator" on We!, and host of the "Last Hope" on UpTV.
Dubrow & Geddie have it right. Dunn already has a built in platform of daytime content from his twenty-five years of reconnecting lost families and rebuilding over 40,000 fractured relationships through his work as The Locator (his company was eventually bought by Ancestry.com). Ingredients for a daytime relatable host is someone that is trustworthy that you welcome in your home five days a week. Married to his high school sweetheart; father of eight; practiced host, guest, and producer - check, check, check!
Remember Father Albert a few years ago? There was NOTHING relatable or trustworthy about a cheating priest. (No offense Deb Mar Mercury; however, you are excused for Father Albert because you nailed it with Wendy Williams). The same with Nate Berkus. He's a nice guy who is unrelatable in daytime; unless you want your home decorated, then why not go to HGTV?
I want to see the daytime pot stirred with new chances taken and formulas that worked with veterans who know it best. Maybe there is still hope for daytime talk, as Dubrow and Geddie may make this genre interesting again.
UPDATE: On the record, Burt Dubrow, current Executive Producer at HLN's Dr. Drew, said that he is not directly involved in the shopping of Troy Dunn's show; however, he added, he is "a big fan of Dunn."
*Donny & Marie photo taken from University of Delaware Messenger (2000).
REAL LIFE. REAL NEWS. REAL VOICES.
Help us tell more of the stories that matter from voices that too often remain unheard.