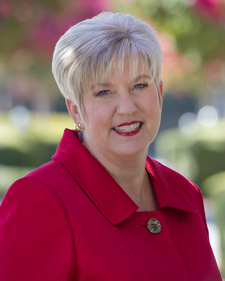 Can we still be In Right Work after 25 years in the same job?
How could someone be in one job for 25 years and still feel she is in "right work"?
How could someone who loves to learn and grow still be in the same job for 25 years and feel fulfilled?
How could someone who loves to teach and mentor still be in right work as an executive support professional after 25 years?
The role of Executive Assistant has been evolving over the past 25 years. My company, EASearch, LLC, specializes in search and consulting for senior level executive support professionals. Executive Assistants are increasingly more strategic with a partnership level of contribution at the C-Suite level. There is also an acute talent shortage nationwide for the best of them.
Many years ago, however, it was different.

I was at an event in San Francisco and was invited to the pre-event cocktail party. I walked in not knowing very many people and was drawn to a man with an engaging smile. "Hi", I said, "I'm Leni Miller". "I'm John Chambers", he said. I didn't recognize the name so I asked the obvious question, "What work do you do?". "I'm the CEO of a little tech company down in Silicon Valley called Cisco", he said. " I had heard of them. "What do you do?", he asked me. I recruit Executive Assistants for C-level executives", I said. And then John Chambers said something that I never forgot. "I could not run Cisco without my EA, Debbie Gross!".
At that time especially, I loved the appreciation John had for Debbie and I loved that he had understood the real value of a great Assistant. "May I tell Debbie what you said", I asked. "Sure", he laughed. " I would be delighted if you told her." The next morning I sent an email to Debbie Gross, introduced myself, and told her what John had said to me about her. She called me back later that day and laughed with delight as she said, "You know, I love what I do. It's nice to know that it's working that well from John's perspective." Debbie and I became friends. As the years rolled on, we saw each other for dinner several times a year.
As time passed, I noticed that Debbie had been a co-Founder of an Association called "The Catalyst Group" for EAs to CEOs in Silicon Valley and been part of creating a new curriculum for training Executive Assistants at UCSC Extension in Santa Clara, CA. Later, I noticed an article written by Ari Levy called "Where would Cisco (and its CEO) be without her?"
"It could reasonably be argued that few people in the technology world have worked harder over the past 24 years than Debbie Gross. Her boss, who was promoted to CEO in January 1995, is the longest-standing top executive among Silicon Valley's major tech companies."
Debbie is not only the Chief Executive Assistant to John Chambers, she also leads training sessions for administrative staff and teaches at UCSC Extension. She is now invited to speak at administrative conferences around the world and has been a one woman band empowering and inspiring an entire profession.
In my book, "Finding Right Work, Five Steps to a Life you Love", I tell the stories of people who have rediscovered right work later in life or found it early on, but very few had stayed in the same job or company for 25 years.
"Right work," as I define it, is when your strongest talents, skills and abilities, core values and current life priorities are all aligned with the work you are doing. Let's see if it is possible that Debbie Gross is still in right work after 25 years?
Debbie's Current Priorities:
•Passionate commitment to learning and growing
•Contribute to success both of her boss and the profession of executive support
•Strong focus on customer service
•Involvement in teaching and training for Executive Support Profession
•Support John as long as is needed
Debbie's values
•Treat others the way she would like to be treated
•Focus on creativity and inner resources
•Extraordinary service to others
Strongest talents, skills and abilities
•Extremely organized
•Connects the dots quickly
•Positive attitude
•Clear and concise communication
•Exceptional executive support skill abilities
•Access to creativity
•Self-reliant
•Flexibility
When Debbie first began supporting John, she asked him if he could expand her role beyond executive assistant to satisfy her desire to learn and grow. "If you aren't happy being my EA, I will help you find the right role." Replied John Chambers. Debbie quickly learned a very important lesson at that moment. She learned that she had to work within the parameters of her existing position. "What can I now do that will allow me to stretch, grow and still be in the same parameters?", Debbie asked herself.
There were 600-700 employees at that time (now there are approximately 73,000) and 12 EAs (now there are approximately 900 administrative professionals). The EAs didn't know each other. Debbie decided to create a forum to be able to talk about issues and share best practices. The EA Staff Meetings grew as Cisco grew. This was the beginning of Debbie knowing how to grow outside the parameters of her EA to CEO role at Cisco.
Today, Debbie in her mentoring role has trained and taught over 300 admins within Cisco and countless others outside of Cisco. The job of being a rock star EA to a rock star CEO lives right alongside Debbie's passion and success for coaching and teaching. She is helping others while helping herself grow and learn every day.
Many people leave jobs because they can't grow inside the job or because they haven't gotten a promotion they wanted. Debbie grew her professional life without leaving her job and without any promotions. She expanded her value to the company, to her boss and to her profession as she expanded her own learning and development.
Finding Right Work does not always mean you have to find a new job!
Finding Right Work can mean that you create something new right where you are!
Debbie says that it was John who empowered her by supporting her creativity, and I would say, that perhaps it was Debbie's exceptional executive support that inspired John to support Debbie!
What are Debbie's secrets for her own and other's success?
•Lead with the questions: "Where else can I be of help?"
•Expect nothing to go exactly the way you expect it to go
•Develop flexibility as a strong habit
• Take nothing personally and develop a thick skin
•Develop the habit of having a positive attitude as a core strength
•Develop the habit of clear and direct communication
•Develop the habit of being self-reliant.
•Let go of needing to know exactly where you are going
"It's not about thinking out of the box; it's about thinking there is no box!
Open your mind and heart to what keeps you from checking the clock.
Related
Popular in the Community