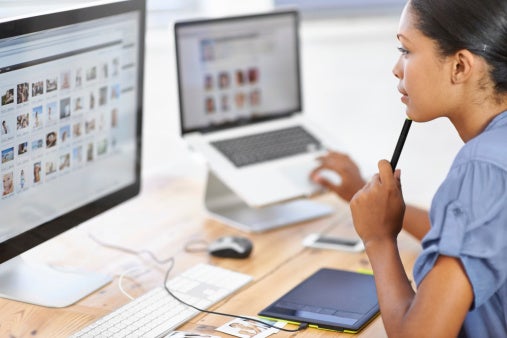 Digital marketing is a fairly new field which aims to improve the digital presence of a business and support the brand across different digital outlets (also transferring to the offline world).
Professional marketing teams engage in different activities in the digital landscape, including:
Content (blog posts, articles, whitepapers, research studies, ebooks, sales page copy, email newsletters, social media campaigns, SEO).
Creative (engaging photos and featured images for content, infographics, charts, photos, video).
Stats (analytics, KPIs, goals and targets, conversion funnels, customer LTV).
Large enterprises excel at building outstanding marketing campaigns that combine the inbound marketing landscape with advertisement, on-site presence at events (as sponsors, speakers, volunteers), PR and other outbound campaigns.
One of my favorite resources covering the entire scope of marketing in large organizations is Chief Marketing Officers at Work by Josh Steimle. The book contains 29 interviews with CMOs at some of the leading brands out there, including GE, Spotify, Target, The Home Depot and Harvard Business School.
Digital marketing can and should be employed in organizations of all sizes - from solopreneurs and freelancers through small and medium-sized businesses to large enterprises. The art of building corporate identity or even a personal brand depends on successful and creative marketing strategies online.
Generation Z is also joining the digital force now - with teenagers up to age twenty-two now using different channels such as Snapchat and Instagram for communication and forming opinions of the surrounding world.
Professional marketers can identify their target market and build a sensible strategy based on their product or service. This could be instrumental to any business striving for growth and establishing dominance among their competitors.
Moreover, an experienced digital marketer could be instrumental for any type of business. This allows flexibility for professional consultants supporting different organizations or launching their own products or professional services (being able to sell themselves).
The negative end of digital marketing is the lack of structure.
Everyone can freely offer marketing services nowadays. There are no formal certification courses or training programs that are adopted by the corporate world. Every teen can offer social media marketing services or content writing - without the right background or actual experience.
Most organizations also struggle with the actionable KPIs for their business. Simply growing the number of blog posts on your site or the number of followers won't have a direct impact on your sales or ad revenue.
For example, a traditional digital sale is usually formed through three factors:
Traffic
Conversion rates
Cost
Increasing the traffic may seem like a natural way to grow the sales of a business. However, the equation is more complicated. Traffic that doesn't target the right audience at the right step of the buyer's journey won't lead to a sale and will decrease the conversion rates.
In fact, decreasing the traffic may increase the total revenue. Better targeted campaigns can double or triple the sales of a business, reduce the bounce rate per page, and increase the exposure in SERP rankings.
This complicated process requires a lot of research and experience with different campaigns conducted for other businesses. Since the number of experienced digital marketers is small overall, businesses end up hiring recent graduates or marketing assistants, relying on them for increasing the digital footprint of a business.
Or even worse, relying on a random agency online that offers marketing solutions without offering case studies showcasing their success stories.
So, the market is flooded by self-proclaimed influencers and rockstar digital marketers who often fail to deliver when they land a job.
All in all, digital marketing is crucial to every business. Most self-taught marketers don't have practical experience that allows them to provide professional services that make an impact for a business. Customers are also clueless, expecting results quickly at a low cost.
The lack of standardization or best practices online lead to a chaotic digital space with plenty of dissatisfied customers.
Fresh graduates interested in digital marketing can succeed by joining reputable organizations and learning from experienced marketers. Thoroughly reading about the marketing landscape is incredibly helpful as well.
Different businesses can benefit from different strategies (depending on their niche, target audience, and their competitors) and working with different businesses often helps testing various strategies and measuring the results of each campaign over time.
Just don't buy every single digital marketing ebook or course out there. Most of those are carefully designed to attract a large audience of people buying into false assumptions and fake stats.
This question originally appeared on Quora - the place to gain and share knowledge, empowering people to learn from others and better understand the world. You can follow Quora on Twitter, Facebook, and Google+. More questions:
Related
Popular in the Community