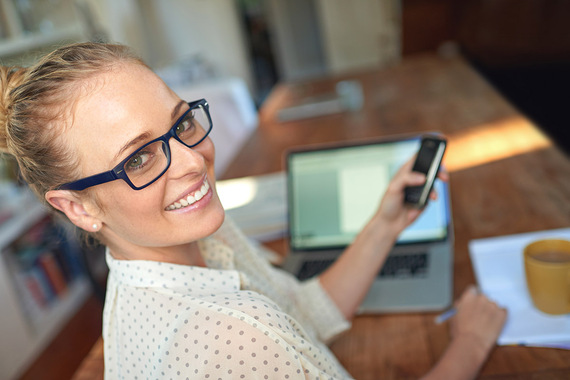 One of my biggest takeaways from the World Economic Forum in January was that humans are at the center of the digital revolution. Digital has the power to transform businesses and entire industries. And, human beings are driving the technology that powers both economic and social change.
And digital fluency - the extent to which people embrace and use digital technologies to become more knowledgeable, connected and effective - plays a key role in helping women achieve gender equality and level the playing field at work.
1. Digital fluency acts as an accelerant at every stage of a woman's career - a powerful one in both education and employment and an increasingly important factor as women advance into leadership roles.
2. If governments and businesses can double the pace at which women become digitally fluent, gender equality could be achieved in 25 years in developed nations, versus 50 years at the current pace. Gender equality in the workplace could be achieved in 45 years in developing nations, versus 85 years at the current pace. Think about what this means for our daughters. We are finally able to make a dent in a problem that's been stagnant for too long.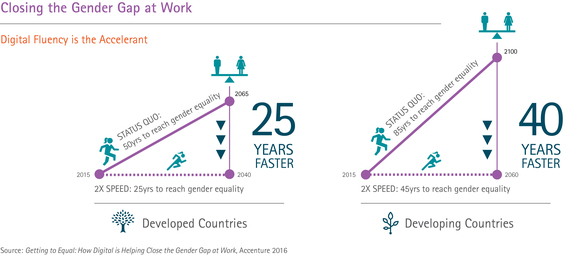 3. Education - Improvements in digital fluency result in better-educated women. And women attained higher levels of education than men in 16 of the countries we studied.
4. Employment - Women's ability to find and participate in work increases as digital fluency increases. Digital fluency is helping today's workers better manage their time and become more productive. While both men and women appreciate the work flexibility digital enables, women appear to gain greater advantage from it.
5. Advancement - Digital fluency helps women advance in their careers, but its impact has not yet closed the gender gap among executives. Similarly, while digital fluency is having a positive impact on pay for both men and women, it isn't closing the pay gap yet. We will continue to study the impact on pay and advancement to see if there is movement as more millennial women and digital natives move into leadership roles.
The bottom line is digital fluency has the power to disrupt and change the game for women in the workplace.
How Can We Accelerate the Change?
It's important to remember digital fluency doesn't mean everyone needs to code. And, while there is certainly a need for more collaboration between businesses and governments to close the gender gap more quickly, we can do some simple things in our own lives and the lives of our daughters to build digital skills. Things like online gaming, accessing computers in schools, reading books and articles online and using social media all help create the next generation of digitally literate women. It's also having the mindset and willingness to try new things. I'm a baby boomer, and I consider myself to have high digital fluency. It's not always easy, and sometimes I need to ask for help. But it's a priority for me to learn and participate in new technologies. And, it really has helped accelerate my career growth.
The potential payoff is clear - women are poised to leverage their digital skills into promising careers that provide employers the skilled workers they need.
And, most encouraging is 71% of men and women who participated in the study agreed that the "digital world will empower our daughters." I'm excited to watch this trend create even more prosperity and promise for future generations. Digital might just be the difference maker we've been waiting for to narrow the gender gap at work - getting us closer to equal at a much quicker pace.
Calling all HuffPost superfans!
Sign up for membership to become a founding member and help shape HuffPost's next chapter