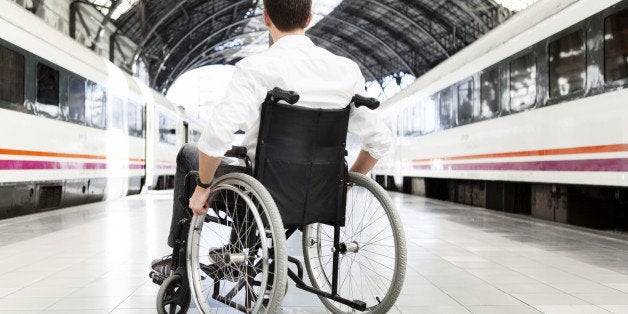 It is often joked about that a good way to snag an Academy Award is to star in a Holocaust film, get fat for a role, or to play a person with a disability. From Daniel Day Lewis in My Left Foot to Eddie Redmayne's surprise win for best actor playing Stephen Hawking in The Theory of Everything, Hollywood continues to applaud actors who portray people with disabilities... but otherwise, mostly avoids disability. This role required an able bodied actor in order to capture his transformation and there is no question that Redmayne did a fabulous job. At the same time, we are seeing a rise in films made in America, mostly in the independent market, on the topic of disabilities. Can this overlooked minority make strides towards the mainstream?
25 years after the signing of the Americans with Disabilities Act, people with disabilities are still highly underrepresented in every field. Hollywood definitely does not help by representing far less than the over 10% that this demographic makes up of society. I believe that in the case of movies, life often mimics art. Hollywood sets the trends that society follows. Audiences perceive reality in reflection of the very unrealistic images that movies portray. The exclusion of images of people with disabilities in films, then trickles back into our day to day life and people with disabilities go unnoticed. They are hardly even extras on our streets.

Actors with disabilities have a hard time getting roles, both as playing a person with a disability, and otherwise. SAG-AFTRA has thousands of actors with disabilities as members of the guild, but how many of them are presented in Prime Time or blockbusters? Most often, people with disabilities get a moment in the spotlight when it is for emotional effect: the boy with autism who finds acceptance, the girl in the wheelchair who wins the race, the girl with Down syndrome who just wants a friend. We rarely get to see people with disabilities simply being a normal part of society. Rarely do we see an RJ Mitte (Breaking Bad) fitting into casting calls.
Commercial Hollywood thinks disabilities do not sell, so they are often not cast in the mainstream. But people with disabilities make up a huge market, and it is relatively untapped, mostly because industries are afraid to go there.

The opening night film for JCC Manhattan's ReelAbilities: NY Disabilities Film Festival is the high profile feature The Finishers which premiered at the Toronto International Film Festival. The film follows a father and son who decide to take the challenge of completing a triathlon race together. Despite being a fantastic film, with great production quality and well known French actors, the feature has yet to find an American distributor or a major release. Could it be that the fact that the son has Cerebral Palsy and is in a wheelchair made the film less appealing to American distributors?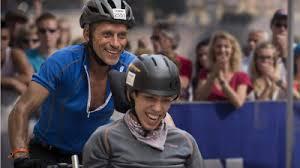 Nevertheless, I am seeing an increase in commercials relating or including disabilities. The Super Bowl this year featured a Microsoft ad about how computers are helping people in wheelchairs walk. During the Oscars there was a spot for Comcast that celebrated the first audio description capable TV. These high profile commercial slots might be using disability to garner compassion and raise the credibility of these major companies, but the result will likely be more companies looking to engage with this population, not as an act of charity, but to reach new markets.

Part of the responsibility to raise awareness also lies on the shoulders of the disability community. The community needs to work harder to make their voices heard. They need to support programs that promote inclusion and make sure that others do the same. We are making small steps towards increased inclusion but we still have a long way to go for appropriate representation and till that time, the community needs to push harder than everyone else.
I look forward to the day when art imitates life and people with disabilities are not portrayed in film only as victims or the heroes, but also as the woman behind the counter, or the best friend, or the love interest. This is the true reality in our world. People with disabilities can be anyone. Right now, festivals like ReelAbilities are one of the few that are bringing these kinds of films to the public. Images and stories of people with disabilities should be in the mainstream. I yearn for the day when ReelAbilities is obsolete.
Calling all HuffPost superfans!
Sign up for membership to become a founding member and help shape HuffPost's next chapter