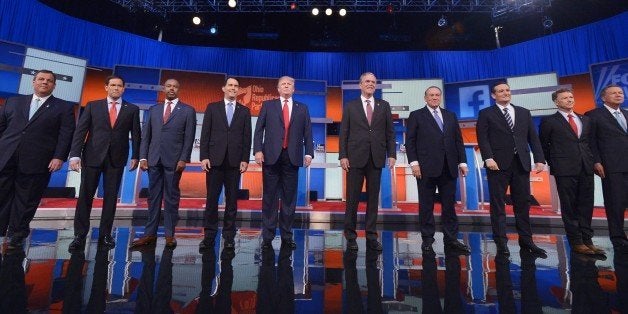 There's no doubt we live in some of the most chaotic times in recent political history. One of the more interesting explanations of chaos in complex systems that I have seen is that it is a precondition for a breakout from a toxic state of affairs called the Gamma Trap. In less severe situations, it can be a transition from one expression of values to a higher or lower expression. The latter explains the divergent views of the Republican Party and how it's becoming ineffective in the face of inevitable change. The unprecedented number of Republican candidates running for president is a symptom of the party's entry into an advanced stage of decline in a cycle where collapse is likely and only the good aspects of Republican values survive and become a smaller part of the DNA of the next system.
Into this Republican chaos enters Donald Trump, system disruptor extraordinaire who will accelerate the demise of Republican politics as we know them and help stabilize the new system. I admit I don't agree with many of Trump's views, but his brash demeanor is refreshingly honest and is taking the country by storm. Unlike most of the scripted candidates on both sides, who are eager to please their donors and their party lines, Trump says it like it is. He's exposing the toxic nature of politics as usual on both sides. He sizes up candidates in a few words by disclosing past donations to them and to their corrupt charities and showing how money buys favor on both sides.
Is this what it's like to have an executive decision maker from the private sector run for political office, or has the American voter been conditioned to accept the innocuously scripted messages of a candidate's PR machine? Whatever it is, we know that Trump is wreaking havoc on the political stage by refusing to be scripted. He speaks truth to many. By not being politically correct, he's exposing the dark shadow of American politics. This is the era of transparency, and in spite of his impetuous style, he is shedding light on the dark rooms where today's political leaders are manufactured.
Trump reminds me of Ross Perot and his 1992 run for president as an independent candidate. He took votes away from Bush senior and handed the presidency to Bill Clinton with only 43 percent of the vote. Clinton re-branded the Democratic Party as the New Democrats who believed in economic liberalism. Clinton cleverly articulated the structural changes that Reaganomics put in place a decade earlier and with his political mastery the country entered a prolonged era of prosperity. Perot was a wild card and wild cards can cause these kinds of things to happen.
So, as a wild card, how would Trump affect the outcome of the 2016 election? The irony in Clinton's case is that he accepted the ideals of economic liberalism and the empowerment of the individual capitalist from the Republicans and translated them into a system with a higher expression of values. He was ideally suited to be the recipient of Perot's disruption. So far, the Republicans have failed to do the same with any of the change that was mandated by the Obama presidency. As a result, they won't be the recipients of any disruption caused by Trump.
What the Republican Party needs are New Republicans who can articulate the structural changes that are not unique to the values of the Obama Administration or to those Americans who voted for him twice. These are the inherent dynamics of an open and emergent society that always seeks higher and more inclusive values. This is, by its very nature, a transformational journey towards inclusion for the Republicans. So far, none of the party's candidates have shown that initiative. Furthermore, they have doubled down on their resistance to change, which points to how much of a closed system the Republican Party has become.
Just like in 1992, a successful candidate in 2016 must embrace the more inclusive values from the system before as a clear demonstration of compromise and healthy social emergence. If he or she does not, the impossible could happen and the wild card, who always points to the dysfunction in both parties, can become the President. Yes, if I were a betting man, the choice will be between Biden if he decides to run, and Trump if he doesn't drop out in frustration. If the former wins, his presidency will be a non-eventful, one-term giving the Republicans another four years to reinvent themselves in a more inclusive way. If the latter wins, we should prepare for chaos, dysfunction and a possible new direction for U.S. politics that won't be business as usual.
REAL LIFE. REAL NEWS. REAL VOICES.
Help us tell more of the stories that matter from voices that too often remain unheard.