You'd think that in 2016, with all sorts of content blasting through mobile avenues, there wouldn't be any more room for brands and apps to capture a fair market share of mobile content. But you're wrong. Mobile viewers are most likely to click and engage with all sorts of content, from cat videos to inbound marketing podcasts.
The king of the mobile empire, however, is video. According to Cisco's '15 Mobile Forecast, mobile video accounted for 55% of mobile data usage and the numbers are increasing year by year. So while the usage is getting higher, the quality standards are getting higher. We increasingly ask more from content platforms. We request more effective ways to have mobile content - and mostly video - served in our phone screens.
We've always adapted content to the screen it's being watched on, but that was broken when the mobile phone became the screen of choice for our generation. YouTube was designed with televisions and desktops in mind with traditional video. LA-based imDown, which is a mobile-first media company focused on changing video storytelling for the next generation by creating tools to create mobile friendly video, and a place for that content to live.
What imDown realized early on, is that conventionally, video has never been recorded to be displayed vertically. But that doesn't mean that there isn't room to adapt to consumer trends. According to them (and honestly -- popular belief) if we hold our phones vertically, 90% of the time, then evidently that's the position that feels most comfortable for people. It's annoying to rotate your phone, which is why people don't do it. When viewing a video on a mobile device, it shouldn't be only 20% of your screen in a small box. It should be full-screen, captivating recording that provides a more engaging experience with 100% of the screen.
I interviewed Jose Llorens, CEO & founder of imDown to ask him to explain in more depth what are the current needs of the video industry and what imDown brings to the (ever-expanding) table.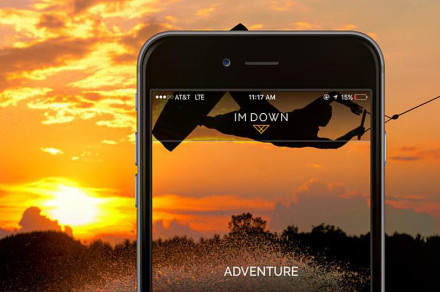 How was the idea of imDown born?
Our team was working on a location-based video sharing mobile app that would allow people to look inside places in real-time. Our users kept telling us they loved our app's interface, which inherently embraced vertical, full-screen content. We kept hearing from people, "I hate black bars when watching videos" or "I never really turn my phone to watch a video". We started to interpret the underlying message they were trying to tell us. They were simply indicating that they wanted a better video experience. These were all subsequent effects of what is fundamentally broken with mobile video. All they knew was what felt more natural, intuitive, and provided them with more engaging mobile video content, which was evidently a full-screen, vertical (FSV) experience.
imDown evolved into a mobile-first media company focused on changing video storytelling for the next generation. We believe video is the most powerful form of creative self-expression, and it's becoming easier than ever to communicate with the world using video, which is why we aim to optimize video experiences for mobile viewers around the world. We've set out to build simple and easy tools to help creators make and edit mobile-friendly video, and have a place for that content to live.
How does imDown work and what need does it cover in the video industry?
imDown is a simple and easy way create mobile friendly videos. We allow users to focus only on what they want viewers to see throughout the video. Choose the points of interest in a video by sliding the frame, and change positions as you go. This is what defines responsive video design, which is a method of video design that is focused on providing an optimal user experience while watching a video. Video creators achieve this by creating mobile friendly versions to each their videos.
Additionally, we allow users to swipe through our mobile-first channels, and discover videos stories around the world. All mobile friendly versions that are created can be shared to Facebook, Instagram, or via SMS.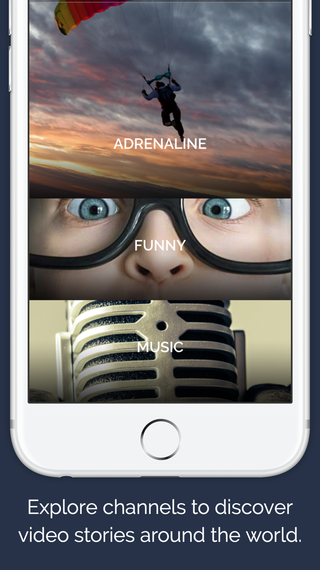 There's been a rapidly growing trend amongst video viewers that has gained some attention around FSV (full-screen vertical) video or basically just video shot on a mobile device. The way we're looking at it is that today's mainstream apps have empowered anyone to feel comfortable becoming a content creator by shooting video using their devices, which is remarkable. Now, these creators will naturally want to create better, higher quality content over time, and want a place for that content to live. FSV video is inevitably a significant part of the evolution of video screens, and will increasingly become a prominent format for all content creators who will need to capture the attention of both desktop and mobile viewers by delivering video formats accordingly to the device the content is being consumed on.
Responsive video design will become the standard for videos, and as it becomes the rule rather than the exception, mobile first approaches to video design such as shooting in FSV (full-screen, vertical) format will be sure to grow in popularity, and imDown will become the place for that content to live.
We do understand this will take time for video producers and creators to adapt and start filming in new aspect ratios specifically for mobile. There is, however, an important distinction between FSV videos and responsive video. FSV video refers to the way the video story is captured while being shot. Filming in FSV format requires a creator to have these aspect ratios is mind from the minute they start filming from scratch. This format differs from responsive video because it's a whole new video medium, while responsive video is simply transforming already existing video content into a mobile friendly version. Storytellers and creators will need to become more and more creative if they want to continue to grab the attention of viewers.

You voiced your concern about Youtube's mobile experience. What's your definition of "bad mobile experience" and what is Youtube getting wrong?
When YouTube first launched there was hardly anyone consuming video content on mobile devices. Due to technological advancements, that has certainly changed over time. Today, the vast majority of people use their phones to watch video on a daily basis. YouTube was designed with a focus on traditional desktop video. When they developed an app and made the transition to mobile it was evident that the experience was broken. YouTube didn't take a mobile-first approach to their app, and simply didn't think about an optimal user experience for viewers. Storytellers and creators always think to themselves, "How can I provide a more immersive and engaging experience to my viewers?" YouTube should've thought the same way.
YouTube was expecting its users to rotate their phones for consumption. Those same phones that are held vertically 94% of the time. Imagine having to rotate your television or desktop screen to watch a video filmed on a phone. It feels awkward. If you pay attention to consumption habits, the vast majority of mobile viewers are not turning their phones. They're watching tiny video in the middle of their screens with huge black bars above and below it. Traditional landscape video isn't meant to be consumed on mobile devices. It's a broken experience, and they need to focus on enhancing it for viewers in order to keep them engaged and grab their attention. This has created an opportunity for us to create a mobile-first video platform that is not only truly immersive, but is also fun to use.
From a technology perspective, what are some of the biggest challenges that your marketing team faces today?
As a storyteller or creator, you likely manage a plethora of video already and you will more than likely consider having a mobile version for your videos the next time you share to Facebook or YouTube. It's worth understanding the fundamentals of responsive video design to increase engagement in your content distribution. We're all looking to gain the attention of viewers, but the answer doesn't lie in pouring more and more dollars into impressions. We have to gain attention by providing a fundamentally better experience.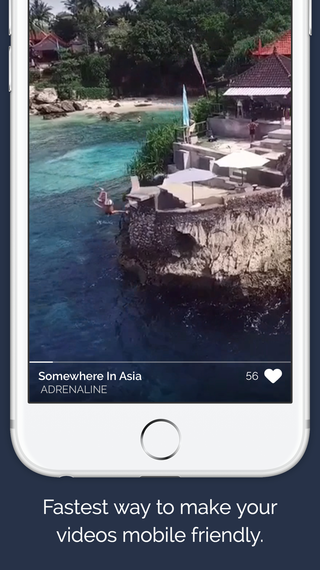 From a marketing standpoint, our team is focused on bringing awareness around responsive and FSV video to the industry first and foremost by providing fun products and services to make video content responsive. It's exciting to see how your video might look in a mobile format, even out of curiosity. It's different, new, and something so blatantly obvious, which makes it that much more difficult part to get people to understand. It's simply a matter of time to get there, but it's all part of our journey. We have a few things in mind to grab attention you'll see in the upcoming months, which we're excited about.
What do you think is the most effective way to distribute video content online?
I believe that if you're looking to distribute video content for desktop viewers, then Facebook and YouTube are the best outlets to go to. If you're focusing on engaging mobile viewers, however, then you should focus on growing apps that are designed with a mobile-first approach such as imDown. Those are the apps that are already embracing the next wave of content creators. I say this because FSV (full-screen vertical) is the mobile video medium of the next generation, and it's not going anywhere. There's going to be a vast influx of FSV and mobile responsive content that needs a place to live, and that's where the attention will turn to next for video discovery.
What can we expect from imDown in the future? What do you want to have achieved in the next 5 years?
We're stoked to see the way people start crafting their stories captured using their mobile devices, filming sideways with existing equipment, transforming existing content into a mobile friendly state, and to unlock the true creative potential of creators around the world, There are hundreds of hours of video content being uploaded every second, which makes this initial opportunity limitless.
First, we want to continue to focus on building simple and easy cross-platform tools for mobile-friendly content, which will allow us to transition into higher quality FSV content. This will simultaneously allow us to build the largest mobile-first video platform. Let's just say, we see an endless amount of opportunity with this new video medium. Who knows...we may even build hardware around vertical video.
Ultimately, we chose this video medium over VR and AR because we feel it can have more of a global impact on mobile experiences to people around the world right now because of the amount of existing content and the trends in how people are creating and viewing content on mobile. We're making technological advancements incredibly fast, and I've noticed a trend that we're forgetting about the 99% of the world and how to make their lives better also. VR and AR will take a lot longer to become mainstream because of the lack of content to consume, the cost of the devices, and the friction there will be in creating that content. There are people in this world who are just getting an iPhone for the first time, and it's the first television they've ever had. Imagine being able to change that person's experience when they watch their first video to be just a bit more enjoyable.
Sofia Katsali has a Bachelor Degree in Computer Science and she's the founder and social media producer of entertainment blog Propcake. She has been interviewed by MTV Act for her online work and is passionate about all things digital, design, films & TV shows.
Popular in the Community