Embattled Libyan leader Muammar el-Gaddafi may be hiding weapons among some of the most spectacular Roman ruins in the Mediterranean, daring NATO to risk damaging the site if it decides to destroy the cache. The site, Leptis Magna, is located in the Libyan town of Al Khums, halfway between the capital of Tripoli and Misurata, a city that has seen some of the fiercest recent fighting. Leptis Magna was the birthplace of Roman emperor Septimius Severus, who assumed power in 193 A.D. and greatly enhanced the city's infrastructure over the course of his reign.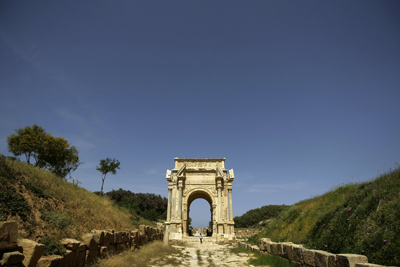 Muammar el-Gaddafi may be hiding weapons in the ruins of Leptis Magna. / Photo by Joseph Eid/AFP/Getty Images
Susan Kane, an archaeology professor at Oberlin College in Ohio, told the Washington Post that according to credible sources the Libyan government is storing munitions in museums and ruins. "The Libyan government has always had an ambivalent and inconsistent policy about how they thought the pre-Arab culture of Libya was important or not," Kane said on NPR. "They don't care if Leptis gets hurt and they're just daring us to come and attack it."
Rebels say they are fighting in the area about 25 miles east of the ancient site, but government officials maintain that they have control of the region, according to the Washington Post. A group of journalists recently visited Leptis Magna in the presence of government minders, who eagerly tried to demonstrate that the government controlled the entire area, and showed them a small section of the ruins, where no weapons were visible.
According to CNN, a NATO official reported that the alliance could not verify rebel claims that rocket launchers are hidden at Leptis Magna. It "would be a concern for us that Gaddafi and pro-Gaddafi forces could choose to contravene international law in hiding themselves in such a location," said NATO spokesperson Mike Bracken. An anonymous NATO official in Naples would not rule out bombing the ruins, saying that "we will strike military vehicles, military forces, military equipment, or military infrastructure that threaten Libyan civilians as necessary."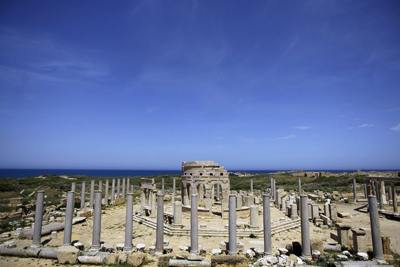 A NATO official said that the alliance could not verify rebel claims that rocket launchers are hidden at the site.
/ Photo by Joseph Eid/AFP/Getty Images
UNESCO director-general Irina Bokova issued a statement urging both sides to make sure that military operations avoid cultural sites, in keeping with the Hague Convention on the Protection of Cultural Property in the Event of Armed Conflict. Five Libyan sites are inscribed on UNESCO's World Heritage List, where Leptis Magna is described as a "unique artistic realization in the domain of urban planning," with its masterfully engineered port and monuments including the Severan basilica and a large marketplace.
REAL LIFE. REAL NEWS. REAL VOICES.
Help us tell more of the stories that matter from voices that too often remain unheard.