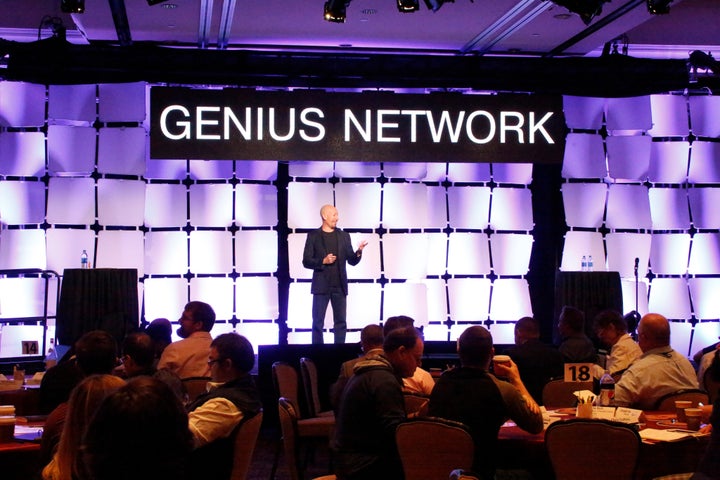 The first thing I noticed when I started delving into online marketing last year was that the leaders in the industry had three things in common:
1) They're all health-conscious: either Cross Fit or supplement obsessed (often both).
2) They're into efficiency: they Slack, Evernote and Asana themselves and their teams into princes of productivity.
2) They're all in mastermind groups.
I was cool with the first two; it was fact number three that had me the most suspect.
Masterminds, for the uninitiated, are groups of people whose careers are in similar places but are all looking to 10X where they are (this is a crowd, by the way, that's really into the term 10x). The meetings can consist of monthly calls, regular in-person gatherings or both and are usually led by a leading expert in the field. And they're expensive as can be.
The cost factor is what stopped me in my tracks. Sure, I was interested in networking with people who could give me ideas, introduce me to even bigger fish and help me promote whatever I had to sell but was I willing to part with large chunks of money for that privilege? I was not. And so, about a year ago, I started looking into MeetUp mastermind groups. Alas, without even having to attend, I could assess what those were: a collection of people too broke to go to a real mastermind.
I gave up on masterminds, telling myself that I could get successful on my own.
Then I was invited to attend one of the biggest masterminds out there—Joe Polish's Genius Network $25K group. Joe Polish, for anyone not familiar with this world, is a once-broke, once-ponytailed 40-something dude from Arizona who's widely considered one of the world's greatest marketers and marketing coaches. His phone regularly buzzes with texts from Tony Robbins and Arianna Huffington. He's Richard Branson's largest fundraiser. He runs multiple marketing companies, connects the biggest players in the field to one another and hosts several podcasts. His greatest achievement, however, is his Genius Network.
The Genius Network $25K group, if you haven't figured it out from its name, costs $25,000 to join. For that, you get to attend three meetings a year—an exorbitant-sounding amount until you compare it to Polish's $100K group, which operates under the same principles but is for people who can spare, well, 100 grand for this privilege. In other words, bigger fish, smaller pond.
I couldn't understand why people intelligent enough to have a spare $25 or $100K would fall for what was clearly a scam.
And yet the group of 50-odd men and women I met while stuffing some gluten-free muffins and Bulletproof coffee down my gullet in Polish's Tempe, Arizona office seemed like savvy folks. If this mastermind thing was a scam, it was a subtle scam indeed.
As the group settled into their seats around a winding group of long tables, I took a look around. The set-up was simple enough: name cards at each place, a large countdown clock in the corner and a Truman Show-like attached room from which a team made sure the entire production was shot and disseminated perfectly—for Facebook Live streaming as well as for future marketing purposes.
I essentially had the whole bottom floor of the office to myself, watching the video feed in a room filled with unique odds and ends (a squatting sumo wrestler, a book on farts, a plastic monkey hanging from a pillar), photos of Polish with people like Bill Clinton, Donald Trump, Arianna Huffington, Rupert Murdoch, Bill Gates, Jeff Bezos and signs that posed questions like "What would you attempt to do if you knew you could not fail?"
This, as far as I was concerned, was an oasis: I could see everything the group members could, had first access to the delicious, healthy food being served and never had to worry about having to speak in front of this intimidating group. Or so I thought.
"Why don't we hear Anna's thoughts?"
They were the most terrifying five words I'd ever heard and they were coming from Polish's mouth roughly a half hour into the meeting. I ran upstairs, heart palpitating, to share my new career insights, pretending I wasn't speaking to the largest group of successful people I'd ever come across. It was like being temporarily promoted from the kids' table to the adults one if the adult table had 50 people at it all smiling at me as I held a mic and explained my epiphanies.
By the time I came upstairs to share, I'd realized that this was no scam. Just hearing one longtime Genius Network attendee mention that the best way to get the most out of the experience was to not let one connection go by, I saw that I could spend decades pursuing connections to people like this, untold sums of money and still end up not knowing them. Time check: 15 minutes in.
After a brain dump (an exercise where we spent two minutes writing about everything that was taking up mental space) and a diversion into the benefits of blue-blocking glasses—entrepreneur coach Alex Charfen, who would occasionally duck downstairs to shoot Facebook Live videos, swore they allowed him to sleep less and be more productive—we got into the intros.
Joel Weldon, an ever-smiling dead ringer for director Garry Marshall, described his speaker coaching business. Lee Richter talked about her marketing company, Annie Hyman-Pratt her experience as CEO of Coffee Bean and Tea Leaf (she, for the record, 10x'd that business). And so on. But rather than just leaving the rest of the attendees with a notion of who they were, everyone had to clarify where they needed help. Some of the requests were fairly general ("I'm trying to creating more strategic alliances") while others were as specific as specific gets: take Bedros Keuilian, the founder of Fit Body Bootcamp, who said he'd like help getting 50,000 copies of his book into the hands of entrepreneurs.
And then we moved into our first presentation.
It was about how to have the perfect day and it came from Canadian personal development guru Craig Ballantyne. Ballantyne's speech was undeniably effective even before he explained that he developed these methods after suffering from crippling anxiety attacks. And yet the most illuminating part of the talk was what followed—when Joel Weldon provided feedback. Because Ballantyne's presentation focused just as much on personal success as on career success, Weldon suggested that instead of asking people to simply picture their life with the partner, telling them to imagine waking up with warm feet next to them in bed. In an instant, the audience is emotionally connected.
More worksheets followed—sheets where we filled out where we are and where we want to go, "Elegant Ideas" sheets where we jotted down new concepts occurring to us and then one called "Write Yourself a Swimming Pool," which had the following Paul McCartney quote printed at the top: "Somebody said to me, 'But the Beatles were anti-materialistic. That's a huge myth. John and I literally used to sit down and say, 'Now, let's write a swimming pool.'"
To me, the Swimming Pool sheet embodied the philosophy of this group: essentially, that there's nothing wrong with wanting to make money. While the overly PC would surely balk at this notion and run out of the room shrieking "Capitalists!" the irony the capitalist-shriekers probably wouldn't see is that the single most significant focus of this group is on helping others. In 12-step terms, members learn that it's in being of service to others that they most help themselves. And, like magic, that pays off 10-fold—in turn transforming a blow up plastic pool into an infinity one.
More exercises and talks followed—one from a seven-months-pregnant wealth planning firm COO named Brittany Anderson about how to eliminate toxic people from your life being a highlight—and arguably the most exhausting day of my life came to a close.
Fortified by sleep, an epic massage, more gluten free muffins and Bulletproof coffee, I was ready for day two. By now, the 25K-ers felt somewhere between old friends and people with whom I'd survived a natural disaster. I'd learned about Kevin Thompson's desire to find entrepreneur affiliates, real estate guru Rick Harmon's spiritual practice and Joe Foley's printing business, among many other bits.
But nothing could have prepared me for the day's first talk: a life-changing presentation by real estate investor and infomercial king Dean Graziosi. (Graziosi is Polish's partner in Genius Network's 100k group.) True confession: I'd always considered infomercials a bit cheesy. True confession number two: I'm actually in an infomercial for Leeza Gibbons' Sheer Cover makeup, and it netted me more money than all my books combined. And yet I never saw it or really any other infomercial, assuming they only offered things I didn't want for $9.99 or $99.99.
Dean Graziosi changed all that for me.
To be clear, this guy's no average infomercial dude but one who made his first one in 1998 and now hires Larry King to interview him for them. Seems he's had it all figured out for years, right? As it turned out, no. He started by showing us an intro where King touted him as a New York Times bestselling author recommended by Tony Robbins and Richard Branson; photos of Graziosi with celebrities and on private jets flitted across the screen.
This ad, Graziosi explained, did okay. It didn't blow sales out of the water. He tried to figure out why.
Then he attended Polish's $25K Genius group and heard Stanford professor and New York Times bestselling author Robert Cialdini talk. Within moments, Graziosi realized he had a solution, ducked out of the group and got on the horn with King. Within a week, he had his new intro—which he then showed us.
Set looked the same, King looked the same. But instead of talking about the uber-fabulous life of Graziosi, King looked into the camera and asked, "Have you ever looked in the mirror and thought, 'I wish my life had turned out better'?" King mentioned that his guest grew up in a dysfunctional home and lived in a trailer park before asking, "Do you ever feel like you'll be left behind in today's ever changing world?"
No talk of warm feet could provide that kind of emotional connection.
That new intro, Graziosi explained, blew the book he was selling out of the water. "The first intro validated me," Graziosi said, "but it didn't get into people's heads." While Graziosi went on to explain that the key to marketing is to ask what the big question is and then present the solution, he also told us that millennials are most concerned with being left behind while baby boomers worry the most about living in uncertain times. And thus the question "Do you ever feel like you'll be left behind in today's ever changing world?" emotionally engages both groups from jump. (While he didn't mention my generation, I think I can offer up the fact that Gen X-ers worry about everything.)
At lunch, I talked to someone who's widely considered the most fascinating three-foot-tall man alive: Dr. Sean Stephenson, a 30-something therapist, self-help author and motivational speaker who was born with a rare bone disorder, gets around on a wheelchair and started doing motivational speaking as a teenager. He's been mentored by Tony Robbins, appeared on Oprah, starred in his own reality show and gave a Ted talk that has over two million views.
You'd think it'd be hard to keep things interesting after that but when you get to hear from the CEO of the world's leading email marketing company—Infusionsoft CEO Clate Mask—on how to 10x your business, you can let go of a three-foot tall man being more successful than almost anyone you've ever met and focus on the task at hand.
That couldn't have been easier when Mike Koenigs took the podium. Now, a word about Koenigs: If there's anyone on earth that seems to have more energy than Joe Polish, it may be Koenigs. The frenetic fireball handed out a worksheet titled "You Everywhere Now" and then talked about the ineffectiveness of email campaigns and explained that the best sales technique involved a few minutes with your phone. He suggested going through your phone, texting the people you'd met at conferences a photo of the two of you that you'd taken along with a note about how you'd been thinking about them and then follow that with a video that explained what you were trying to sell.
And then, suddenly, the two days were coming to an end. With the Koenigs recommendations fresh in my brain, I ran upstairs to take as many photos as I could with people and put their numbers in my phone. Who cares that I don't have anything to sell them? I was taking the first thing I'd heard at the event—don't let one opportunity pass you by—and getting as many of them stuffed into my phone as I could.
I walked away with ideas that could 10X if not 100X my business and the numbers of some people who'd already done it themselves. It's safe to say that I learned more about how to be successful in two days of Joe Polish's $25K Genius Network meeting than I had during my entire time on the planet. I was left with only one lingering question: Where do I sign up for the next one?
Support HuffPost
The Stakes Have Never Been Higher
Related
Popular in the Community