For some of the world's best-dressed women, the answer is nothing. We get to the bottom of the underwear-free trend.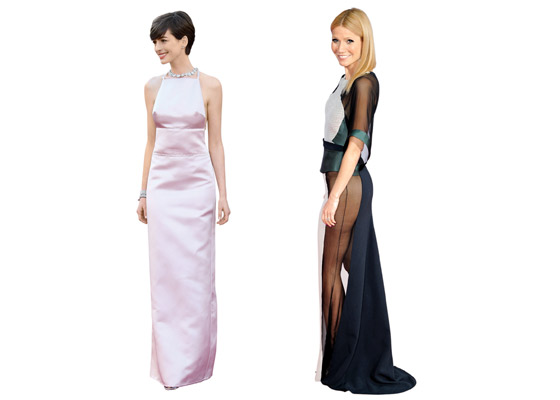 From left: Anne Hathaway's pointy Prada, in February; Gwyneth Paltrow's big reveal, in April.
Media scrutiny of Gwyneth Paltrow's fashion choices is nothing new, but throughout a circuit of public appearances this spring, the clothes she had on her person attracted less attention than the ones she had apparently left at home: her bra and panties. At the Los Angeles premiere of Iron Man 3, the actress was extensively photographed in a sheer Antonio Berardi gown that showcased several inches of her Tracy Anderson-toned derriere. (The look introduced a new term into the sartorial lexicon: "side butt.") Later that month, when Paltrow accepted an award at the Gene Siskel Film Center gala in Chicago dressed in a white Alexander McQueen minidress, the blogosphere had a field day discussing her prominent nipplitis and unsupported bosom. And a few days afterward, there she was again, letting it all hang out in an ivory Prabal Gurung halter top while speaking at the 2013 Licensing Expo in Las Vegas.
Going commando used to be the hallmark of provocative young celebs, whose drunken crotch-flashes (Paris Hilton) and nipple-slips (Lindsay Lohan) helped make TMZ a household name. But these days, elegant women, wearing elegant clothes at elegant events, are also embracing an ­underwear-free lifestyle -- risking the same wardrobe malfunctions as their less classy counterparts. At the Cannes Film Festival, Eva Longoria inadvertently showed off her bikini waxer's handiwork as she ascended a staircase in a slit-to-there mint green Versace gown. Anne Hathaway had a similar experience while exiting a car in a Tom Ford dress at the 2012 New York premiere of Les Misérables, much to the delight of the awaiting paparazzi. The Prada ensemble she wore at the Academy Awards, meanwhile, inspired two salacious new Twitter handles: @HathawayNipple and @AnnesNipples.
So what's behind this sudden aversion to under things? Are we entering a new phase of fashion feminism à la the Age of Aquarius? Emily Weiss, the much photographed founder of the hit beauty blog Into the Gloss, has taken a stance that would make Gloria Steinem proud. "A lot of bra marketing is about transforming you into something you aren't," Weiss says. "It's about creating this male image of what's sexy: pushing your boobs together, making them look three sizes bigger. It's feeding a lie instead of supporting your body or making you excited to put something on because it looks really pretty." And so, Weiss generally goes brassiere-free.