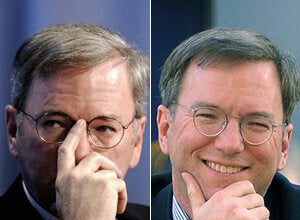 At the unveiling of Google Instant last week, Google's director of Global Communications and Public Affairs Gabriel Stricker was "incredibly condescending to the audience," Elgan wrote.
[Stricker] said that the reason Google holds events like this one was that "we hear from a lot of you that with the kind of breakneck pace of innovation that we go through at Google, it's nice for us to kind of let you catch your breath." He went on to tell the audience that they would "hear from our Search rocket scientists in a second who will hold your hand through the latest and greatest of what we're up to."
Elgan also accused Google CEO Eric Schmidt of "often [coming] across as arrogant and condescending," specifically, when Schmidt suggested, "if you have something that you don't want anyone to know, maybe you shouldn't be doing it in the first place."
Although many commenters agreed with Elgan's post, TechCrunch's Michael Arrington took issue with Elgan's assertions.
"I just don't see it," Arrington responded in a blog post titled "Google Arrogance? I've Never Seen Them So Humble." "Google is far less arrogant than they were even a few years ago. And even I, possibly the most sensitive and defensive person you'll ever meet, don't see Elgan's examples as condescending in any way."
Arrington argues Google has been humbled by its clashes with China, the "droves of engineers leaving for Facebook and Twitter," and its fear that in the upcoming decade, it "may not be the center of attention on the Internet." Which company really is arrogant? Facebook, Arrington says.
What do you think? What's the most arrogant tech company today? Tell us your thoughts in the comments below.
Popular in the Community