Almost any time an artist steps out of their hometown and plays another city, it's anybody's guess if the show is going to go well. Sure, there are indicators that can help steer musicians towards or away from certain places, but even with all the data and social media followers and the advancements that have been developed to make touring "smarter," sometimes it just doesn't come together. This scares off plenty of brands from working with acts that aren't superstars who will bring in crowds anywhere, but the spoils are waiting to be had by those that take chances, as those are the moments and the experiences that truly stand out.
As part of its its 2016 concert series, Hilton, in partnership with Live Nation, chose Canadian singer-songwriter/producer Grimes to headline its Berlin show, which was a risk, but one that paid off brilliantly.
The show was opened by HANA, a brand new name that is just starting to break, thanks mostly in part to her work with Grimes. The singer has spent part of this year opening for the odd pop songstress in Europe, and she just released her debut EP to rave reviews. She was a great opener, as few people knew what to expect, but they seemed ready for anything. That's the only way to really "do" a Grimes show, after all.
Grimes opened her hour-long performance perfectly with "Realiti," a fan-favorite from her most recent album, Art Angels. The majority of her set was comprised of songs from one of last year's best pop albums, which was likely what most of the attendees showed up for. Grimes has had a presence in the electronic/dance-pop underground for a few years now, but Art Angels helped her break in a very major way, and it was a critical darling from the moment it was released. For those that were at the show, they were able to experience the unbelievable power of Grimes in all of her mousey glory, and if you're already a fan of the songs on Angels but you haven't experienced them in a live setting, you don't know how much better they can get.
During her time on stage, she danced, screamed, and proved that she is truly one of the most talented producers out there, as even her musical interludes are better than some people's biggest singles. Throughout the show, as she bounced back and forth on the small platform that was just inches away from some of her biggest European fans (try getting that close to her any other time), everything Grimes said and did reminded the crowd that she is anything but your average, everyday pop star, and that's what makes her so wonderful. She's weird, quirky, and so much fun it's almost criminal.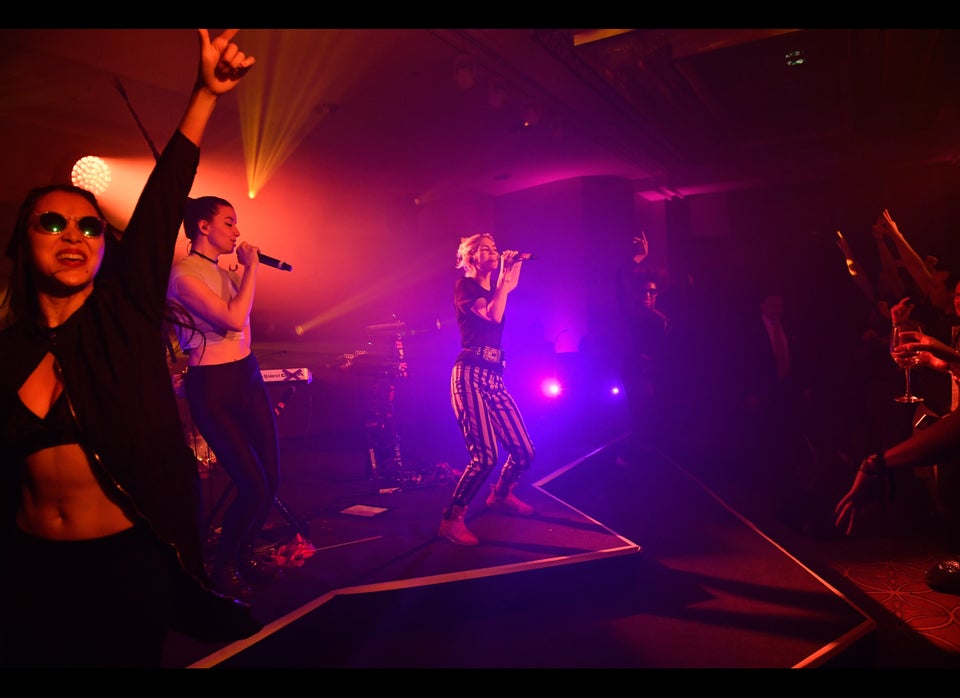 Grimes Performs At The Berlin Hilton
Of all the shows in Hilton's 2016 concert series, Berlin's was perhaps the most adventurous, and that's what made it so interesting and rewarding. This year, the hotel chain chose to work with many artists that are still bubbling under, but who can still attract a crowd. Some of these musicians are all but guaranteed to do well because of their style of music and the city where they are set to play. Before the year is up, Hilton will stage parties with Gary Clark, Jr. in Austin (his hometown), and Kip Moore in Nashville (the center of country music). Both of these make a lot of sense, while Grimes doesn't really "fit" in anywhere, which is part of her entire narrative.
When I first heard that Grimes was partnering with Hilton for a special event only available to those participating in the company's HHonors loyalty program, it did strike me as odd. Is she really the type of artist to work with such a reputable brand, and what does Hilton really want with an act like Grimes? The pairing does feel a bit strange, except for the fact that it took place in Berlin. One goes to Germany's capital city for experiences that can't be replicated anywhere else, and from the crowd to the performance to the graffiti-inspired decor, that's exactly what Grimes and Hilton were able to do, which is more than many brands can say of their musical endeavors.
Popular in the Community