I've always wondered how cops felt about NYPD Blue, or how lawyers feel when they watch Law and Order.
I just watched the seasons finale of HBO's reality/sitcom Silicon Valley.
If you haven't seen the series bit dramatic ending -- quick, stop reading. Because I'm going to spill the beans, or the few beans there are.
The thing is, much like Law and Order, Silicon Valley is pretty darn enjoyable if you don't mind a bit of artistic license, and if you're not one of the main characters.
If you're a startup CEO, it's little like watching your life flash before your eyes, with a few laughs lines added for dramatic effect.
In real life, it's not that funny.
The series revolves around a fictional company "Pied Piper" with a new killer compression engine. The advisory is Hooli -- a big company that looks an awful lot like Google. Hooli is suing Pied Piper for copyright infringement claiming that Richard developed Pied Piper's compression algorithm on Hooli time using company equipment. The CEO of Hooli is Gavin Belson - who acts as the sort of amalgam of all big, powerful, ruthless Valley CEO's.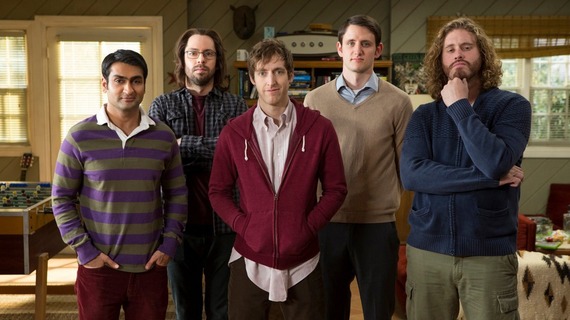 Richard Hendricks, Pied Piper's CEO has ridden the CEO roller coaster. He's been in front of all kinds of VC's. He's had his team poached. He's had a former employee move on to big time leadership at a competitor. He's had funding pulled. He's had a valued and supportive Board Member die. Painfully, I can check almost every box on that list. He's been drawn into binding arbitration, and he's had a competitor with a less capable product steal his code and then double down on marketing and sales. Check and Check.
It all comes down to big money and big competitive players against a small, nimble, and driven team of startup evangelists. Ok, it seems like HBO's been lurking in our offices, taking notes. Which kind of rocks and kind of sucks at the same time.
So, by the end of season two, we find ourselves at cliffhanger. Richard has been fired as CEO, thanks to a VC power play. Gavin's Board is about to fire him. Nelson "Big Head" Bighetti, the ultimate internet character based on Peter Seller's empty minded but widely praised Chauncey Gardiner character in "Being There" seems poised for bigger things. With appropriate foreshadowing - it seems like Big Head is going to be named CEO of Hooli any day now.
So startup CEO's, you can watch "Silicon Valley" with one finger on the mute button - - - but when it gets too close to home, just shut it off.
Steven Rosenbaum is serial entrepreneur, author, and filmmaker. His latest book, Curate This! is in print and ebook on Amazon.com. He is the CEO of Waywire.com
Calling all HuffPost superfans!
Sign up for membership to become a founding member and help shape HuffPost's next chapter