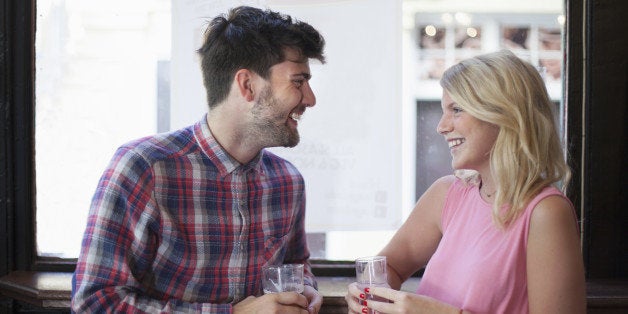 I hear this question at least once a week as a female client wonders about a man she started dating: If he isn't a traditional Alpha and doesn't toss her on the bed and rip off her clothes on the first date, he must be gay, right? Wrong. It doesn't mean that at all. But women worry because our society is in a transitional stage of gender roles, shifting away from the old definitions of what it means to be masculine and what it means to be feminine. So for many women, it's a little sneaky thought lurking in the back of their minds. You speculate: He doesn't seem very aggressive, or he appears a little too "neat" (picks up his towels and socks!) or maybe he seems "too" relationship-oriented. Something about this bothers you. Is he a gay man who plans to marry a woman so he can "pass?" Or are his sexual conflicts hidden even from himself?
This example shows just how much these questions still linger: The female staff at a large women's magazine was gossiping about the new hire, a strikingly handsome, male creative director. Male employees are relatively unusual in their world. Was he gay? Was he not gay? They scrutinized and gossiped about the way he walked and talked, what he wore and exactly how his shirt hit his hips. They concluded that yes, he was gay. As it turned out, he was not.
When women turn on their "gaydar," it's often because they fear being taken in and making a mistake about a potential mate. They perceive a threat to their judgment, their sexuality and their attractiveness. In the old days, gay men and women tried to "pass" by having heterosexual marriages. For most gay individuals, those bad old days are over. Still, plenty of men in culturally conservative communities try to hide their sexual orientation and will date women, even if it's difficult for them.
In the vast majority of cases, though, if a man is interested in you, rest assured, he's not gay. Keep in mind that many gay males are tuned in to their orientation before puberty, so an adult man will probably be perfectly aware that he's gay. But things are changing, and we're naturally confused and anxious, worrying about who is legitimately "male." Can a guy be a "real man," even if he's not overtly macho? Can he be genuinely heterosexual even if he's sensitive and -- gasp -- well-dressed?
Yes, of course. Still, women wonder about men who don't seem sexually aggressive enough. When a woman poses the question in a session, I usually ask, "What makes you think this guy might be gay?" In the last five years, I have never heard a good answer. Then I will call on common sense: "If he's gay, why in the world would he be interested in you?" I've never gotten a good answer to that one, either!
Both Beta and Alpha women worry about this, but the Alpha woman worries more, especially about sex. She is more tuned in to dominant qualities. If he isn't sexually aggressive, then what is he? What if he can't satisfy her sexually? Many Alpha women are attracted to Alpha males who share their own qualities of competitiveness and dominance. They may be turned off at the thought of a man not being "aggressive enough" -- they want to be deeply desired in a primal way, to be overwhelmed, swept away, tossed mightily on the bed, ravished against the kitchen counter.
None of these desires are unusual or outlandish, but when you're ready to find a partner, don't limit yourself to the obvious prototypes. Enjoy the Alpha, but consider whether he will ultimately turn out to be your best choice. Experience shows us that this type of man will usually keep his own priorities front and center -- partnership is not his strong suit. When you're ready for a long-term relationship, you will want to choose a man who will work with you to build a life together and encourage you on your individual path -- be it the PTA, academia, your own business or Wall Street. As for your sex life, you are far likelier to build a fulfilling intimate relationship with a man who knows how to be tender and loving in bed -- and over the long haul that really is what you want.
Dr. Rhodes will be live tweeting this Friday 4/25, 2-4 EST, to address your most pressing career and relationship issues! Tweet your questions to @WmMorrowBks.

Related
Popular in the Community