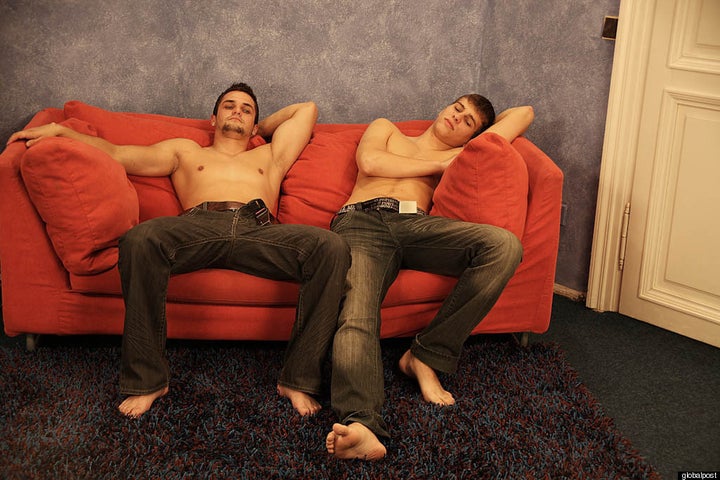 Sasha Gray has done it. Tracy Lords and Ron Jeremy have been doing it for years. Jenna Jameson wants to do it on Broadway.
These adult film actors and a handful of others have begun making the transition to more traditional entertainment work for years now. But behind the media narratives about the mainstreaming of porn are real people who have faced an uphill battle trying to switch careers. One on hand, adult stars get negative judgment and ridicule for their choice to perform in sexually explicit material but nobody makes leaving easy. Sometimes porn stars get cast in smaller roles as a stunt, in order to try and bring in some of the vast adult audience. The idea behind such bit part stunt casting is probably that porn stars can't act, although that logic has never stopped anyone from casting Steven Seagal in a film.
That's why filmmaker Tim Sullivan's latest casting choice for the upcoming horror feature Chillerama is such a big risk -- he's not only cast an adult actor in a lead role that requires singing, dancing and dialog but that actor also happens to be gay -- and there's plenty of videotape to prove it.
Tim Sullivan is a horror film director best known as a judge on popular VH-1 reality show Scream Queens. Sullivan is also gay, although skittish film producers have effectively managed to water down gay male content from his 2001 Maniacs film. Don't worry, though; same-sex kisses between women were deemed perfectly okay for the viewing public.
When Sullivan first came to Hollywood from New Jersey, he expected to find a welcoming gay entertainment community. Instead he found a world of closeted actors, overly protective agents and the unspoken rule that gay content should remain marginalized. Sullivan says he found his real community in the world of horror, where a close knit family of freaks and filmmakers frequent conventions and enthusiastically read websites with names like Bloody Disgusting, Dread Central and Shock Til You Drop.
Sullivan teamed with fellow filmmakers Adam Green, Adam Rifkin and Joe Lynch to create Chillerama -- a horror comedy anthology film due out next year. The other three filmmakers are all straight and so are their segments but Sullivan decided to tackle the gay subtext of many classic horror films with his I Was A Teenage Werebear; a musical that campily covers the identity conflict of a high school student after he's infected by the bite of a leather-clad Werebear.
Sullivan immediately ran into casting problems; straight actors were holding back and gay actors weren't allowed to do the role by their representatives. This fear seems especially crazy in a year that Neil Patrick Harris' career hasn't been hurt by the fact that he's openly gay but Sullivan found the casting process frustrating.
That's when he asked for an audition tape from one of the world's leading gay male porn stars -- Brent Corrigan, whose real name is Sean Paul Lockhart. In the adult world, Brent was considered a "twink"; a young, attractive star with a look that could be considered Disney-esque. In fact, if you didn't know better you wouldn't be able to pick Sean out of a lineup of Jonas Brothers or High School Musical stars.
Sean seemed like the perfect physical type but the role required real talent. Not only was there the musical aspect but the lead character is in literally every scene. A bad performance would be impossible to hide and would doom the film.
Sullivan was impressed by Lockhart's audition but knew that casting an adult star in the lead was still going to be controversial. Lockhart had experienced this bias a number of times; getting almost cast in a mainstream role and then not hired when the producers found out that he was also Brent Corrigan. It might be easier for Lockhart if he was prepared to grovel and apologize for having done adult work but he's not ashamed of his sexuality.
Sullivan approached the other directors on the project and was thrilled to have their complete support in casting Lockhart. The film has already been shot and Sullivan is thrilled with Lockhart's work, saying that he's best young actor he's ever worked with.
Will this role start to open the door to other roles for Lockhart and buck the conventional Hollywood wisdom about gay actors? There's one possibly surprising source of support that may boost the mainstream possibilities of gay male adult stars -- women. Sean says that Brent Corrigan has a large female fan base around the world and he hopes that those fans will help allow him to transition his career.
Chillerama isn't a big budget Hollywood film but it may open the doors for not just adult actors but for gay actors and themes to start to play to a wider audience.
Author and sex activist Susie Bright hasn't seen Sullivan's project but says of the wider issue:
A few years ago, no one could have imagined adult actresses like Sasha Grey or Traci Lords doing mainstream roles. I hope gay friendly directors keep kicking doors open and someone will come along with charisma and acting chops that audiences won't be able to resist. I can't wait!
You can listen to a one hour interview with Tim Sullivan and Sean Paul Lockhart at VFXFilmmaker.com.
Disclosure: Tim Sullivan is one of the instructors at an event I'm producing called the Horror FIlmBoot Camp.

Calling all HuffPost superfans!
Sign up for membership to become a founding member and help shape HuffPost's next chapter