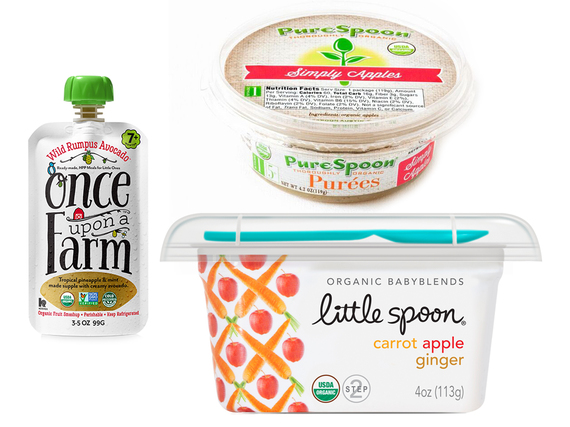 In an era of increasingly alarming food recalls, high-pressure processing (HPP) has been making an appearance within a few different industries -- from packaged deli meats, seafood & ready-to-eat meals, juicing, and most recently the world of baby food. Products that are branded as HPP are put in a high-pressure chamber that is filled with cold air and are then pressurized to kill harmful bacteria without using heat and depleting nutrients. The process is quick and allows maximum health benefits.
Alison Eberle from Pure Spoon said the future of baby food is in our chillers -- and she's not the only one to think so. Major retailers like Target have picked up on the trend and started to slowly replace more mainstream brands with innovative labels like Pure Spoon and Once Upon a Farm, dedicating entire refrigerators to HPP baby food alternatives. Why is that?
HPP is your ticket to getting fresh and healthy foods for baby. It keeps the list of ingredients short, nixes preservatives and added flavor, reduces spoilage and extends shelf life. Whether they are sweet or savory, concoctions that go through high-pressure pasteurization tend to offer fresh and wholesome ingredients that are rich in healthy fats, omega-3s and other essential nutrients. Pure Spoon blends, which are in applesauce-like containers, are simple and tasty and suitable for infant, toddlers and adults. Once Upon a Farm prides itself for adding healthy fats like avocado, coconut oil and chia, which is crucial to stable energy levels, nutrient absorption and brain development. Though it is more expensive than its competitors, the brand's purées taste exactly like the stuff you'd make at home.
While pouches are convenient on-the-go alternatives, baby also needs to eat with a spoon to develop vital oral and motor skills. What's more, many babies can eat an entire pouch in less than 60 seconds, consuming an entire serving without feeling full. That is why, much like Pure Spoon, Little Spoon Organic packages its purées in container form. The brand also includes a tiny spoon to make baby's to-go meals as easy as possible. The brand's blends, which will be available in several Whole Foods stores and online in a subscription-based model in the next few months, are all made in a kitchen that is free of common allergens like eggs, dairy and peanut.
HPP baby foods need to remain chilled. So if you are traveling, you can freeze the purées before leaving your house and let them thaw as you go, although freezing can alter their texture and nutritional value. You can also keep them in a cooler with ice packs. Many parents who are familiar with HPP question the convenience of having to lug around extra food storage and worry about the risk that temperature fluctuations poses to their kids.
If you want to provide your children with the healthiest diet possible but don't have enough time to always fix homemade meals, give HPP goodness a try. It's healthy, it's easy, and it's a smart way to package and consume our foods. Plus, you may still have a tough time to get baby to eat his greens, but many of the brands that are leading the HPP movement have created bold and unique recipes that can help your little one grow into an adventurous eater.
This piece was originally published by Anita Mirchandani on Well Rounded NY. Anita Mirchandani, M.S, R.D, C.D.N received a B.A. from NYU and a M.S. in Clinical Nutrition from NYU. After completing a dietetic internship at New York-Presbyterian hospital in 2011, Anita is now a practicing Registered Dietitian. Anita also maintains current certifications in indoor cycling, kickboxing, group exercise, personal training and pre/postnatal exercise specialization. In 2012, Anita co-founded FitMapped, a platform to help users find fitness easily and connect with fellow enthusiasts. Anita represents the New York State Dietetic Association as media spokesperson. Follow @FitNutAnita for interesting updates of fitness and nutrition content.
Please share your opinion below! For more original content, check out Well Rounded NY.
Related