Today's New York Times reports on the crazy, aberrant, corrupting, ban-worthy teen behavior known as... hugging.
Contemporary adolescents are apparently more prone to gender-neutral, race-neutral, and attraction-neutral hugging that any generation of Americans in history. Amongst teens, hugging is now as common as showing your underwear in public and blindly crossing the street at will.
The article quotes kids from schools across the country, including Pascack Hills High School in Montvale (What's a New York Times lifestyle story without a gratuitous New Jersey reference?).
"We're not afraid, we just get in and hug," said Danny, a Pascack Hills junior.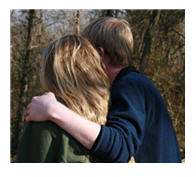 Administrators are not so enthusiastic. According to the article, "Schools from Hillsdale, N.J. to Bend, Ore....have banned hugging or imposed a three-second rule." The principal of Hillsdale's George G. White School, which instituted a hugging ban, told the Times, "It was needless hugging...It wasn't a greeting. It was happening all day."
All-day, contagious, enthusiastic spontaneous hugging? Goodness, where's the Health Department, the CDC, or Chris Hansen when you really need them? And does the three-second rule for hugging have anything to do with the five-second rule for eating food that's fallen on the floor?
Some sociologists point the finger at recent trends in playdates and close parental supervision (known in some quarters as "smothering"). Others say it's just an evolution of the American greeting. You see, whereas Early Americans sent smoke signals to say "whassup?", our kids now do the bump-and-grind.
Still others say that this "grassroots phenomenon" is cheapening the value and distorting the original intention of the hug. One Montvale mother told the Times, "I hug people I'm close to. But now you're hugging people you don't even know. Hugging used to mean something."
Perhaps what we need is a National Organization for Hugging to make sure America sticks to the traditional, family-focused definition of hugging, and not some unholy misappropriation guided by activist students and psychologists with an underlying agenda. A compromise: Can't these non-romantic hugs just be called "civil embraces"?
I was not personally raised in a family of huggers, at least not amongst men. My Dad, brother, and I have evolved to a handshake-to-half-hug thing that works for us now, given our history. But I fully hug my nine-year-old son often and purposefully. I won't tell you it comes naturally, but I know it solidifies our bond in a way no other act can.
I don't remember hugging classmates until my high school graduation, and even then I was aiming for the cheerleaders. But I'm very encouraged when I see young people hugging platonically. Such "bromantic" behavior gives me hope for nothing short of world peace, when some of these young men and women become global leaders. (I think Michelle Obama and Queen Elizabeth had a three-second rule)
Also, with the world population skyrocketing, I want my children to be physically comfortable going shoulder-to-shoulder with anyone. As a daily train commuter, I know personal space is a luxury.
So I'm going on record as being pro-hug. Kids, no matter what anyone tells you, it's way cooler than texting.
Related