This tiny device was supposed to make big waves in the retail industry. It's been lauded as a technology that was poised to change the way the entire world shops. It even got a lot of press in PC Magazine and a host of other reputable publications. It's been the talk of the town, but there's only been one problem: It hasn't arrived yet! What's the delay?

iBeacon Tech & Marketing

Developed by Apple, iBeacon uses Bluetooth technology to tell how close a smartphone or tablet is to a beacon sensor. It essentially allows smart devices to interact with one another to improve a user's experience.

The world was abuzz about iBeacon because its location-based technology can be extremely powerful for retailers large and small in terms of collecting data about and sending targeted notifications to prospects and customers who have downloaded their app. McDonald's has seen an increase in sales from a test run using the iBeacons, and Virgin Atlantic is among the first to use them as thermostats to supply cold passengers with blankets. iBeacons also have the potential to enhance B2B marketing with its ability to target users' smartphones at trade shows or other events.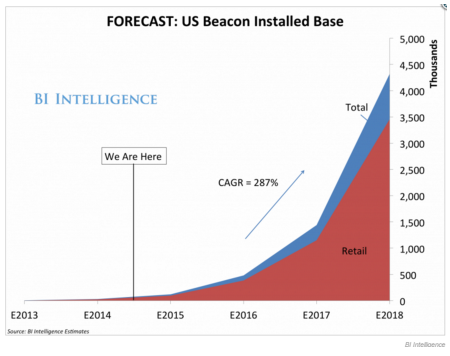 However, that's just the beginning of how iBeacons could change the world.

Was Supposed to Change the World in Nine ways

According to an article in the Washington Post, iBeacon technology could potentially revolutionize a user's entire world--from what happens when you enter your home to attending your kid's sporing events. Here are nine ways iBeacon technology could change your life:

1. Valuable coupons! You could stand to get 10% off of a TV purchase just because you went to the actual TV department.
Because iBeacons are Bluetooth and location-based, retailers could use them to send coupons via push notifications to customers who have downloaded their store's app.

2. Meet your house--a place that reacts to everything you do.
Can you imagine your TV turning on to your favorite channel as soon as you enter the room? iBeacon's smart technology will connect with other smart devices to make these kinds of custom interactions possible.

3. Tour incredible places like museums from the comfort of your phone!
Imagine getting a custom tour of a museum (on your phone) based on which exhibits you visit. iBeacon technology will make it possible for self-tours in which the app adjusts its information based on your trek through the museum.

4. Who wants a play date? You can put together pickup games in record time.
What if your kid's outdoor toys alerted them when their friend's toys, and thus their friends, were in the area? Cue hours of entertainment and exercise.

5. Going to the game? Your tickets will automatically be at your fingertips
By knowing how close you are to the sporting venue, the iBeacon could automatically pull your ticket up for you instead of having to print the ticket or wait for it to load.

6. Win big just by kicking a few tires at a car dealer.
Businesses could host raffles or contests for the first number of customers to enter an iBeacon's range at the business.

7. Smarter toys! All your toys will be aware of each other.
Picture Star Wars lightsabers that lit up when they came within a few feet of each other. The possibilities for toy interactions like this would be endless.

8.Pump your gas and get a cup of Joe for free.
Customers are more valuable when they buy more than gas. With iBeacons, a business could send customers pumping gas free offers to draw them inside the store.

9. Digital warnings if your car or bike are taken out of the garage.
By attaching an iBeacon to your car or another mode of transportation, you would receive an email or push notification when it goes out of range.

Despite the convenience this would bring to our lives, people are not as excited about adopting iBeacon technology as many expected.

Adoption Has Been Slow

Business Insider dubbed beacons the "most important retail technology since the mobile credit card reader." Despite their prediction that 85 of the top 100 retailers would be using them by the end of 2016, only three percent of retailers had implemented beacon technology by 2015 and only 16 percent had plans to implement them in the near future.

People are wondering where the excitement about iBeacons has gone. One Reddit user asked, "What ever happened to iBeacon? Weren't there supposed to be strong implications from iBeacon for a push with indoor mapping and location based ads? I haven't heard anything about it in a long time."
"Despite the obvious potential iBeacons have to provide retailers with real time data about their customers, some retailers may still be hesitant to pull the trigger", said Kevin Rys, VP of Technology at ProximiTel. "Data from iBeacons can offer businesses information about customer demographics, shopping habits, and more. However, many businesses don't understand exactly how to implement the technology and use this data to benefit them."
Why the delay in implementing beacon technology? After reviewing over 40 beacon focused articles, the folks at Appyboy came up with
.
Installing, managing, and maintaining beacons can be a struggle
Beacon signals are often obstructed by physical objects
Beacon marketing requires user opt-in
Consumers aren't sold on the benefits of beacons
Moving Forward
While retailers and early adopters may be excited about iBeacons and their many benefits, customers aren't so keen to adopt. Retailers need to adopt iBeacons for the right reasons--and increasing sales aren't it. They need to think about customers' needs and use beacons to enhance the customer experience. Doing otherwise may drive customers away rather than towards their store.
Related
Popular in the Community