Just two years ago, National Geographic featured the country of Crimea in its 2013 Best Trips report. The picturesque Crimean Peninsula is surrounded by the Black Sea and has been coined a paradise in Eastern Europe, with "Riviera-grade vistas but without Riviera prices." But after the breakup of the Soviet Union, Crimea became part of an independent Ukraine.
All that changed last year. Russia sent troops into Crimea in early 2014. On March 16, Crimeans held a referendum for succession, a move the U.N. and several countries declared illegal. According to a senior Russian political official, Russia has more claim to Crimea than Britain has to the Falkland Islands.
Regardless, the position of the United States is clear -- stay away from Crimea. In December of last year, President Obama issued an executive order prohibiting American companies from doing most types of business in the area, as way of demonstrating Washington "will not accept Russia's occupation" of Crimea.
Prohibited activities include new investment in the Crimea region; the importation into the United States, directly or indirectly, of any goods, services, or technology; the exportation, re-exportation, sale, or supply, directly or indirectly, from the United States, and any approval, financing, facilitation, or guarantee by a United States person.
The State Department has even issued a travel warning over the risks of visiting Crimea.
Business leaders are taking this seriously. Google has halted app purchases from the region. Visa and Mastercard announced late last year they'd no longer support bank cards being used in Crimea. Shared economy behemoth AirBnB has pulled its rentals from the region.

And the U.S. is encouraged by similar European sanctions. The EU has tightened restrictions to even include cruise ships.
Despite this, some American businesses are still marketing the destination. Tnooz reporter Sean O'Neil revealed that while AirBnB and Expedia have joined others in honoring the business ban, others have not.
I decided to follow O'Neil's finding and see for myself where I could still be accommodated to book a trip to Crimea. Most of these sites have aligned themselves and are no longer offering travel. Priceline.com, for example, disallows booking by marking inventory as "sold out."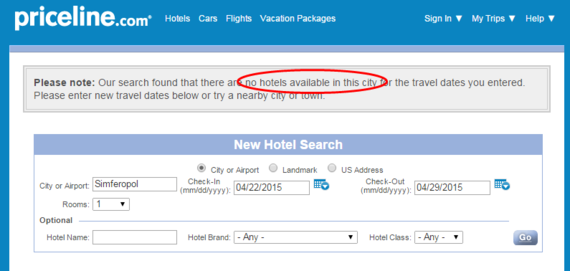 Coincidentally (if not deliberate), their subsidiary Booking.com, which accounts for 90 percent plus​ of Priceline's $65 bn market cap, will still get you to and from Crimea: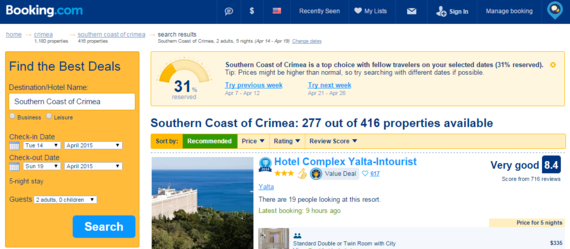 I got as close as one mouse-click for a four-night stay via Booking.com.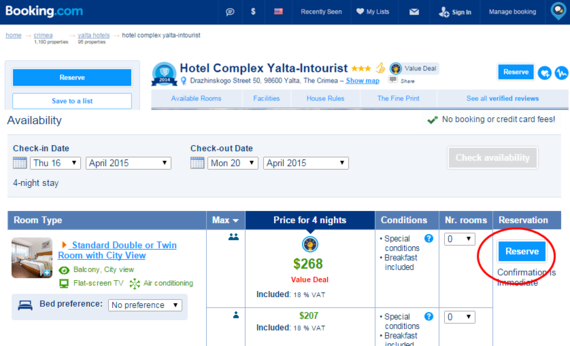 And TripAdvisor will still tell you all about the region and offer well-reviewed accommodations.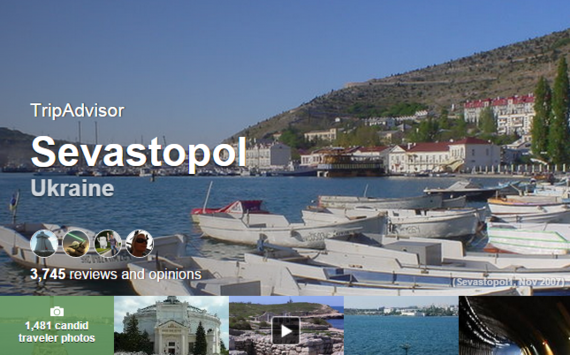 Where's the Crime in Crimea?
All this begs the question: perhaps the U.S. sanctions and executive order were not clear enough. Certainly enough for most U.S. businesses have taken it upon themselves to align with the ban, but perhaps the president's order was not clear enough to make it universal.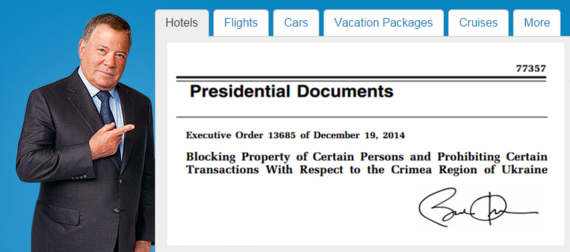 Should American businesses aggressively align with European counterparts and under executive order, align with sanctions against Russia in doing business with Crimea? Is it obligatory, ethical, and incumbent upon them to do so? Are they liable if they do not?
Popular in the Community