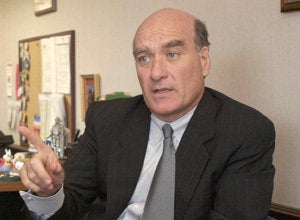 According to Michael Sneed in Tuesday's Chicago Sun-Times, mayoral brother William "Bill" Daley is "steamed" over a new John McCain ad that blasts Barack Obama by linking him to supposed Obama buddies, "convicted felon" Tony Rezko, Gov. Rod Blagojevich, who carries "a legacy of federal and state investigations," as well as Illinois Senate president Emil Jones, Jr. ("under ethical cloud"). But first on the list of sinister associations--even before "his money man" Tony Rezko--is Obama's "economic adviser," whom the voice on the ad tells us is not only the "Mayor's brother," but also one of those creatures so prevalent in McCain's upper echelon--a "lobbyist."

The ad seems sleazy and unfair--although none other than the New York Times which McCain campaign senior adviser Steve Schmidt declared yesterday "completely, totally, 150 percent in the tank for" Obama, fact checked it and, under "accuracy," declared that it contains "nothing that is outright wrong."
Bill Daley vehemently disagrees, calling the ad "an outright lie." He told Sneed that not only is he offended by being tied to Rezko--the ad makes "it look like I'm a thief and a gangster like Rezko"--but objects to being called "a lobbyist. "I've never been a lobbyist! My son, Bill was a lobbyist five years ago."
In late 1984, Daley, a John Marshall Law School graduate, was offered a partnership at Mayer, Brown & Platt. He was hired to help build the lobbying practice at the firm, which barely had one in its Washington office, much less in its Chicago headquarters. His father was dead; his brother was not yet mayor--but his being a favorite of then congressman Dan Rostenkowski, the man who was writing the nation's tax laws-- made him an attractive addition to a firm that did not hire many John Marshall graduates.
"Bill did represent clients before Rostenkowski and other members of the Congress, as well as before the White House," one Mayer, Brown partner told me at the time. In the mid to late '80s, according to another Mayer, Brown partner, Daley's practice "involved mostly tax lobbying ... with Rostenkowski. Bill was in Washington almost all the time."
He took a leave of absence from Mayer to become Bill Clinton's "NAFTA czar," steamrolling NAFTA through a reluctant congress in the first Clinton term. Daley's friendship with Rostenkowski, an avid free trader, again helped. Organized labor opposed the trade treaty, negotiated by the first President Bush with Canada and Mexico, for fear that the U.S. would lose low-wage manufacturing jobs to Mexico. Although the press celebrated Bill Daley for helping a president who had so recently humiliated him--Clinton seemed to have promised Daley a cabinet position; there was all kinds of press predicting it, and then he was passed over-- a former law partner had a less lofty view: "NAFTA was a way for Bill Daley to get into the game, pick up chits."
According to a writer for the Tribune magazine, Clinton, distracted by a rough start to his first term, was so pessimistic about passing NAFTA that he "dubbed [it] the Lazarus Project." "Nobody wanted to touch NAFTA," Rahm Emanuel told me at the time. When I interviewed Al Gore, he assigned Daley "virtually 100 percent of the credit ... Nobody thought that we could get [NAFTA], but he was able to pull it out of the bag."

"They called me the Czar," Daley chuckled during one of my interviews with him. They also called him the dealmaker. "We had it won until the last week and half," recalled anti-NAFTA crusader David Bonior, the former congressman from Michigan who led the opposition to NAFTA in the House. Bonior cited "two or three dozen members of congress, [who] if they don't have passion one way or the other, they stay neutral and get the best deal." Bonior explains that each was trying to get something--a bridge, a change in the treaty "to reflect some economic situation in their district. We didn't have anything to give." The administration had plenty to give and, charged Bonior, passed out some $20 billion in goodies. Daley was able to win NAFTA, writer and political strategist Don Rose told me, because of his "ability to find everybody's price."
In 2001, in the wake of the Gore fiasco--Daley was chairman of the Gore campaign--Daley, who finally got his cabinet post in the second Clinton term--went to work for SBC chairman Ed Whitacre. Whitacre had befriended Daley while he was commerce secretary. As chairman of the highly regulated company, Whitacre needed help in making his case. He hired Daley, fancy title and job description aside, to lobby, to "grease the skids with regulators and politicians," in the words of one reporter who covers the industry. (SBC was regulated in 13 states and also by the FCC in Washington.) Daley's job was to lobby the FCC to ease regulations, to lobby politicians to write telecom laws more friendly to former Baby Bell monopolies like SBC, to end federal government rules forcing SBC to lease access to its local wires, at cut rates, to competitors such as AT&T and MCI. Daley's Midwest clout, particularly in Illinois, a key market for SBC, multiplied his value to Whitacre.
As for Bill Daley's son, Bill, Jr., yes he was a lobbyist--for Fannie Mae, on whose board his father once sat.
In the wake of the cabinet appointment that never materialized, the new president called Bill the father to Washington to play golf. Clinton gave Daley senior a seat on the Fannie Mae board, which included a stock option plan; Jim Johnson, one of Daley's closest friends, was then chairman. "It looks like a big, fat, no-sweat bone thrown his way," wrote James Warren, then at the Chicago Tribune. Daley also successfully approached executives at the government-financed mortgage giant about sending some of its securities work to Mayer, Brown. "Whether I was on the board or whether I knew somebody," Daley was quoted in the Tribune as saying, " Fannie Mae would not have hired Mayer, Brown & Platt unless the firm was competent in securities matters."
Back to Daley, Jr. One Chicago journalist told me at the time that "Billy," who has an MBA from Northwestern and who started in Fannie Mae's Chicago office before earning a transfer to the Washington headquarters and the title of vice president, is "nice and capable, but there are lots of nice and capable young people around. If his name were Billy Jones he certainly would not have that job."

(If the name Jim Johnson sounds familiar it's because he was briefly head of Obama's vice presidential vetting committee; Johnson stepped down because, in part, of the press ruckus over his past ties to Fannie Mae.)
Popular in the Community