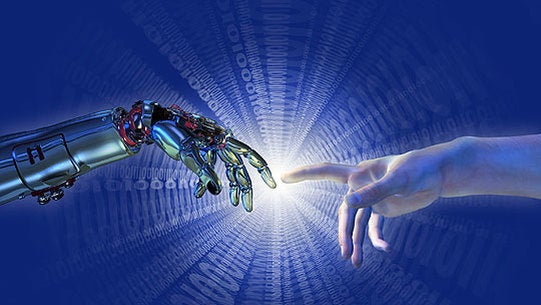 Spending time online has become a usual activity for almost all the people around the world. It's difficult to imagine any office-related work without the computer nowadays. We work with the computers, connect and talk to other people using either a computer or a tablet or a smartphone; we watch the news and search the relevant information on the Internet as well. According to CNN, the average American devotes more than 10 hours a day to screen time. And this number might be growing in the future. As a result of technological progress, people tend to get absorbed into a virtual life. There are even some growing fears that computers could substitute real life communication and socializing. But, at the same time, people are becoming more concerned about how they spend their time on the Internet and whether it's used for some good things.
On the one hand, the Internet and computers give us a lot of advantages. Computers can speed up the routine work; we can learn something new online adjusting the learning schedule to our own needs and, thus, save a lot of time. We can connect with close to us people who live far away through social media; we can watch the latest news and find important information quite easily. The computers and the Internet have also granted us opportunities to work remotely, which is especially useful for the people who hate daily routine work in the office. But even if one works in the office, computers can help perform tedious and mundane tasks leaving more room for creativity and imagination.
But one thing that computers still cannot do is to make one's working day shorter. Most offices require its employees to conform to eight-hour work day, - and even though more and more companies introduce flexible working schedule, it doesn't mean that you wouldn't work for 8 hours, you can just choose the starting hour of the work. The same is true when you are working remotely. Of course, there is more flexibility when you are a freelancer, but it can be a tricky situation as well. The more you work, the more money you earn, and if you don't work many hours, you won't get enough. And so, when one has a lot of workloads, one shouldn't forget about having a proper work/ life balance. Since computers have become an integral part of our life, the natural question comes if we can have a good rest online. And I would say, yes, we can rest while using the Internet and computers. Of course, such rest might not substitute a holiday trip or some fun at the beach with your friends and family, but it can help us relax while saving precious time. So, what are some good ways of having a good rest online?
Watching a good movie on the Internet can be very relaxing. Sometimes, there's no time or even desire to go to the cinema. Besides, one can watch a movie during the time that is most convenient for each person. One can lie in a bed and eat pizza while watching the movie turning it into even more pleasurable and exciting experience. Besides, watching some short funny cartoons on Youtube is a good way to 'clear' one's mind and take a small break out of work. Such breaks are quite beneficial since they can give new ideas and perspectives on the issue.
Another way of having a good rest is to play some online slot games. It's fun and relaxing, especially after a long and difficult day at work. For casino lovers, it's another alternative to playing the slot games (with or with no betting) without having to take a trip to land-based casinos, especially when there's no opportunity to go on such a trip. In an interview on online gaming, the founder of Lightning Box Games states that the online games are essentially 80-90% the same as the land-based ones and that the majority of land-based games is available online too. So, it means that game lovers can enjoy all the benefits of playing the games online and have the same positive emotions as they would in the casinos.
Finally, one could have a social 'meeting' on Skype with friends or relatives who live quite far away. Sometimes, everything one needs is a good and pleasant conversation. With video calling on Skype, it's possible to see one another, to drink a glass of wine and share some interesting stories with each other. It's almost the same as meeting up with a friend in a café and having a nice chat after the work.
The Internet and computers have significantly changed the way we work and interact with each other. While computers are often used for one's job, one should never forget about having a proper work/life balance, and, thus, use the technology not strictly for work, but also for having some good rest.
REAL LIFE. REAL NEWS. REAL VOICES.
Help us tell more of the stories that matter from voices that too often remain unheard.
This post was published on the now-closed HuffPost Contributor platform. Contributors control their own work and posted freely to our site. If you need to flag this entry as abusive,
send us an email
.