"I'm going to Disney World!" It's something all of us want to shout out at least once in our lifetimes. But, is it possible to use rewards points for Disney World or Disneyland? Let's find out!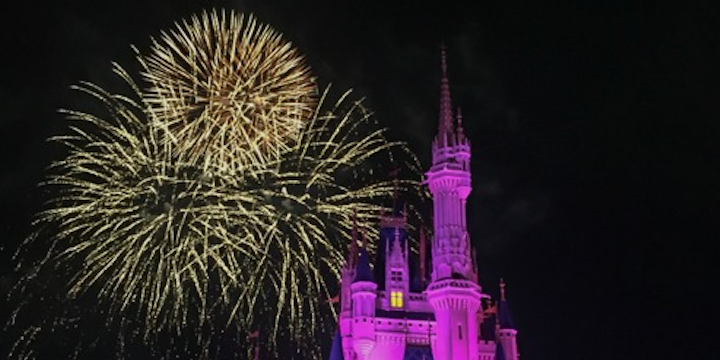 When You Don't Use Rewards Points for Disney
As you know, going to Disney without points can get expensive quickly. Especially if you visit Disney in peak season. You can easily plan on spending at least $90-$100 per person per day depending on your ticket package & meal plan. This is why it's so important to use rewards points for Disney as much as possible.
The Disney Credit Card
A logical first step is one of the Disney credit cards. The only problem is that a Disney credit card primarily gives you discounts of 10-15% on select experiences & gift shops once you get to the park.
Although, you can redeem Disney Dollars (the rewards points earned from both Chase Disney credit cards) for free meals ($10 value), one-day child's ticket to the Magic Kingdom at Disney World ($107), or airfare.
The redemption rate is 1%, meaning $100 in credit card purchases equals 1 Disney Dollar. To buy one ticket to the Magic Kingdom, you would need to spend $10,700. Plus, you still need to buy your admission tickets. In most cases, the Disney credit card route is better to save money on in-park purchases.
You are better off using a regular travel credit card to pay for your lodging and travel to make Disney more affordable.
Flying to Disney
Depending on where you live, you will need to fly to Disney World or Disneyland to not burn up your entire vacation time. Many airports offer cheap flights to Orlando and L.A. allowing you to get to Disney cheaper than some other destinations.
The most well-known carrier is going to be Southwest Airlines. You can earn 40,000 Rapid Rewards points after spending $1,000 (very easy!) by signing up for the Southwest Rapid Rewards Visa that earns 2 points per $1 on all Southwest flights.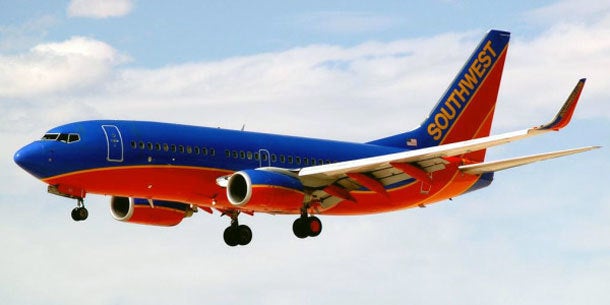 Another option to boost your Southwest point balance is to transfer Ultimate Rewards Points from your Chase Sapphire Preferred on a 1:1 basis. As a new cardholder, you have the opportunity to earn 50,000 bonus miles and an additional 5,000 miles just by adding an authorized user. That's 55,000 miles off the bat that you can transfer to Southwest just for airfare.
It's possible to secure a round-trip ticket for less than 25,000 miles (plus taxes & fees) by flying Southwest. And, bags fly free with Southwest which is a definite plus.
If you live near a JetBlue hub, you might also be able to redeem points for rewards flights. There are two different JetBlue credit cards to choose from.
Your first option is the no-fee JetBlue Card that offers 5,000 bonus points after spending $1,000. For a more robust bonus offer, you might consider the JetBlue Plus Card that offers 30,000 bonus points and additional JetBlue benefits for the $99 annual fee.
If you don't live near a Southwest or JetBlue hub, don't feel dismayed. Every major airline flies to or near Orlando & Los Angeles meaning you can use airline rewards points for Disney!
You have three primary alternatives:
Your best of the three options are going to be the Chase Sapphire Preferred because you can transfer the 50,000 bonus Ultimate Rewards points and transfer them to United (20,000 miles economy round-trip) or American (via British Airways Avios) starting at 15,000 miles economy round-trip.
If you can fly American Airlines or Alaska Airlines, signing up for the British Airways Visa Signature Card allows you to redeem Avios for partner flights to Disney World or Disneyland. Plus, they just announced their highest ever tiered bonus offer of 100,000 Avios! You can receive the first 50,000 Avios after spending $3,000.
One-way economy reward flights on American Airlines start at 7,500 miles for flights shorter than 500 miles. Longer flights originating in the continental U.S. are 12,500 one-way for an economy seat.
United MileagePlus Explorer Card
If you are loyal to United, the United MileagePlus Explorer Card will give you 50,000 bonus points and one free checked bag. Their redemption rates can be a little higher than American depending on where you live, but, they tend to offer more flights across the country.
Hotel Rewards Points
Whether you fly or drive, you will have to find a place to stay. This can cost just as much as park admission or the airfare. To avoid these costs, use hotel rewards points at Disney World and Disneyland.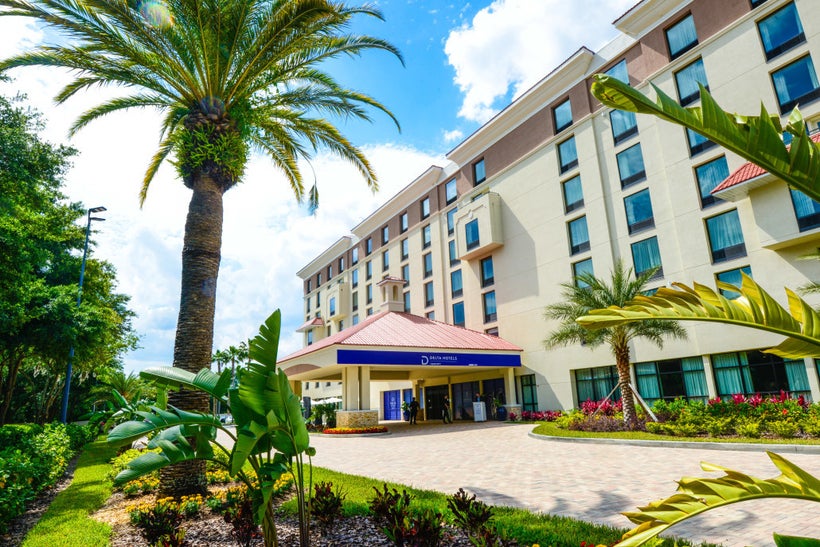 Disney World
The Amex SPG is easily one of the best hotel credit cards and great for using rewards points for Disney. The normal sign-up bonus is 25,000 Starpoints, however, they occasionally run a special for 35,000 bonus Starpoints. All you have to do is spend $3,000 in the first three months.
Most hotel reward nights require you to stay off-resort and you are responsible for your own parking each day at Disney. Starwood owns the Walt Disney World Swan and Dolphin Resort (in Florida) that are technical "on-resort" but are not owned by Disney. This means you still have access to the Disney shuttle & other resort amenities that other non-Disney hotels don't offer.
Get a Starwood Reward Night for 10,000 Points at The Disney World Swan & Dolphin Resorts
The Swan and Dolphin is a Starwood Category 4 hotel that costs 10,000 points per night. Plus, since it's a category 3-7 hotel, you get the 5th reward night free after redeeming Starpoints for the first 4 nights. You do have to pay a small resort fee (+/- $28 per night), but it's still the cheapest way to stay at Disney World with reward points.
A backdoor method to earn more Starwood points is to transfer your Chase Ultimate Rewards points from Marriott to Starwood on a 3:1 ratio.  The 50,000 bonus points from the Chase Sapphire Preferred will be worth 16,666 Starpoints. Or you can transfer 100,000 Marriott bonus points from the new 100k Marriot Premier bonus offer for 33,333 Starpoints.
With Disneyland it's possible to find hotels within walking distance that offer rewards nights.
The Fairfield Inn Anaheim Resort is a Category 7 Hotel that costs 35,000 Marriott points per night. It is within walking distance of Disneyland and they offer a shuttle service too.  Taking advantage of the 100,000 point Marriott Rewards Premier Credit Card is the easiest way to earn rewards nights.
A second option is to stay at the Hyatt Regency Orange County that costs 12,000 points per night and offer shuttle service to Disneyland. To earn Hyatt points, you can apply for the Hyatt Visa that offer 2 free nights!
With either the Marriott or Hyatt brands, you can transfer your Ultimate Rewards on a 1:1 basis earned from the Chase Sapphire Preferred as well.
Summary
There are many different ways to use rewards points for Disney! Your best option is for reward flights or hotel nights. To save money on Disney tickets, you should look for package deals from your current loyalty programs, directly from Disney, or by resources recommended in the various Disney guidebooks that will make it feel like "the happiest place on Earth!"
REAL LIFE. REAL NEWS. REAL VOICES.
Help us tell more of the stories that matter from voices that too often remain unheard.
This post was published on the now-closed HuffPost Contributor platform. Contributors control their own work and posted freely to our site. If you need to flag this entry as abusive,
send us an email
.