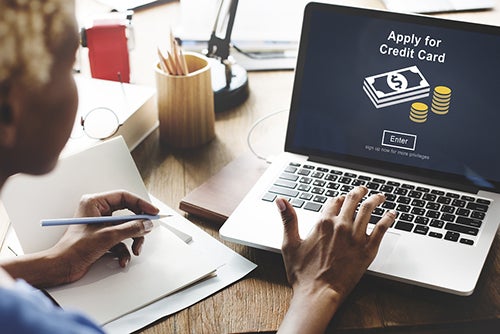 By Jocelyn Baird, NextAdvisor.com
Putting your sensitive personal information into a form on a website in this day and age, with so many instances of data breaches and phishing scams, can be nerve-racking for many people. The last thing you want to do is input your social security number, address, income and other personal details into an insecure website and later find out that they were misused by cybercriminals or otherwise taken advantage of. As such, it's reasonable to think twice before you apply for a credit card online. How can you determine whether a credit card application is safe to use, and what should you do if there's a problem while you're in the middle of the application process? We explore some tips for successfully navigating digital credit card applications.
Is one method of applying safer than another?
Most credit cards can be applied for either online through the company's website or mobile app, or over the phone via a customer service representative. It is possible to request and fill out an application by postal mail, but this is a much slower method and you will want to ensure that you send the application as certified mail to be certain it does not wind up tampered with at any point during its journey. There may also be an instance when you can fill out a paper application or apply with a banker at a local brick-and-mortar bank, but this option isn't as common anymore. The good news is that none of the methods for applying are inherently safer than the others, as they all require you handing over your personal information to a website, a paper form or a person. That said, some of the older methods, such as applying via a paper form mailed in or handed over to a bank representative, aren't as secure as you may think, as you must trust that the correct department receives it and that the document is stored in a secure manner after the application process is complete. Applications completed via phone are a fine option, too, as they allow you to apply on the go, but you'll want to make sure you're placing the call from a safe place (e.g., your home) so you can be sure a stranger isn't listening and writing down your information. Credit card application websites are designed to be secure, and so long as you are taking some steps to ensure you're using the correct website and a secure device, it is just as safe (or potentially safer, which we explain below) as any other method.
How can you determine it's safe to apply for a credit card online?
When it comes to website security, few organizations are more stringent with their requirements than financial ones — and for good reason. Money is at the core of nearly every cybercriminal's actions, which means finance-based websites are high on their target list. Because of this, these companies have invested lots into hiring cybersecurity experts to design and protect their websites, apps and programs. The most important thing when applying for a new credit card online is to make sure that you are using the right website. Clicking a link from an email or an online ad isn't necessarily dangerous, but you should do your best to make sure that any links you click are from legitimate sources. For example, if you're trying to apply for the Citi Simplicity Card – No Late Fees Ever (a NextAdvisor advertiser), you'll want to be sure the site you're submitting an application to has the bank's domain, as is the case when you click "Apply Now" next to any of the cards on our site. Barring that, if you're ever unsure, your best bet is to type in the URL yourself (e.g., www.bank.com) and find the application that way.
You will want to look for a couple of things when you're filling out the application. First, make sure that the URL begins with "https" and not just "http." The extra letter in there means the website is using secure encryption, so someone can't eavesdrop on what you're doing while you're there. You also want to look for a lock or green-colored icon at the far left of the browser bar. This might look a little different depending on what kind of computer and Internet browser you're using, but if you hover over or click on it, you should see a pop-up or drop-down with information about the security of the website. You may also see the name of the bank or card issuer in the browser bar, which shows you the site has an Extended Validation certificate, meaning the owner of the site is who they claim to be and the site has HTTPS active. It's important to note that you should also be sure to only apply for a credit card online (or perform any other type of activity that involves financial or personal information) while using a secure, password-protected network, rather than a public or shared network.
What happens if there's an error during your application?
Sometimes, you might receive an error message or experience a problem with your Internet or computer in the middle of applying for a credit card online. This can be worrisome, especially if you are concerned about the potential of something bad happening with your information. The good news is, for the most part, you don't have anything to worry about so long as you are using a secure website (as we outlined above). If you are worried about the potential negatives of submitting your application twice, aren't sure your information was successfully submitted or can't get the application to work properly, your best bet is to call the credit card provider directly. They can help you figure out whether the problem impacted your application and get you set straight.
Now that you've been reassured as to the safety of applying for a credit card online, you might be ready to find a new credit card. Luckily, you can browse reviews of the best credit cards that we've reviewed.
Calling all HuffPost superfans!
Sign up for membership to become a founding member and help shape HuffPost's next chapter
This post was published on the now-closed HuffPost Contributor platform. Contributors control their own work and posted freely to our site. If you need to flag this entry as abusive,
send us an email
.