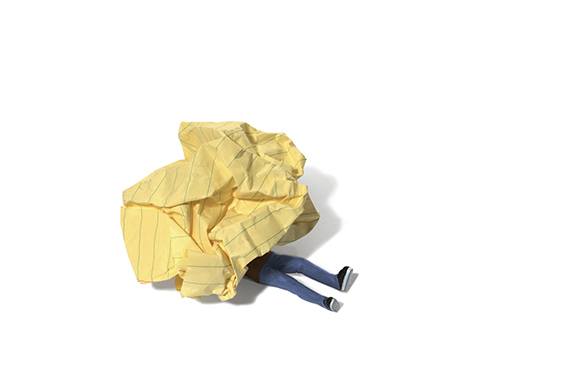 Busy professionals are busy for a reason. You've got tons of stuff to do!
Your to-do list feels like it's never ending.
You wish you had 48 hours in your day.
You are drowning in the sea of meetings, emails, and calls to return.
Well, you are definitely not alone.
Pressure to stay ahead of your to-do list is a common reason many successful professionals are on the verge of burning out.
In fact, the question I'm most often asked is: "How do you get everything checked-off your to-do list?"
My answer: "It starts by ensuring your to-do list is healthy and effective."
I've seen enough to-do lists to recognize a sick one.
Below are three symptoms that reveal it's time to quarantine your list:
1. List Diarrhea
I know this sounds gross. (Sorry!) But this is the most common symptom and biggest mistake I see. How many items are on your to-do list right now? If your answer is more than 7, your list is out of control!
Your to-do list should be based on a few of the day's priorities. No wonder you feel like it's never-ending! Because it is!
Instead, focus your list on your top 3 to 5 priorities for the day. Make it so that you can work toward completion and you can feel the surge of success. If all you do is add more and more items to your list, you are setting yourself up to feel defeated and overwhelmed.

2. Everything-Is-Priority Syndrome
Another big one! Which item on today's list is a priority? If you answered all of them, you need to try again. Last time I checked, the definition of priority is: "Something that is more important than other things, and that needs to be done or dealt with first." I think you know what I'm going to say. Everything on your list CANNOT be priority!
The fix for this syndrome is to get clear on which item must be completed first. Then, decide which must be addressed second, and so on. Remember if everything is a priority, then nothing is truly a priority. Pick one. Finish it. Move on.
3. No-Timeline Flu
Are you constantly in a hurry like the White Rabbit from "Alice in Wonderland?" No wonder you feel nothing ever gets done. You haven't determined a timeline to complete the work, which can lead to confusion and frustration.
Instead, assign timeframes to each task. Determine when you will start and finish each item. Some items will take only a few minutes to complete; others will take longer. Knowing this before you begin makes it easier to plan your workflow and output for the day.
An ailing to-do list sets you up for failure and frustration. If your to-do list is exhibiting the symptoms above, it's time to inoculate it.
Are you stuck in a rut? I can help you take back control of your career and life and achieve your true success. Contact me to set up a complimentary Clarity Call to discuss how to make next year the year you break through barriers and shine.
Nozomi Morgan, MBA, is a certified Executive Coach and the Founder and President of Michiki Morgan Worldwide LLC. Addition to coaching, she speaks and trains on leadership, career, professional development and cross-cultural business communication.
Calling all HuffPost superfans!
Sign up for membership to become a founding member and help shape HuffPost's next chapter