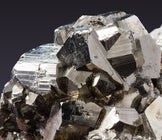 It's well documented that conflict over lucrative mining operations in the Democratic Republic of Congo is a major driver of brutal violence, forced labor, rape and other forms of human rights abuses. With mineral wealth estimated to be worth $24 trillion, the DRC has some of the largest mineral reserves in the world. Cassiterite, columbite-tantalite, gold, wolframite and their derivatives - so-called "conflict minerals" - are in high demand and used to make everyday consumer products such as mobile phones, computers, game consoles and cameras. Cash from the mines that produce these conflict minerals is an important source of income for armed militias in war-ravaged DRC fueling a conflict that has cost the lives of millions.
Against this backdrop, Congress enacted Section 1502 of the Dodd-Frank Wall Street Reform and Consumer Protection Act, with the goal of reducing violence and advancing peace and security in the DRC. Section 1502 called on the SEC to adopt rules requiring public companies in the U.S. to make certain annual disclosures if products manufactured or contracted to manufacture contain conflict minerals. These rules were subsequently adopted two years later and despite legal challenge from an industry group, the rules remain largely intact which resulted in the first annual disclosure filings in April 2014.
Fast forward to a few days ago and almost 4,000 filings later, the conflict minerals rule became the source of renewed focus. Acting Chairman of the SEC, Michael Piwowar, issued an extraordinarily harsh critique of the conflict minerals rule stating:
[w]hile visiting Africa last year, I heard first-hand from the people affected by this misguided rule. The disclosure requirements have caused a de facto boycott of minerals from portions of Africa, with effects far beyond the Congo-adjacent region. Legitimate mining operators are facing such onerous costs to comply with the rule that they are being put out of business. It is also unclear that the rule has in fact resulted in any reduction in the power and control of armed gangs or eased the human suffering of many innocent men, women, and children in the Congo and surrounding areas. Moreover, the withdrawal from the region may undermine U.S. national security interests by creating a vacuum filled by those with less benign interests.
As a consequence, Piwowar directed the staff of the SEC to reconsider the wisdom of the rule and invited public comment.
It's important to place the conflict minerals rule in context. The conflict minerals rule is part of what is known as sustainability reporting where corporations report to their stakeholders on the impact of their social and environmental footprint. A joint United Nations report found that in 2016 there were almost 400 sustainability reporting instruments in 64 countries, of which 16 were in the U.S.

Utilizing the SEC disclosure system to advance social policy is becoming an increasingly common tool in sustainability reporting and covers a range of subject matter including climate change, hazardous waste, board diversity and conflict minerals disclosure. By providing greater corporate transparency on social issues, shareholders can make more informed decisions about the companies they invest in while making corporations more accountable for the implementation of social policy. Or at least so the theory goes.
Built into the thesis of sustainability reporting by U.S. public companies is an assumption that it is within the proper purview of the securities laws to advance social policy. But this is not necessarily the case. The purpose behind the disclosure rules of the SEC is the prevention of fraud and manipulation, while ensuring that investors have access to enough information so they can make informed investment decisions. From a disclosure perspective, it's important to ask how relevant is a corporation's practice on a particular social policy issue when considered within the overall mix of business and financial information? And where do you draw the line? Blood diamonds in Sierra Leone, sweatshops in Bangladesh, oil spills in the Niger Delta. The list is endless.
It's questionable whether sustainability reporting even works in the first place. For example, it has been argued that the sheer volume of disclosures diminishes the overall value of disclosure, not to mention the costs to the companies forced to provide disclosure.
For conflict minerals rule disclosure alone, the SEC estimated that the initial cost of compliance for almost 6,000 companies would amount to a total of $3 to $4 billion with ongoing annual compliance costs of between $200 million and $600 million. These costs were estimated to cover due diligence, information technology implementation and audit requirements and a cursory review of the complexities in the conflict minerals rule (as contained in Form SD) reveal just why such compliance costs are so high.
This is not to say that corporations should not play a part in acting in a socially responsible manner and corporate social responsibility is playing an increasing role in corporate America. The point is that forced sustainability reporting by the SEC disproportionately shifts the burden of social policy change onto publicly reporting companies in the U.S. based on dubious evidence of effectiveness and questionable purpose.
With a new administration intent on reforming Dodd Frank, the time has come to roll back the conflict minerals rule.
The views expressed here are those of the author and do not necessarily reflect those of McDermott Will & Emery or its clients.
Calling all HuffPost superfans!
Sign up for membership to become a founding member and help shape HuffPost's next chapter
This post was published on the now-closed HuffPost Contributor platform. Contributors control their own work and posted freely to our site. If you need to flag this entry as abusive,
send us an email
.