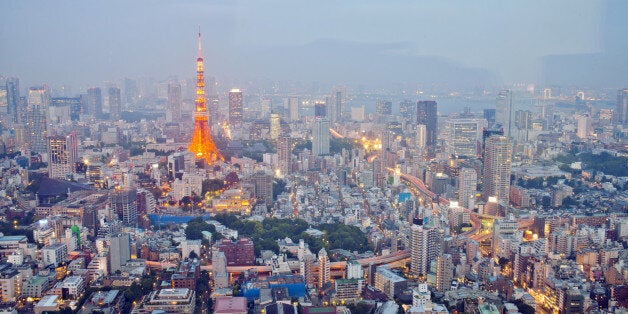 There seems to be some concerns in other countries that Japan may take more expansionist stance after Prime Minster Abe regained the leadership in Japan.
One such example is a recent opinion article of the New York Times by Professor Alexis Dudden of Connecticut University. She writes that Japan's recent map "extends beyond Japanese internationally recognized boundaries, incorporating many islands claimed by neighboring countries" and Japan risks losing access to many of " resources because of its brinkmanship." We honor freedom of speech in Japan, as in the US. Anyone can make any argument on issues regarding territories or history of other countries. The important thing is that arguments should be made on factual basis. I will here state only the objective facts regarding three specific issues.
The Northern Territories. These four islands have been occupied by the Soviet Union since the end of WWII. We are very much appreciative of the fact that the US government has consistently been supporting Japan's sovereignty over these territories.
Senkaku islands. Japan incorporated these islands in 1895 after thorough research that these islands were not inhabited and did not belong to any other country. The Japanese sovereignty over the Islands had not been contested until early 1970s immediately after the UN Economic Commission for Asia and the Far East issued a research paper indicating that there was a possibility that huge oil resources existed under the seabed around the Islands in the East China Sea. It was since then that China and Taiwan started to make claims on the islands. Especially since around 2008, government ships of China started to intrude into our territorial sea surrounding the Senkaku Islands. It was gratifying that President Obama clearly stated, in the Joint Statement in April 2014, that the US-Japan Treaty of Mutual Cooperation and Security "commitments extend to all the territories under the administration of Japan, including the Senkaku Islands. In that context, the United States opposes any unilateral action that seeks to undermine Japan's administration of the Senkaku Islands."
Takeshima. The territory are small Japanese islands over which the Republic of Korea started to seek sovereignty after the WWII and has been occupying since 1952. Since 1954, Japan has three times proposed to refer the issue to the International Court of Justice but had always been refused by the Republic of Korea. The US Government does not take any position on the sovereignty of this territory. This is quite understandable. I just note the fact that in 1951, in preparing for San Francisco Peace Conference, US Government, in the form of the letter of Assistant Secretary Dean Rusk to the Korean Ambassador, stated "this normally inhabited rock formation was according to our information never treated as part of Korea and since about 1905 has been under the jurisdiction of the Oki Islands Branch Office of Shimane Prefecture of Japan."
What I have stated above are facts and the interpretation of which does not differ from party to party. Japan has been consistent under any Cabinet on issues regarding our territory and it has been truly bi-partisan. It is incorrect to say that Japan is now turning to aggressive posture on these issues or trying to expand its territory on the map.
I am proud that our past leaders have bravely and clearly admitted to our wrongdoing before and during the WWII. I think our Government should maintain statements made by our past leaders and am reassured that the Prime Minister has made this clear. By the way, I am the first Japanese official to have extended apology at the assembly of the victims and their families of Bataan death march back in 2009, at my discretion as the Japanese Ambassador to the United States.
I regard our relations with neighboring countries are vitally important for us and am strongly hoping that they will be improved soon. I also firmly believe that Japan should not alter our peace- loving posture. The majority of Japanese citizens are proud of what we have achieved over the last 70 years. No, we will never become expansionists again, never.
Ichiro Fujisaki is Distinguished Professor of Sophia University and Visiting professor of Keio University, Former Ambassador of Japan to the United States.
Calling all HuffPost superfans!
Sign up for membership to become a founding member and help shape HuffPost's next chapter