The pioneering Modernist landscape architect Thomas Church once wittily characterized the relationship and perception of landscape architecture to architecture as "parsley around the roast" -- implying second-class status for both landscape architecture and parsley. That's one of the reasons I founded The Cultural Landscape Foundation (TCLF) a dozen years ago, to counter that misunderstanding of landscape (I'll leave parsley to someone else). TCLF provides people with the tools to see, understand, evaluate and appreciate designed landscapes -- i.e., landscapes designed by a landscape architect or designer -- much as we're accustomed to doing for buildings. The nation's designed landscape heritage is rich, varied and fascinating -- especially in our cities where the Harvard educator and landscape architect Hideo Sasaki saw a great design opportunity for the "betterment of [the] human environment." That may sound like a lofty ideal, but that very sentiment resulted in a legacy of architecture (and architects) that is embraced and valued, and a legacy of landscape architecture (and landscape architects) that deserves to be embraced and valued.
I have a degree in landscape architecture, spent 11 years in the private sector in New York, followed by 15 years in the federal government setting national policy at the National Park Service's Historic Landscape Initiative. I have traveled to, chronicled, written about, advised on and advocated for hundreds if not thousands of landscapes... truly more than I can count. My goal in writing for the Huffington Post is to inspire dialogue and debate beyond the traditional camps: architecture and urbanism at one end and plants and gardens at the other -- and to make visible the hand of the landscape architect.
The Utopian sounding aspiration espoused above by Hideo Sasaki informed his firm's very real designs for the innovative and significant Modernist public landscapes at Constitution Plaza (Hartford, Connecticut), Christian Science Center (Boston) and Washington Square Village and Greenacre Park (New York City), among others. They reflect Sasaki's desire to create urban oases, landscapes that can restore the human spirit. Interiors magazine (February 1958), wrote of Washington Square Village design that it "solves many of the problems of present day city living by providing light, air, color, spaciousness, landscaping and privacy within minutes of Midtown Manhattan."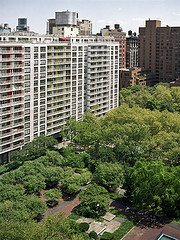 Washington Square Village, image courtesy The Cultural Landscape Foundation
Unfortunately, the nationally significant, unique and therefore irreplaceable landscapes at Washington Square Village and Christian Science Center (built 1972) face uncertain futures owing to construction and development pressures. The 12-acre Washington Square Village, with its one and one half-acre garden, and the 25-acre European-inspired, classic urban space at Christian Science Center, with its 686-foot long reflecting pool, are still revolutionary, sophisticated, tightly unified urban compositions. In a recent conversation, Gary Hilderbrand, a landscape architect, former Sasaki employee (1985-1991), and adjunct professor at Harvard, said Christian Science Center is "one of the few recognizably great achievements of modernist city building in North America."
Also unfortunate -- especially so because it's no surprise -- media coverage of the proposed tower in the Washington Square Village landscape includes zero mention of the Sasaki firm in either the New York Times (Robin Pogrebin, June 18, 2010), or the Wall Street Journal (Craig Karmin, June 17, 2010). Ditto the Boston Globe coverage (Matt Byrne, May 19, 2010), for work at the Christian Science Center. The Journal noted that Washington Square Village residents feared the loss of "green space and trees," but quotes Mark Husser, a partner of Grimshaw Architects, who says the tower they've designed for the site "would be built with sensitivity to the existing [I. M. Pei] buildings." Why doesn't this sensitivity translate to the landscape?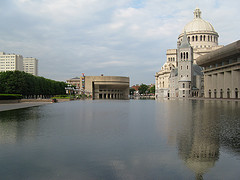 Christian Science Center, image courtesy The Cultural Landscape Foundation
Three buildings -- one more than 500-feet tall -- are proposed for the Christian Science Center along with a redesign of the plaza and the reflecting pool, which would be shortened and have a path cut across it. As a longtime resident of Washington, D. C., I wonder, will we eventually see similar proposals for the Reflecting Pool on the National Mall?
Let me be very, very clear -- this is not an anti-development screed. As Gary Hilderbrand also said in our conversation, "change is inevitable." I agree. This is about understanding, evaluating and valuing the contributions and design intent of landscape architects and architects. It's about change and continuity.
If this has piqued your curiosity, my foundation's Web site contains information about numerous Post War and Modernist landscape architects, and "What's Out There", a wiki-style searchable compendium of the nation's designed landscapes (it's constantly being updated and we're looking for submissions). In addition, on June 30, from 7-9PM, members of the public can attend the National Trust for Historic Preservation's "Boston Modern: The Spirit of Reinvention," at the First Church in Boston, 66 Marlborough Street. Admission is free but reservations are required. I'll be there as a panelist. I hope you can attend.

Related
Popular in the Community