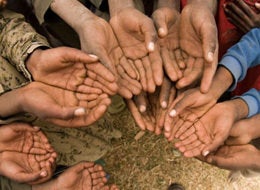 It was a Friday afternoon. In a huge room in an overly-air-conditioned convention center, several hundred people were wrapping up their conference with an inspiring message from a guest speaker. It's difficult for many of us to get up, go to the microphone, and ask a question in the Q&A that traditionally follows such a speech. But one plucky young woman did, and asked me whether making a difference was only for the rich.
I was stunned. I certainly understand that the examples we hear about in the media each day tend to be the rich and famous, which leads many people to think only the powerful can do good works. But hadn't I just given an entire talk about a wide range of New Radicals (that is, people who have discovered that how we earn our living can become the way we give back)? Hadn't I included vivid examples that demonstrated otherwise? That night, I refreshed my speech, incorporating several more references of ordinary people doing extraordinary things, and feeling incredibly humbled that even expert communicators don't always get it right.
I added people like Carlos Leite, a functionally-illiterate Brazilian laborer. One day on the way home from a job site, Carlos came across three encyclopedia by the side of the road, and was immediately seized by the idea of starting a library. At 51, he is now the librarian of Jardim Catarina, a shantytown of 100,000 people outside of Rio de Janeiro. The library's collection is 10,000 books strong.
And people like Bart Weetjens. Bart was a product development engineer in the Netherlands. As a kid, he'd been fascinated by rodents. Today, his work and his passion have come together in Apopo, a company he founded to train giant African rats to sniff out landmines across the continent. His idea not only saves human lives (the rats are too light to set off the landmines they detect), and saves the local government money (they don't have to bring in expensive foreign help), but Apopo has also created an export product that will help with economic development in the region.
And Kye Marshall, who gave up a comfortable seat playing cello for a symphony to retrain as a music psychotherapist. Kye now works with women at risk.
And Ed Sutt. Ed's high school guidance counselor told him he would never amount to much. Despite that early "guidance," he earned two degrees, and got a great job as an engineer with Stanley Bostitch. Ed was doing his thing, earning a living and raising a family, when Hurricane Katrina hit. Like the rest of us, he was devastated to see the damage -- and decided to do something about it. He's reinvented the nail -- Ed's HurriQuake nail helps wooden structures (like houses) better withstand the forces of hurricanes and earthquakes.
I hope these examples (also offered on the spot that afternoon) answered this young woman's question -- and yours (please see archived articles for more.)
Given all this, thought it was interesting timing to discover a conversation that's taking place on socialedge.org (a site for social entrepreneurs) right now. Rod Schwartz, CEO of the UK-based ClearlySo suggests that social entrepreneurship is for the privileged few (the Social Edge community has strong views on the matter). Join Rod and others in the conversation.
I'm pretty opinionated on this global movement toward work that matters. Somehow, without conferring with one another, but guided by the same experiences and influences, New Radicals of all ages, from each field, every sector, and around the world have collectively chosen a new occupation: saving the world.
What will happen as this movement develops self-awareness and picks up speed? We are already seeing the difference individual New Radicals can make. It only makes sense that our collective and cumulative impact will be unprecedented.
In the next few decades, we have a remarkable opportunity -- as individual human beings and as an international family -- to realize our full potential and, in doing so, to solve many of the problems that face us.
And, no, you don't have to be rich to get on board.
Please share your thoughts by commenting below, or email me directly at julia@wearethenewradicals.com. I'm particularly interested in hearing from people who are finding ways to do good even without gobs of resources (like the artists we heard from last week). And those in so-called developing countries.

Julia Moulden is on tour talking about the New Radicals. She also writes speeches for the world's most visionary leaders.