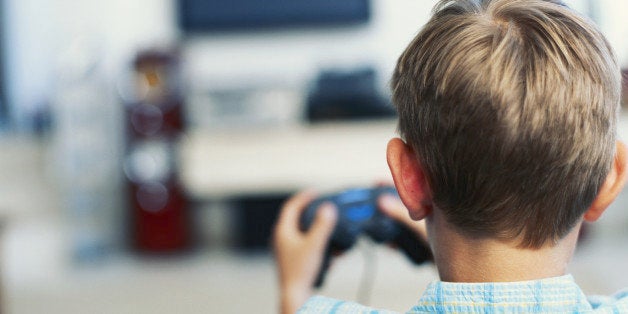 My husband walked through the door with a furrowed brow and steam coming from his ears followed by our eight year old son with tears in his eyes and the same furrowed brow. What has happened now?
My son yelled, "Dad's mean!" My husband countered, "Go to your room!" My husband just bought the latest video game for our son, but our little prince wasn't happy with that; he wanted more! So an argument ensued.
My husband says "I do everything to make him happy and he never seems appreciative and grateful." Well that's the problem, we shouldn't try to make our kids happy all the time! By always striving to keep them smiling are we setting them up for a disastrous fall into adulthood?
Childhood is full of butterflies, rainbows and sunshine. When they are a babies we runs to sooth them. When they are toddlers we are amazed and entertained by them. When they are small we are proud and encouraging. When they become teenagers we tiptoe around them and help to establish self-worth. Then when they become adults the world pushes them down, kicks them in the gut, chews them up, spits them out, and then laughs when they say they aren't happy. Our children become so accustom to everyone around them making them happy they do not realize that happiness is not a guarantee in life.
As parents we are constantly showering our children with gifts for all occasions and even for non-occasions. We celebrate their victories and non-victories. When they have a bad day at school we want to fix it. When their feelings get hurt by a friend we rush to make it better. When they suffer their first heart break we do everything in our power to heal it. We are so consumed with making sure our children do not feel hurt, disappointment, left out, or heartbroken that we are failing to teach them how to cope and become resilient adults. In our desire to protect them are we actually hurting them?
We need to learn to let our children fail. We need to allow them to fall and teach them how to pick themselves up. They need to learn life is not fair, it is hard, it's sad and the good guy doesn't always win. By learning these difficult lessons they will grow into capable, emotionally stable adults. Fighting the urge to swoop in every time our offspring puffs out his lower lip is like fighting a 1000 pound bull, but we have to try. When they have an argument with a sibling or friend, let them resolve on their own. When they do not get picked first for tug-a-war remind them that you can't always be first. When their softball team loses the big game, help them to remember you can't win them all. When their heart gets broken remind them one day it will heal.
In the end we gave in and let our son keep the video game. We did make him wait a whole 24 hours before playing it though. My husband tried to explain to our son how he felt and why he was angry. I am not sure our little boy truly understood why dad was upset and honestly I am not sure my husband really understood that it is okay for our son to be upset. We are a work in progress but for now we plan on spending less time at the toy store and more time at the park. Our time and attention is what truly makes our children happy and I am totally happy giving in to that demand!