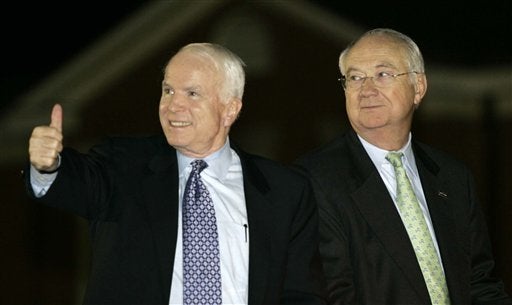 Sen. John McCain, R-AZ, won the endorsements of both the Boston Globe and the Des Moines Register on Sunday morning; two key newspapers affecting two key primary states (Iowa and New Hampshire). The editorial board support carries with it both political and symbolic import. With mere weeks before the first votes are cast, the endorsements undoubtedly give the Arizonan a wave of positive press and a bit of an electoral lift. They also represent, in sorts, McCain's reemergence as a serious GOP contender. It was roughly six months ago that the anointed Republican frontrunner had mismanaged his candidacy into second-tier status.
But when the votes are cast will the Boston Globe and Des Moines Register - which is more highly regarded among Democrats - really matter? After all, even McCain hinted that his shot in Iowa, newspaper support or not, is dependent upon voters rethinking their first choice.
"We are grateful for this important [Register] endorsement," read a statement from the McCain campaign, "and we hope that when Iowans give John McCain a second look they will see that he alone has the experience, character and judgment to lead America forward."
The Huffington Post emailed two Republican advisers about their thoughts on McCain's big day and what it means in the broader electoral context. Here's what they had to say.

Steven Hayward, a Resident Scholar at the American Enterprise Institute
"I've wondered for a while whether McCain might re-emerge, so this is not a complete surprise if it is truly happening. I base this on a simple (though flawed) theory: the GOP is a monarchist party, and it is returning to form. That is, the GOP has a long history of nominating the person for whom it can be said, "It's his turn." Nixon in 1960, George HW Bush in 88, Reagan in 1980, and Dole in 1996 all fit this category (and GW Bush in 2000 to some extent). McCain had the pole position after finishing a strong second in 2000, so he figured to be the front-runner and the anointed one.
"If he hadn't pissed off so many conservatives over the years, and run such a spendthrift, disjointed campaign, he might well have kept his early lead (despite the unpopularity of his Iraq stance, which is the main explanation given for his slide last year), given the weaknesses of everyone else in the field. What I think is happening now is that the flaws of the other frontrunners is causing many Republicans to take a second look at McCain, set aside their annoyance over this or that position of his, and realize that he is the most solid character of the bunch."
CraIg Shirley, President and CEO of Shirley & Banister Public Affairs
"McCain was never gone but for a time his campaign was in an iron lung and they've done a good job bringing it back to life. The endorsements can't hurt, that's for sure. But they are more of a reflection of his likeability and his experience relative to the rest of the field as they are about anything. Of course, he already got the endorsement of the [New Hampshire] Union-Leader, which will certainly be of help.

"Republicans I suspect tend to pay less attention to newspaper endorsements than Democratic voters do. Now if Rush Limbaugh was to endorse McCain that would really be a shot in the arm. Here is what is good though. Because these are two respected institutions, they will set of the other media reporting on them and that additional coverage is what will aid MCain the most...

McCain was never gone...but he is back in motion and that's what all candidates need to do..be in motion."
Update: Reader SG asks for poll numbers to put the endorsements in context. According to Real Clear Politics, McCain has been hovering at roughly 6 percent in the Iowa polls prior to the Register endorsement. Mike Huckabee leads at 34 percent but it should be noted that McCain never was expected to do well in the state. In New Hampshire, where McCain won in 2000, he is much better positioned, at approximately 18 percent to Mitt Romney (the leader)'s 32 percent.
Late Update: Seems like editorial boards aren't the only ones endorsing McCain nowadays. Like-minded war supporter Sen. Joseph Lieberman, I-CT, is expected to officially announce his support for McCain's candidacy tomorrow. Speculation will undoubtedly arise, as to the likelihood of Lieberman being placed on the ticket.
Popular in the Community