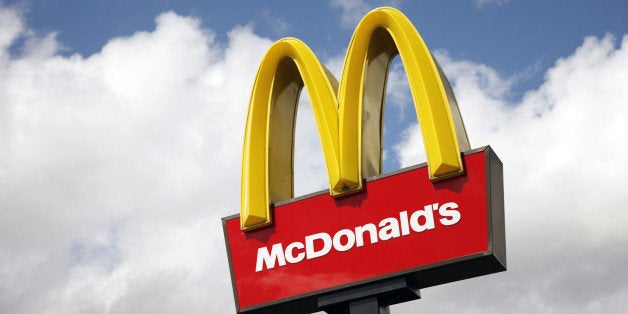 It's an assumption too often repeated as fact that McDonald's and other QSRs are losing customers to fast-casual restaurants and their claims to better food at higher prices. But interesting new data from The NPD Group provides strong reasons to doubt that assumption.
Here, from a Motley Fool post in May, is how this assumption is commonly packaged: "McDonald's has a problem. For years now the global fast-food giant has been losing sales to fast-casual restaurant chains Chipotle Mexican Grill and Panera Bread. Customers, especially in the U.S., are turning to other restaurants that offer a more appealing menu with fresher ingredients, allowing them to eat healthier and get more bang for their buck."
The Wall Street Journal recently reported that data compiled for it by Technomic that it said shows, "Customers in their 20s and 30s--long a mainstay of McDonald's business--are defecting to competitors, in particular so-called fast-casual restaurants like Chipotle Mexican Grill Inc. and gourmet-burger chain Five Guys Holdings LLC."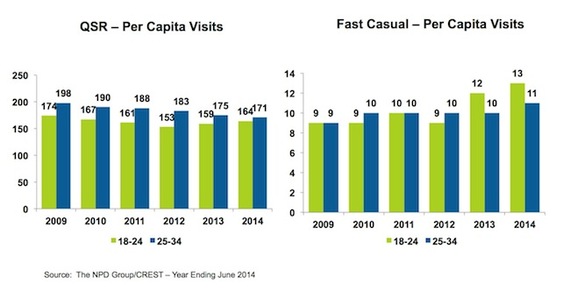 But NPD Group's data finds that while millennials' visits to QSRs indeed have declined over the past five years, this age group still patronizes QSRs far more often than it does fast-casual restaurants. Further, the average number of millennials' fast-casual visits has not greatly increased.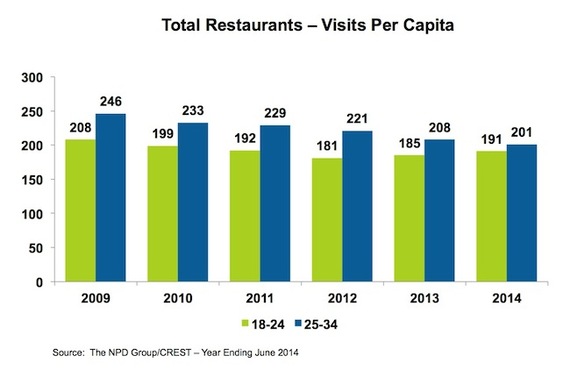 NPD Group's research suggests that while QSRs are having trouble keeping millennials, fast casuals are having more difficulties attracting increasing millennial visits than is widely assumed. For the year ended June 2014, for example, younger millennials (ages 18 to 24 who make up 43% of the cohort) made 164 visits while older millennials (ages 25 to 34) visited QSRs 171 times during the year. That's down from 174 and 198, respectively, in 2009.
So where did those visits go? Younger millennials made 12 fast-casual visits and older millennials 10 fast casual visits in 2013, up from 9 and 9 respectively in 2009. It's an increase in percentage but not really in number. So while QSRs lost millennials, few of those lost visits moved laterally to the fast-casual column. They went elsewhere or simply went away; NPD does not speculate where in its report. Total QSR/fast-casual visits by all millennials declined by 13.6% between 2009 and the year ended June 2014.
The 74 million millennials made over 14 billion visits to food service establishments in the year ending June 2014, which translated to spending of $95 billion on meals and snacks away from home, NPD reports.
But millennials aren't all data analysts at tech start ups with lots of discretionary income. The 18-to-34 age group also includes a great many low-income consumers struggling in a tough economy with little discretionary income. These consumers certainly aren't considering whether to buy a burrito at Chipotle (where the average check is $9) or a half panini and soup at Panera Bread. They're more likely to be deciding what they can afford on the Dollar Menu & More. I think a significant share of those "lost" millennial QSR visits are lost at the low end of the income spectrum; not lost to fast casuals, just lost.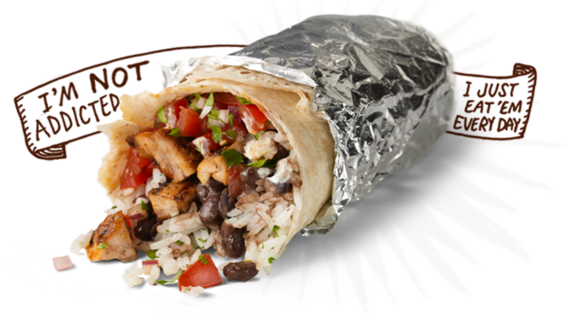 McClatchyDC reports that in 1999, slightly more than 52% of kids age 16 to 19 held a summer job. Last year, just 32.25% had summer employment. "It means that slightly more than three in 10 teens actually worked a summer job, out of a universe of roughly 16.8 million U.S. teens," McClatchyDC writes.
My belief is that McDonald's and other QSRs have been losing lower- and middle-income customers to a poor economy more than they have lost well-heeled customers to $9 burrito meals. There has been some trade-up out of QSRs, of course, but it's not the whole story. NPD's data make it clear that millennials are significantly decreasing their QSR visits though not greatly increasing their fast-casual visits. Attracting this age group is a challenge the whole industry faces.
Says Bonnie Riggs, NPD restaurant industry analyst, "To increase visits from millennials, restaurant operators need to meet their needs and that includes providing a unique dining experience and great service. Price promotions, coupons, and loyalty programs--they want to be rewarded for their loyalty--can also be useful in encouraging more visits from this influential group."
Calling all HuffPost superfans!
Sign up for membership to become a founding member and help shape HuffPost's next chapter